Malaysia: Respect the cultural features of all communities
Posted on June 3rd, 2012
Courtesy: ƒÆ'-¡ƒ"š' Buddhist Channel
Kota Bahru, Kelantan (Malaysia) — POLITICAL life may never be free of controversy, but controversies that are unnecessary or avoidable should never be acceptable. Kelantanese are now undergoing one such learning experience.
The Kelantan Buddhist Association, applying for construction approval for a building in Kota Baru, has been told the building design must incorporate some Islamic features. A state government bureaucrat said this was a requirement for approval to be granted.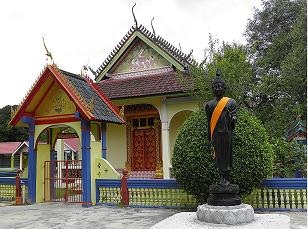 The issue has sparked off a storm of controversy all set to grow. The design condition was not something the state Buddhist association, or Buddhists anywhere, had expected or imagined.
The official rationale is that Islamic designs are needed to reflect the state capitalƒÆ''¢ƒ¢-¡'¬ƒ¢-¾'¢s status as an ƒÆ''¢ƒ¢-¡'¬ƒ…-Islamic cityƒÆ''¢ƒ¢-¡'¬ƒ"š'. KelantanƒÆ''¢ƒ¢-¡'¬ƒ¢-¾'¢s Buddhists and a concerned general public are entitled to ask some searching questions, and to expect satisfactory answers from the stateƒÆ''¢ƒ¢-¡'¬ƒ¢-¾'¢s public officials.
If Buddhist designs and the absence of Islamic designs in other faith buildings are not offensive to Islam, why this requirement at all? Since the Federal Constitution as the supreme law of the nation guarantees freedom of religion, why are Buddhists made to conform to Islamic requirements?
Does Kelantan Mentri Besar Tok Guru Datuk Nik Abdul Aziz Nik Mat and the rest of the state government fully support this requirement? Is it fully endorsed by PAS nationwide?
If not, why was the condition imposed in the first place? If so, will the requirement now be extended to all buildings of all non-Muslim groups in Kota Baru?
Will this requirement, and similar ones in future, be extended throughout the state once Kelantan is declared an ƒÆ''¢ƒ¢-¡'¬ƒ…-Islamic stateƒÆ''¢ƒ¢-¡'¬ƒ"š'? Will it be extended throughout the country if PAS and its allies win a general election?
If not, why is it now a requirement in Kota Baru? Why are the cultural design features of non-Muslim communities not equally respected, tolerated or accepted? Why mess with our harmonious multi-cultural society after all these years?
We are aware that in certain countries, some faith buildings may sometimes incorporate some designs of a certain culture identified with another faith. But these occurrences are minimal and voluntary, not imposed or enforced.
Will non-inclusion of the required Islamic designs in the buildings of other religions necessarily mean less Islamic piety among Muslims in the town, state or country? More clarity is needed all-round.