Chief Sangha Nayaka Thera of the UK & Europe, Ven. Dr. Sumana Siri calls on Ambassador Dayan Jayatilleka
Posted on July 16th, 2012
Media Release :Embassy of Sri Lanka Paris
On Wednesday 11th July, 2012, Venerable Dr. Sumana Siri, scholar, linguist and a leading advocate of co-existence and dialogue among religions, paid a call on Ambassador Dayan Jayatilleka at the Embassy of Sri Lanka in Paris.
Venerable Dr. Sumana Siri, a Singapore-Malaysian Buddhist monk of Sri Lankan origin who holds a postgraduate degree in Applied Theology from Oxford University, is the founder and Director of the Buddhist RealistsƒÆ''¢ƒ¢-¡'¬ƒ¢-¾'¢ Vihara in London and the Buddhist RealistsƒÆ''¢ƒ¢-¡'¬ƒ¢-¾'¢ Centre, Milan and Penang. He was appointed Chief Sangha Nayaka Thera of the UK & Europe in 2007.ƒÆ'-¡ƒ"š'  He also holds the title ƒÆ''¢ƒ¢-¡'¬ƒ"¹…"Tripitaka VagishvaracaryaƒÆ''¢ƒ¢-¡'¬ƒ¢-¾'¢.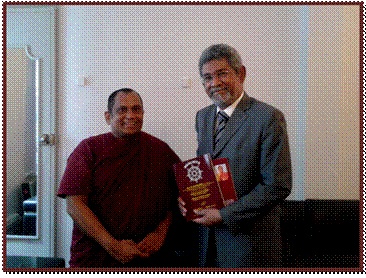 Prof. Rohan Gunaratne, Professor of Security Studies at the Rajaratnam School of International Studies in Singapore calls Rev. Dr. Sumana Siri ƒÆ''¢ƒ¢-¡'¬ƒ…-a remarkable human being …The first Buddhist monk to be ordained in Singapore, he speaks eleven languages. Well versed in Western Philosophy, Law and Christian Theology, the Reverend is a beacon of hope for spreading peace and understanding in our troubled world.ƒÆ''¢ƒ¢-¡'¬ƒ"š'
Rev Dr. Sumana Siri presented Ambassador Jayatilleka with an autographed copy of the publication entitled ƒÆ''¢ƒ¢-¡'¬ƒ…-REALISTSƒÆ''¢ƒ¢-¡'¬ƒ"š' issued on the occasion of his 45th monkhood anniversary. Dr. Jayatilleka presented Ven Sumana Siri with a dossier of UNESCOƒÆ''¢ƒ¢-¡'¬ƒ¢-¾'¢s International symposium on the theme ƒÆ''¢ƒ¢-¡'¬ƒ…-The contribution of the BuddhaƒÆ''¢ƒ¢-¡'¬ƒ¢-¾'¢s teachings to Universality, Humanism and PeaceƒÆ''¢ƒ¢-¡'¬ƒ"š', organised at his initiative in 2011 as Sri LankaƒÆ''¢ƒ¢-¡'¬ƒ¢-¾'¢s Permanent Delegate, on the occasion of the Sambuddhathva Jayanthi.
In an extended conversation with Ambassador Jayatilleka, Ven. Dr. Sumana Siri said that ƒÆ''¢ƒ¢-¡'¬ƒ…-Monks should be more visionaries than missionariesƒÆ''¢ƒ¢-¡'¬ƒ"š'.ƒÆ'-¡ƒ"š'  He also made reference to the examples of Singapore, which is multilingual, multiracial and multicultural, and to Thailand, Myanmar/Burma and Bhutan where some of the most profound Buddhist thinking can be found today.
Ambassador Jayatilleka said that ƒÆ''¢ƒ¢-¡'¬ƒ…-Tolerance and respect are values taught in Buddhism. An authentically Buddhist outlook which by definition is universalist and humanist, would provide the best path for reconciliation in Sri Lanka.ƒÆ''¢ƒ¢-¡'¬ƒ"š'