HELPLANKA the best 50th Birthday gift ever!
Posted on August 16th, 2012
HELP US HELP THEM HELP LANKA
50 years ago in Chilaw, Ceylon, Sampath Goonetillake was born and to mark this special event and, in his capacity as Chief Executive ofƒÆ'-¡ƒ"š'  UK and Sri Lanka charity Helplanka (set up in 2005), a number of special events were held in July.ƒÆ'-¡ƒ"š'  The specially themed birthday celebrations were held mainly for disadvantaged children and the needy.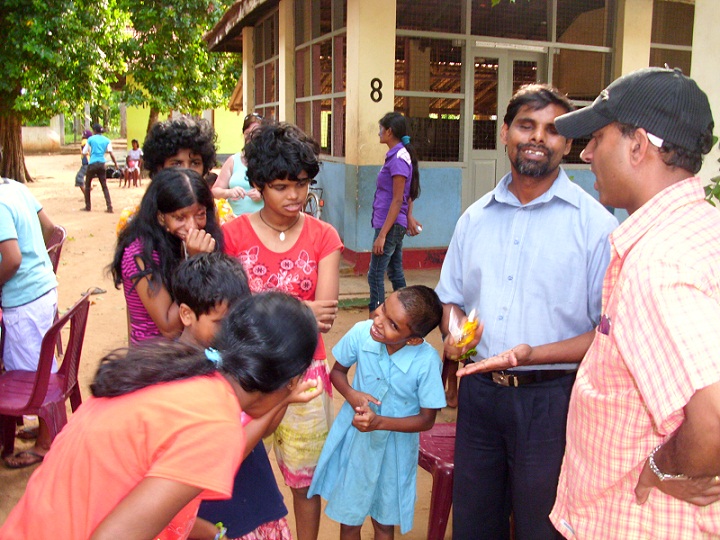 Accompanied by a group of 12 UK volunteers from Barry Comprehensive School in Wales,ƒÆ'-¡ƒ"š'  Mr GoonetillakeƒÆ''¢ƒ¢-¡'¬ƒ¢-¾'¢s eldest son, Jacob and Helplanka staff, the charity visited a number of special needs children, deaf and blind, homeless families, orphans, rural schools and Childcare centres, which benefited from donations of food (including meals to 50 beggars), equipment, gifts, toys, dry rations, books, hearing aids, wheelchairs and clothes.ƒÆ'-¡ƒ"š' 
Helplanka also ran a programme of teaching by the volunteers where Sri Lankan children learnt about The QueenƒÆ''¢ƒ¢-¡'¬ƒ¢-¾'¢s Diamond Jubilee, The London Olympics and were treated to balloons, music and face painting! To mark the 50th birthday celebrations Mr Goonetillake planted a number of trees at the projects in Sri Lanka as part of the charityƒÆ''¢ƒ¢-¡'¬ƒ¢-¾'¢s commitment to conservation.Mr Goonetillake also visited The ChildrenƒÆ''¢ƒ¢-¡'¬ƒ¢-¾'¢s Intensive Care Unit at The Maharagama Cancer Hospital and donated books and toys to the children.ƒÆ'-¡ƒ"š' 
Through Helplanka there are also plans to raise funds from a concert in London with Kasun Kalhara and friends to equip and run a Mother and child unit. (www.ananthayata.com)Commenting on this yearƒÆ''¢ƒ¢-¡'¬ƒ¢-¾'¢s programme, Mr Goonetillake said: ƒÆ''¢ƒ¢-¡'¬ƒ…-I canƒÆ''¢ƒ¢-¡'¬ƒ¢-¾'¢t think of a better way to celebrate my 50th Birthday by giving something back to my country and helping children of all backgrounds, nationalities and abilities.
I am extremely proud of my family for supporting me and would like to thank all those who contributed through donations, gifts and their time. Helplanka has managed to make hundreds of children in Sri Lanka smile which made this an unforgettable birthday for me!ƒÆ''¢ƒ¢-¡'¬ƒ"š'Helplanka will continue to support St JosephƒÆ''¢ƒ¢-¡'¬ƒ¢-¾'¢s Deaf School Ragama, The Convalescent Home Ragama, Ihalayagoda Kanishta Vidyalaya Gampaha, Sivaraja Deaf and Blind School Mahawewa , Kalahe Gemunu School Galle, HelpalankaƒÆ''¢ƒ¢-¡'¬ƒ¢-¾'¢s 11 homes in Ahangama , The Leonard Cheshire Home Katana and a number of selected sponsored children across Sri Lanka. If you wish to support HelplankaƒÆ''¢ƒ¢-¡'¬ƒ¢-¾'¢s work or make a donation please visit www.helplanka.co.uk
ƒÆ'-¡ƒ"š' 
HELP US HELP THEM HELP LANKA
ƒÆ'-¡ƒ"š'