Serving the Sri Lankan community- A Consular Mobile Service organized by Sri Lanka High Commission in the UK
Posted on September 11th, 2012
High Commission of Sri Lanka London
The High Commission of Sri Lanka in London held a full day mobile service at Judgemeadow Community College in Leicester on 2nd September 2012 to provide consular services to the Sri Lankan community living in the Leicester area. The services included registration of births, renewal of passports, acceptance of applications for new passports and other consular services.
This was organized under the guidance of Mr. Chaminda Kularatne (Attorney-at-Law) Head of the Consular and Immigration Division of the High Commission of Sri Lanka in London in collaboration with the "Sri Lanka Muslim Diaspora Initiative UK" , which is present across Britain.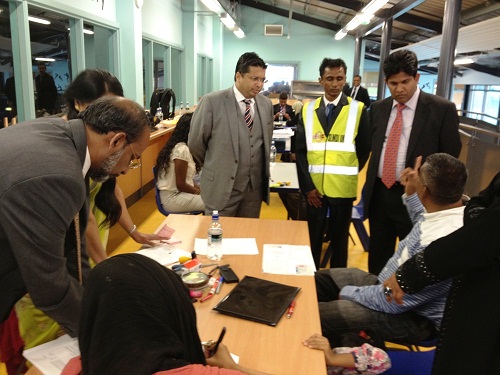 A large number of individuals from all communities in Sri Lanka and residing in Leicester, Manchester and Birmingham benefited from this mobile service. This is part of a wider programme to take the High Commission's services directly to the Sri Lankan community. This is the second mobile service conducted this year. The High Commission intends to provide similar mobile assistance in other cities of Britain in the future.
As part of this, a mega cricket tournament was also organised, bringing together the Sinhalese, Tamil and Muslim communities in the UK.
High Commissioner, Dr. Chris Nonis also participated at this event and thanked the organising committee for making it a reality .He shared with the gathering details about the recent progress and development in Sri Lanka and encouraged members of all the communities to get together and contribute towards Sri Lanka in the post conflict era.
Staff of the Consular and Immigration Division of the High Commission volunteered their services to make the event a success.