VAIKO STOPPED EN ROUTE TO SANCHI AT MADHYA PRADESH BORDER
Posted on September 21st, 2012
by Walter Jayawardhana
Over 1,000 Marumalarcha Drvida Munnetra Kazagam (MDMK) workers led by the outfitƒÆ''¢ƒ¢-¡'¬ƒ¢-¾'¢s General Secretary Vaiko ƒÆ'-¡ƒ"š' who were ƒÆ'-¡ƒ"š' on their way to Sanchi to in a convoy of 41 buses to protest against the visiting Sri Lanka PresidentƒÆ'-¡ƒ"š'  Mahinda Rajapaksa were stopped by the Madhya Pradesh police.
The stopped Vaiko followers sympathetic to Sri LankaƒÆ''¢ƒ¢-¡'¬ƒ¢-¾'¢s defeated LTTE continued with their agitation late on Wednesday night near Pandhurna on the Madhya Pradesh-Maharashtra border.
Jabalpur range Inspector General V. Madhu Kumar said late on Wednesday that neither Mr. Vaiko nor any of the MDMK workers was arrested, as the protest had been peaceful till now.
Mr. Rajapaksa will be in Sanchi on Friday to lay the foundation for the International Buddhist University.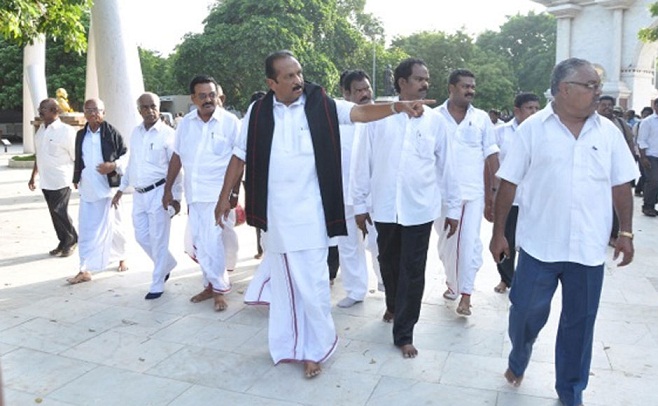 The MDMK has opposed his visit, citing his governmentƒÆ''¢ƒ¢-¡'¬ƒ¢-¾'¢s alleged atrocities against the Tamils.
Mr. Kumar said the police would take action if the protesters tried to proceed towards Bhopal or Sanchi.
Nanmaran, an MDMK leader, told an Indian news agency that Mr. Vaiko would decide the future course of action tomorrow.
Mr. Vaiko alleged that M.P. Chief Minister Shivraj Singh Chouhan had misled him by promising to discuss the matter in Bhopal, but stopped him on the border.
Vaiko, ƒÆ'-¡ƒ"š' has criticised the Centre as well as BJP-led Madhya Pradesh government for inviting the Sri Lankan president to Sanchi.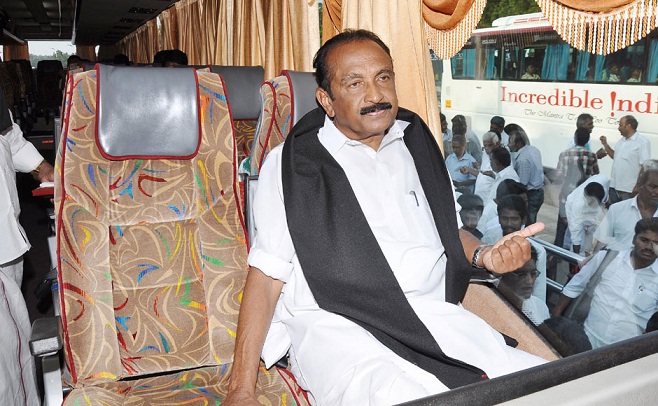 "Despite knowing that Rajapaksa is solely responsible for the genocide of innocent Tamils in Sri Lanka, the Shivraj Singh Chouhan government in Madhya Pradesh has invited him, and the Centre endorsed his visit," Vaiko, who arrived Nagpur from Chennai with over 1,000 MDMK supporters, told reporters before heading to Sanchi.
"I had strongly objected to Rajapaksa's visit but Chouhan did not bother about our requests and went ahead to invite him. Similarly, opposition leader in Lok Sabha, Sushma Swaraj, also met Rajapaksa recently, which we did not like," Vaiko added.