13th Amendment – Implications of Eelam
Posted on October 28th, 2012
Ratanapala
24 October 2012
The 13th Amendment in its various manifestations is in for consideration. It is best if the following issues too are discussed in this forum and elsewhere by patriots so that their implications for the future of Sri Lanka and for the future generations of all Sri Lankans are given due consideration. ƒÆ'-¡ƒ"š' Let the politicos and the powers that be too understand the implications.
Most of all let the people know!
Part 1.ƒÆ'-¡ƒ"š'  Indefinite, non existing, but ƒÆ'-¡ƒ"š' moving Eelam border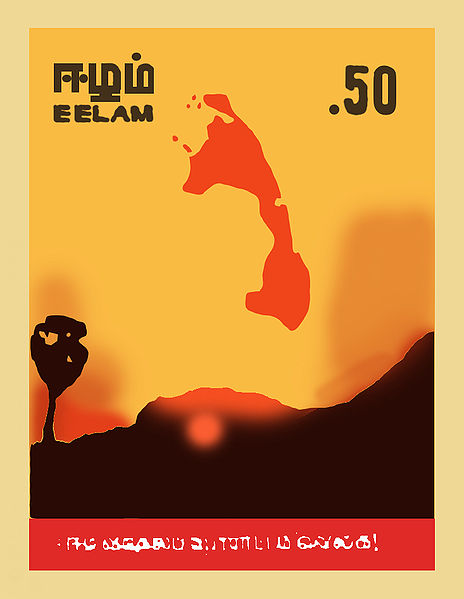 Eelam Stamp ƒÆ''¢ƒ¢-¡'¬ƒ¢¢"š¬…" Issued clandestinely in 1980 and the 2009 Ealam Map
First and foremost the so called Tamil Land has no definite borders.ƒÆ'-¡ƒ"š'  There is no record in history the shown borders or anything else having being contested with the rest of Sri Lanka politically or militarily.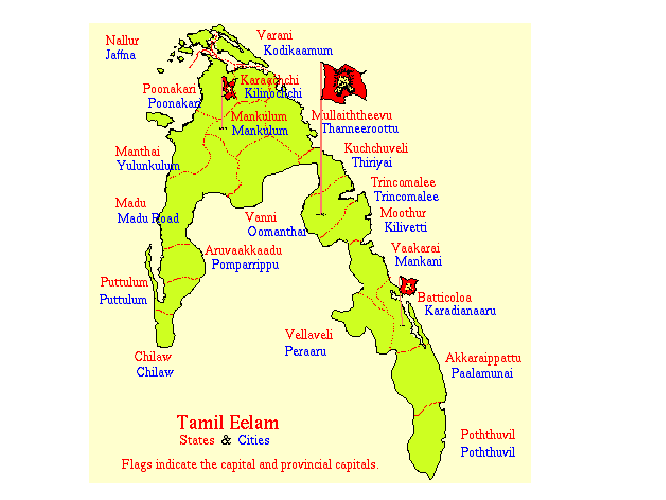 See the Eelam border in 1980 is metamorphosing into what is demanded today in 2012 Eelam stamps. The new map includes areas up to Negombo in West and up to the banks of the Kumbukkan Oya in the East.
ƒÆ'-¡ƒ"š' It is easy to see that the Eelam of 1980 with the entire racist thinking at that time did not include land south of Mannar ƒÆ''¢ƒ¢-¡'¬ƒ¢¢"š¬…" Puttalam and Chilaw and the areas of Akkaraipattu and Potuvila.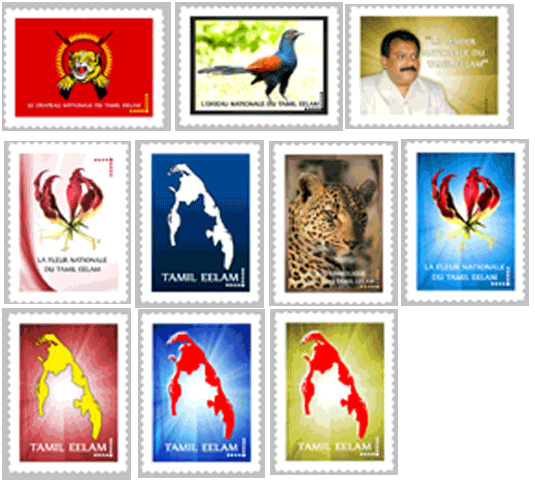 ƒÆ'-¡ƒ"š' Eelam StampsƒÆ'-¡ƒ"š'  – 2012 ƒÆ''¢ƒ¢-¡'¬ƒ¢¢"š¬…" Issued clandestinely in France and many other LTTE / Terrorist friendly countries
ƒÆ'-¡ƒ"š' What will be the future of Sri Lanka if power is devolved to the Northern and Eastern Provinces? ƒÆ'-¡ƒ"š' We saw within a short period the result of Varadha Rajaperumal being made the Chief Minister ƒÆ''¢ƒ¢-¡'¬ƒ¢¢"š¬…" Tamil National Army and the Unilateral Declaration of Independence!
ƒÆ'-¡ƒ"š' If land and police powers are granted to the Separatist Racist Tamils will the border shown stay static? ƒÆ'-¡ƒ"š' Eelamist imagination knows no bounds.
There will be incessant wars over land and waterways and the border will move ever southwards in a pincer move to till Eelamists grab the head waters of the Mahaveli. ƒÆ'-¡ƒ"š' Eventually it will be Anschluss with hill country Tamils ƒÆ''¢ƒ¢-¡'¬ƒ¢¢"š¬…" annexation of the Indian Tamil areas in the hill country.
ƒÆ'-¡ƒ"š' WhatƒÆ''¢ƒ¢-¡'¬ƒ¢-¾'¢s next for Sri Lanka? Will there be anything left of Sri Lanka to call Sri Lanka?