UK: Dr Iftikhar Ayaz, OBE, nominated for Active Refugee Advocacy Award
Posted on November 1st, 2012
By A. Abdul Aziz. Press Secretary, Ahmadiyya Muslim JamaƒÆ''¢ƒ¢-¡'¬ƒ¢-¾'¢at ƒÆ''¢ƒ¢-¡'¬ƒ¢¢"š¬…" Sri Lanka.
OBE (Officer of the Excellent Order of the British Empire)

Alfred Einstein Nobel Medal for Peace

Man of the Year in Human Rights 2010

International Peace Prize

University of Cambridge Ambassador of Knowledge

Honoured as a Cambridge Blue

Included amongst the Great Minds of the 21st Century and 500 Greatest Geniuses of the 21st Century.

Dr Ayaz is the Consul General for the Pacific islands of Tuvalu in the U.K. He is Senator of the World Nations Congress.

Vice Chancellor World Academy of Letters

Deputy Governor of the American Biographical Institute

Deputy Chair of the Pacific Peace Forum and a member of several organisations related to Human Rights, Conflict Resolution and Peace.
Dr Ayaz is an eminent member of the Ahmadiyya Muslim Community and currently in Sri Lanka to attend as Chief Guest at the Peace Symposium organized by Ahmadiyya Muslim Community, Sri Lanka.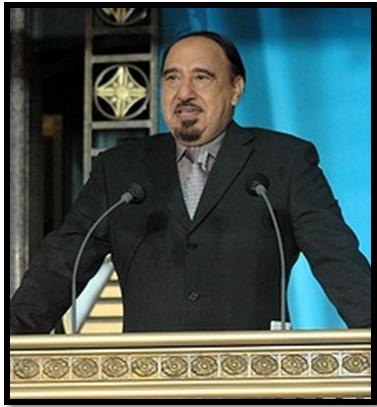 ƒÆ'-¡ƒ"š' 
Dr Iftikhar Ayaz, OBE,ƒÆ'-¡ƒ"š' has been nominated for the first ever Grassroot Diplomat Initiative Awards.
According to a press release by Grassroot Diplimat, "the award looks toƒÆ'-¡ƒ"š' recognizeƒÆ'-¡ƒ"š' outstanding diplomats and politicians in the UK for their dedication, commitment and selfless efforts in representing civilian matters at the highest level."
Dr Ayaz – a well known International Human Rights activist – has beenƒÆ'-¡ƒ"š' Nominated under the Social Driver category.
Dr Ayaz isƒÆ'-¡ƒ"š' a vocal advocate forƒÆ'-¡ƒ"š' better living conditions, well-being and welfare ofƒÆ'-¡ƒ"š' refugees and asylum seekers and he isƒÆ'-¡ƒ"š' actively engaged with the UN High Commission for Refugees.
"He brings with him grassroots stories from camps in Sri Lanka, Thailand, Cambodia, Nepal and Malta to improve living conditions and protective rights with other civil servants," the press release further stated.
ƒÆ''¢ƒ¢-¡'¬ƒ…-Grassroot diplomacy empowers the voiceless, defines a path for the hopeless, and restores faith to influencers," saidƒÆ'-¡ƒ"š' Talyn Rahman-Figueroa, Director of Grassroot Diplomat. "The Initiative Award seeks to build trust again between the ƒÆ''¢ƒ¢-¡'¬ƒ"¹…"us and themƒÆ''¢ƒ¢-¡'¬ƒ¢-¾'¢ and bring people of all statuses together.ƒÆ''¢ƒ¢-¡'¬ƒ"š'
The statement by Grassroot Diplomat said that 'Dr Ayaz is committed to engaging the grassroots in its combined efforts to understanding their personal situation, and for this, his efforts are beingƒÆ'-¡ƒ"š' recognizedƒÆ'-¡ƒ"š' here.'
Dr Iftikhar Ayaz will be at the Vincent Rooms, Westminster, where an evening performance will be led by Euro-Vision Song Contest artist, Imaani.
ƒÆ'-¡ƒ"š' For ticket information, please visit: www.grassrootdiplomat.org/awards.
Source: http://ahmadiyyatimes.blogspot.in/2012/10/uk-dr-iftikhar-ayaz-obe-nominated-for.html