Medium and Small scale Fashion Fruit Plantation projects in Kilinochchi -Giranikke
Posted on December 5th, 2012
Sri Lanka News

Medium and small scale Fashion fruit plantation projects are being now launched in Kilinochchi area.  This project has been launched in coordination and sponsorship of Gargills Foods (Pvt) Ltd. Total of 25,000 fashion fruit plants will be distributed amongst public in Kilinochchi as the 1st Stage of this project.
The ancient name for  Killinochchi was "Giranikke', as there was a sanctuaary for Parrots (Gira, Kili in Tamil) in a forest of Nika trees (Nochchi in Malayalam) until the Magha invasion around the 10th century.  The Lumbini Vihara existed their till recent times.The Magha ruler simply translated the name Giranikke ti Ki;linochchi (just as was done for Illuppaikadavi, which is given in the mahavamsa as "Madupatheetha", i.e., Mee-pa-thota).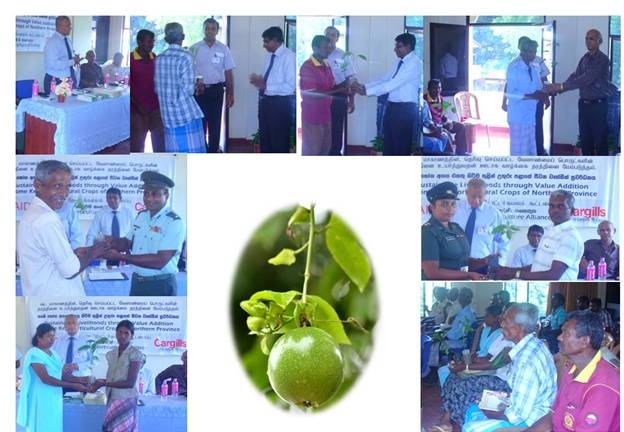 At the outset, series of awareness programmes had been conduct to educate the public on benefits they can obtain from this project and to educate them on technicalities involved in the project. Fashion fruit seeds were distributed amongst selected land owners who are capable of maintaining Fashion fruit plant nurseries.  The first lot, of Fashion fruit plants (10,000 plants) grown in these plant nurseries were distributed amongst the public very recently. Gargills Food Ltd assists farmers to grow these plants and fruits will be purchased by the Gargills Food Ltd. This project has promoted people in the area as a home gardening and as a medium scale fruit plantation project. This project has been organized by the Security Forces Kilinochchi in order to uplift the livelihood of the people in Kilinochchi.