185 Scholarships were awarded to Grade V Scholarship Examination passed students and GCE (Ordinary Level) Examination passed students in Kilinochchi
Posted on December 14th, 2012
Killinochchi Today
185 scholarships were awarded to Grade V Scholarship Examination passed students and GCE (Ordinary Level) Examination passed students in Kilinochchi on 13 December 2012. Security Forces Kilinochchi, under the direction of Security Forces Commander Major General Udaya Perera organized this scholarship programme and Mr Ricky Wijesinghe, who has established ventures in UK, made the financial sponsorship worth over Rs 1.4 Million for this scholarship programe. Mr Yohan Goonathilake, who resides in Malaysia, coordinated this effort with the Army.
Both Mr Ricky Wijesinghe and Mr Yohan Goonathilake attended the scholarship awarding ceremony as the guests of honour and Security Forces Commander attended as the Chief Guest. All the parents of scholarship recipients participated along with their children.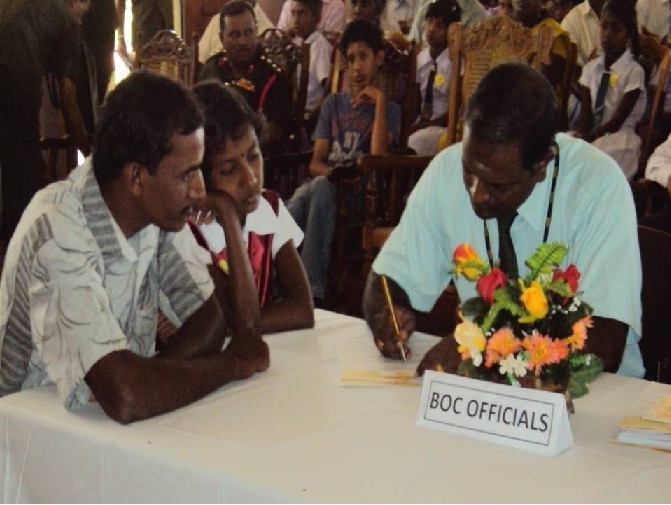 ƒÆ'-¡ƒ"š' Addressing the parents and the scholarship recipients, Major General Udaya Perera stated that he consider assisting of school children for their educational activities as his prime responsibility and will be a part of reconciliation process.ƒÆ'-¡ƒ"š'  Major General Udaya Perera requested from the parents to utilize these funds only for the educational activities of their children.
ƒÆ'-¡ƒ"š' Bank accounts were opened by the BOC for all the scholarship recipients and scholarship funds awarded were deposited in their fixed accounts. Scholarship recipients will be benefitted annually (financially) to purchase their study materials and fixed deposits will be maintained until they grown up.