CELEBRATION OF THAI PONGAL AT THE EMBASSY OF SRI LANKA IN FRANCE
Posted on January 16th, 2013
Embassy of Sri Lanka Paris
The Embassy of Sri Lanka in Paris celebrated Thai Pongal on 14th January 2013 with the participation of its staff and members of the Sri Lankan diaspora. The Embassy premises were decorated according to tradition with mango and palm leaves and Kolam designs.ƒÆ'-¡ƒ"š'  The ƒÆ''¢ƒ¢-¡'¬ƒ…-PoojaƒÆ''¢ƒ¢-¡'¬ƒ"š' ceremony was conducted by a Hindu priest invoking blessings for all participants in the presence of Ms. W.S. Perera, ChargƒÆ'†'ƒ"š'© dƒÆ''¢ƒ¢-¡'¬ƒ¢-¾'¢Affaires a.i.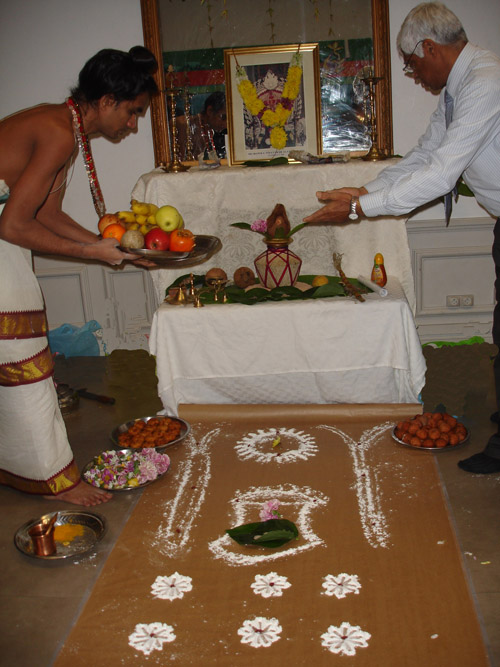 ƒÆ'-¡ƒ"š' In her address to the gathering, Ms. W.S. Perera reiterated the special significance of the Pongal festival to Sri Lanka: ƒÆ''¢ƒ¢-¡'¬ƒ…-Sri Lanka is a multi -cultural and multi-ethnic and multi-religious country which recognizes many traditions and celebrates many different festivals throughout the year. Thai Pongal is celebrated each year by the Tamil community in Sri Lanka and today we are able to celebrate this festival with the Tamil diaspora living in Paris ƒÆ''¢ƒ¢-¡'¬ƒ"š'
ƒÆ'-¡ƒ"š' Thai Pongal also known as ƒÆ''¢ƒ¢-¡'¬ƒ…-Surya MangalamƒÆ''¢ƒ¢-¡'¬ƒ"š' is considered as one of the oldest celebrations conducted in the name of the Sun God. The month of January coinciding with the collecting of rice, a special offering is made to the Sun God in gratitude for the harvest. This age long celebration has become today a means of bringing families and friends together, in exchanging gifts and in the preparation of sweet meat and other dishes.
ƒÆ'-¡ƒ"š' As customary each year to the celebration of the Pongal festival at the Embassy of Sri Lanka in Paris, tea was served with the Pongal sweet rice dish and other traditional food to all participants.