SRI LANKA ONLY SOUTH ASIAN COUNTRY AT KARATE PREMIER LEAGUE IN PARIS
Posted on January 22nd, 2013
Embassy of Sri Lanka Paris
National Karate champion, Vimukthi Chamara Gunerathne represented Sri Lanka at the Karate Premier League held on 19th and 20th January 2013 in Paris.
Sri Lanka was the only country from the South Asian region to be represented at the first Premier League for the year 2013 at the event hosted by France and organized under the aegis of the World Karate Federation.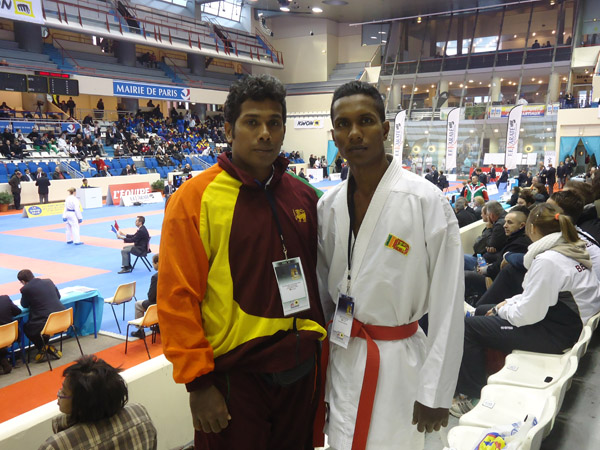 Participating in the under 60 kg Individual Senior Male Kumite event, Vimukthi Chamara Gunerathne, was among 500 participants from 50 nations.
A national player for the last 7 years, he has on previous occasions secured many medals for Sri Lanka, including Gold at the South Asian Games in Sri Lanka in 2006, Bronze at the South Asian Games in Bangladesh in 2010 and Bronze at the South Asian Karate Federation Games in India in 2011.
He was accompanied by National Coach, K. K. R. V. Satharasinghe.