A Rebuke to Sri Lanka May 2,2013
Posted on May 2nd, 2013
Ira de Silva London, Canada
The Editor
Ottawa Citizen
Ottawa, Ontario
 
Dear Sir:
 
You state that "the diplomatic equivalent of a slap in the face – is for the leader of one country to refuse to attend a high profile gathering hosted by another. Well, Canada has just slapped Sri Lanka". Based on the decision of the other members of the Commonwealth to dismiss Canada's strident, aggressive, prejudiced attack on Sri Lanka,  one news report calls it "John Bairds Campaign" and states that Canada was the lone voice raising the issue of Sri Lanka, could it be said that Canada has been slapped by many? It just depends on whether you support Canada's views or not.
 You are right when you say that the whole situation reeks of hypocrisy but fail to acknowledge that it is primarily Canada's hypocrisy. It is not only senior Commonwealth members – the United Kingdom, Australia, and India, who appear to think principles only apply when they don't intrude on purported national self-interest. Canada's hypocrisy is the most blatant because  Canada's attitude to Sri Lanka is based on pandering to the LTTE supporters in Canada as confirmed by another minister  earlier this year, Mr. Jason Kenny, who stated that policy on Sri Lanka is based on Canadian domestic politics.  The picture of Mr. Baird greeting  the LTTE supporters in London confirms the unholy alliance between the LTTE and Canada.  
 If Canada is in fact concerned about human rights when is it going to deal with the violation of human rights in Canada? It has been faulted by the U.N. for many years about the deprivation of the human rights of it's indigenous people and women but has done nothing. When is Canada, as you say,"going to do the right thing"? Should it not do so before it's song and dance about Sri Lanka? Does it not undermine Canada's credibility?
 As for principles. morality etc. that you seem to think Canada has and other countries do not, you are correct when you state that the Conservative government may not be completely pristine in its principles.  Canada's version of principles  is that successive Canadian governments permitted and encouraged Canadian citizens to fund Tamil terrorism in Sri Lanka for decades. Two millions dollars a month were sent by Canadian citizens to fund LTTE terrorism. Politicians even helped in that fund raising.  The most high profile bombing was that of the Central Bank in 1996 which the RCMP confirmed was paid for by these pillars of democracy, the Canadian supporters of the LTTE. Is Canada going to accept responsibility and be accountable to the dead and injured? That does not seem to be the Canadian way.
 While the government insists its position is not politically motivated can it explain it's close alliance with the Tamil diaspora that supports the LTTE? This alliance is personified and illustrated by Mr. Baird greeting the supporters of the LTTE in London after the meeting of the Commonwealth perhaps to show the Tamil voters in Canada that he is "their man" but the rest of the world sees it as Canada's identification as an ally of the supporters of the LTTE. Is it any wonder that they did not agree with Canada's position?
 If Canada does not want to send a "full delegation" to the summit in Sri Lanka, that is Canada's decision. As for Sri Lankans, knowing that Canada is supportive and speaking for the  LTTE, the absence of Mr. Harper and Mr. Baird at the conference may be a welcome relief. There is no guarantee that Mr. Baird will not have another tantrum and spew hatred against Sri Lanka as is his trademark.  Sri Lanka will be constrained because they will not be rude to a guest, a principle which Mr. Baird may not understand.  Canada represented by a full delegation  would only serve to remind Sri Lankans of the horrors they suffered during the thirty years of LTTE terrorism fully supported  by Canada.
 Yours truly,
Ira de Silva
London, Canada
 P.S. A picture of Mr. Baird with  LTTE supporters in London on April 26,2013 just in case you doubt the "impression" he gave to the rest of the world as a true spokesperson for the LTTE.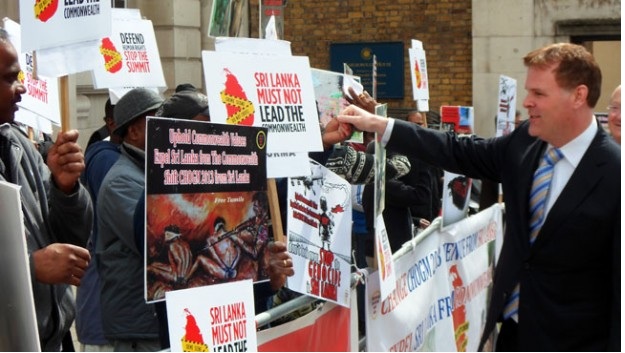 April 26, 2013 | Filed under: | Posted by: COLOMBO_TELEGRAPH
http://www.colombotelegraph.com/index.php/commonwealth-dodges-sri-lanka-problem/johnbairdslcampaign1-621×352/