"FRIENDS OF SRI LANKA" RECOGNIZED FOR THEIR DEDICATION
Posted on June 7th, 2013
Embassy of Sri Lanka Paris, France
 Ambassador Karunaratne Hangawatte hosted a reception on the premises of the Embassy of Sri Lanka in Paris on 30th May 2013 for French guests from varied regions and organizations in France. Among them were frequent travelers to Sri Lanka, businessmen, investors, government officials, artists and contributors to charity and social advancement, all of them united by their desire to lend a helping hand to beautiful Sri Lanka.
In his address, Ambassador Hangawatte expressed his gratitude to the French philanthropists for their dedication to Sri Lanka, notably with programs such as adoption of destitute children, building orphanages, rebuilding homes for the Tsunami victims and offering scholarships for children. The Ambassador acknowledged their interest in the advancement and practice of cultural awareness about Sri Lanka while thanking them for their close collaboration with government and non-governmental programs such as nutritional funding centers for youth and professional training centers just to name a few.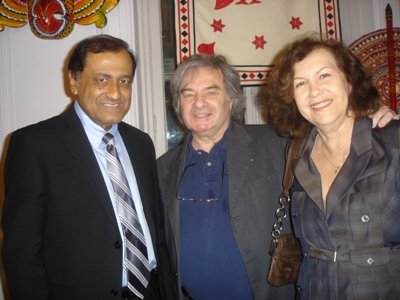 Reiterating the significance of the long-standing collaborative ties between France and Sri Lanka over the past decades, the Ambassador disclosed his wish to revive the group "Friends of Sri Lanka". Inviting all his guests to join in this new venture, Ambassador Hangawatte further disclosed his intentions of promoting investment, commerce, trade and tourism between the two countries in addition to promoting political and cultural relations.
Having expressed their pleasure and gratitude for the efforts undertaken by the Ambassador to felicitate their benevolent participation in various sectors of development in Sri Lanka, the invitees shared their past experiences in Sri Lanka describing their love for the country, the kindness and friendliness of the people they met and the strong ties they developed at each visit.
A comprehensive and detailed video presentation was projected during the evening which displayed social and economic growth of Sri Lanka over the last five years and projections for the next ten years. The guests enjoyed a wide array of Sri Lankan traditional cuisine which included hoppers, milk rice and kottu roti among other succulent dishes, set in a surrounding reminiscent of their experience in Sri Lanka.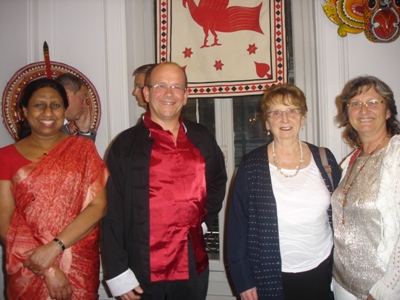 Further expanding his sincere appreciation to the invitees for their involvement in Sri Lankan through investment, commerce, trade and tourism, Ambassador and Permanent Delegate of Sri Lanka to UNESCO, Professor Hangawatte invited the gathering to patronize the Sri Lankan cultural events projected for the year 2013 and 2014 at UNESCO.