France hands over World Blood Donor Day flag to Sri Lanka for 2014
Posted on June 15th, 2013
MEDIA RELEASEƒÆ'-¡ƒ"š'  Embassy of Sri Lanka Paris
Sri Lanka will play host to the Global Celebration of World Blood Donor Day in the 2014. The official handing over ceremony took place today (14.06.2013) at the headquarters of UNESCO in Paris.
The Ambassador and Permanent Delegate of Sri Lanka to UNESCO, Professor Karunaratne Hangawatte accepted the official flag on behalf of Sri Lanka and handed it over to Dr Anil Dissanayake, Director of the National Blood Transfusion Service of Sri Lanka.
The commemoration of World Blood Donor Day commenced in 2004 in South Africa and has since been held in the United Kingdom, Thailand, Canada, the United Arab Emirates, Australia, Spain, Argentina and in the Republic of Korea and will be in Sri Lanka in its 11th year.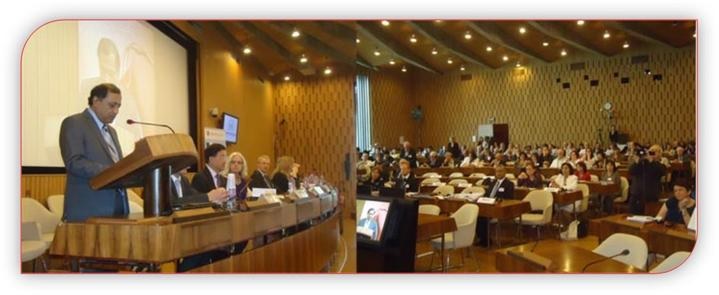 The Deputy Director General of UNESCO Getachew Engida stressed the power of science to bring people and countries together and paid tribute to the ƒÆ''¢ƒ¢-¡'¬ƒ…-unrelenting efforts of those who take science forwardƒÆ''¢ƒ¢-¡'¬ƒ"š'.
The President of Etablissement Francois du Sang, Mr Francois Toujas in his message welcomed the commemoration of World Blood Donor Day in Sri Lanka and conveyed the wishes of France for this celebration.
Speaking on the occasion Ambassador Hangawatte stressed the critical importance of the health sector and the role of the World Health Organisation (WHO) in the formulation of policy, setting norms and standards, assessing prevailing systems and shaping the blood and blood safety sector.
He noted that 'it is the shared responsibility of Member States to band together, optimize on the synergy created and thereby aid and support the World Health Organisation and each other in ensuring that our people live healthy and productive lives.ƒÆ''¢ƒ¢-¡'¬ƒ"š'
Ambassador Hangawatte also highlighted the yeoman service rendered by the National Blood Transfusion Service of Sri Lanka through the strong network that had been established across the country and welcomed the opportunity for Sri Lanka to host the Global Celebration of World Blood Donor Day in 2014.
The Global Celebration in Paris was also addressed by Ms Snezana Samardzic-Markovic, Director General of Democracy in the Council of Europe, Ms Judith Chapman, Executive Director of the International Society of Blood Transfusion, Mr Alain Gazo, President of the French Federation for Voluntary Blood Donation, Mr Gianfranco Massaro, President of the International Federation of Blood Donor Organizations, Dr Ties Boerma, Director Health Systems Policies and Workforce of the World Health Organization and Dr Che Kit Lin, Asia Pacific Zonal Coordinator of the International Federation of Red Cross and Red Crescent Societies.
The diplomatic corps, heads of Blood Donor Associations across France, officials from related sectors in the field of health, senior representatives of the WHO and members of civil society were in attendance at the Global Celebration event and handing over ceremony.