It's just not Cricket
Posted on June 20th, 2013
Michelle Alexander
ƒÆ''¢ƒ¢-¡'¬ƒ…-At approx. 21:00hrs on Monday 17 June, officers on-duty outside the Oval Cricket Ground became aware of a number of items being thrown by members of the crowd. The crowd had dispersed by 21:35hrs.ƒÆ'-¡ƒ"š' No arrests were made in connection with the incident.ƒÆ''¢ƒ¢-¡'¬ƒ"š' London Metropolitan Police.
Sri Lankan cricket fans in London became the focal point (perhaps a target) of protests of British Tamils Forum supporters, members of the Diaspora who still support the LTTE. The LTTE has been proscribed by the United Kingdom, yet it continues to receive patronage, as evident in the picture given below.ƒÆ'-¡ƒ"š' 
ƒÆ'-¡ƒ"š'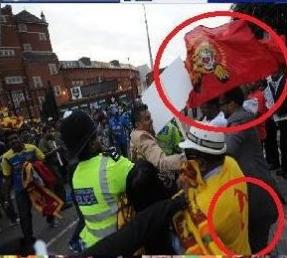 One of the main objectives of this group is to put pressure on the international cricket establishment to boycott the Sri Lankan team, similar to boycotting South Africa due to the Apartheid. Perhaps the protestors should familiarize themselves of the abuses perpetrated in South Africa due to Apartheid, and the difference of what took place in South Africa and what took place in Sri Lanka. If it is about 1983, they should be reminded that while mobs shielded by the government rampaged, many ordinary Sinhalese folk risked their own lives and the lives of their families to shelter and protect Tamils. Further, citizens from all communities suffered due to the war.
ƒÆ''¢ƒ¢-¡'¬ƒ…-Sri Lankan ethnic Sinhala fan mobs gathered an assaulted Tamils, as they do in Sri Lanka.ƒÆ''¢ƒ¢-¡'¬ƒ"š'
Do they know something that we, the folks living in Sri Lanka donƒÆ''¢ƒ¢-¡'¬ƒ¢-¾'¢t? The protestors are welcome to forward irrefutable proof of such on-going abuses on Tamils in Sri Lanka, if any, for all to see.ƒÆ'-¡ƒ"š'  And no, not just Channel 4.

Politics, especially of this nature should not be mixed with sports. Sports should be used to strengthen ties between people and communities. Leave cricket out of this mess. ƒÆ'-¡ƒ"š' 

Does the diaspora truly care about the welfare of their brethren in Sri Lanka? This question itself requires in-depth researchƒÆ''¢ƒ¢-¡'¬ƒ"š'¦ and a separate article altogether.ƒÆ'-¡ƒ"š' 
This is in no way a generalized view of all Tamils living in the United Kingdom. But the fact that the LTTE supporting sections of the diaspora could operate freely, while flouting laws is beyond belief.