Life Abroad – Part 32:Old country
Posted on June 27th, 2013
Dr. Tilak Fernando

Revisiting my old haunts has been a tremendous experience starting from a weird encounter at the Bandaranaike International Airport in Colombo where a panicked passenger on Flight WY 0372 on May 26, 2013 had removed my baggage inadvertently after going through the security screening machine before I could pick my bags.
In a last minute attempt to abandon my trip to London (naturally without any trace of my baggage within split seconds of it going through security screening), the uncouth response of a security supervisor (when complained about ƒÆ''¢ƒ¢-¡'¬ƒ"¹…"my lost baggageƒÆ''¢ƒ¢-¡'¬ƒ¢-¾'¢) was much to be desired.
My preference at the time to speak my mind out about his duty consciousness was overshadowed by the panicky situation that arose where I had no option but to abandon the trip if I could not trace my baggage prior to the closure of the flight! Thanks to the concerned efforts of an alert female ground hostess the bag was found in the nick of time, abandoned by a passenger near a check-in counter. What a difference of attitude between two members of staff at the airport!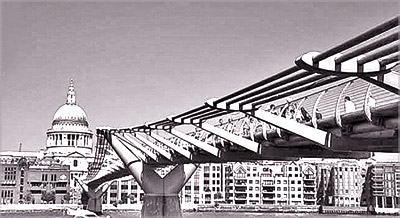 Millenium bridge
If the Airport Management is interested in streamlining the security process not as to incommode passengers in the manner I had to experience, it would be advisable to allow adequate time for each passenger to get through security and collect baggage peacefully rather than following the present trend of ƒÆ''¢ƒ¢-¡'¬ƒ"¹…"pushingƒÆ''¢ƒ¢-¡'¬ƒ¢-¾'¢ air passengers continuously like a herd of cattle which only makes the conveyor belt at security screening point chockablock and excited type passengers to panic and pick up wrong bags (like in my case).
Experience galore
Experience inside the aircraft too was something that I had not encountered prior to my changing of airlines from SriLankan to another this time. This particular flight which took off at 8.45 am to Muscat did not serve any refreshments up to two hours being in the air, and that too arrived simultaneously with the meal tray. I began to repent for not flying SriLankan!
Despite various rumours I had heard about London ƒÆ''¢ƒ¢-¡'¬ƒ…-having broken down, memory had got disintegrated and words had lost their meaning etc.,ƒÆ''¢ƒ¢-¡'¬ƒ"š' I found that many things in the UK had changed and the Capital had moved with the times in keeping abreast with modern technology.
At the London Heathrow airport, immigration procedure for British and EU passport holders too has changed from the old pattern of ƒÆ''¢ƒ¢-¡'¬ƒ"¹…"plain sailingƒÆ''¢ƒ¢-¡'¬ƒ¢-¾'¢.
Today vigilance seems to play an active role in every sphere, and in this regard immigration control has been modified making EU passport holders to go through a quick computer screening process prior to presenting their passport to an Immigration official for clearance. Non-European Passport holders still have to go on a long queue and convince the immigration officers prior to getting their visa or ƒÆ''¢ƒ¢-¡'¬ƒ"¹…"embarkedƒÆ''¢ƒ¢-¡'¬ƒ¢-¾'¢ date stamped on their passports.
To minimise long drawn customer queues at supermarkets additional check-out systems have sprung up whereby customers can self operate and pay into a machine by using credit cards or Pound notes. After a jiffy the balance, if any, throws out of the machine including coins!
In a similar fashion some banks too have taken a long leap forward in updating their operations with electronic innovative systems. For them, days of dealing with handwritten slips to deposit or withdraw money are no more, and cashiers deal with customers upon presenting their bank details, process the transactions and request the customer to sign on a computer screen pad which is on a mini computer terminal. Cashiers need only to hand over a printed receipt for the transaction.
ƒÆ'-¡ƒ"š'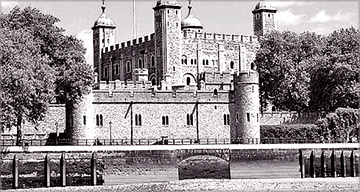 Tower of London
It was a novel experience for me at Abbey National where there are mini computer terminals outside each cashierƒÆ''¢ƒ¢-¡'¬ƒ¢-¾'¢s window for such operations.
London transport
Travelling in London by London Transport buses is indeed a luxury compared with private buses in Colombo. Major bus halts display the route numbers, destinations and the expected time of arrival of buses on mini computer screens fixed inside the bus halt. For the convenience of passengers a recorded voice identifies every stop as the bus moves along its journey.
London Transport systems are equipped with CCTV cameras for the safety of millions of commuters who use the service on a daily basis.
I considered it as a thoughtful idea while travelling in the tube train to hear announcements of approaching stations in advance, advising commuters to get to the correct exit door when approaching station platforms where commuters in a jam packed peak time situations could be very helpful as the stopping time on underground railways is restricted to few seconds.
From a tourist point of view it is yet another a well thought of inspiration of having recorded voice messages clearly indicating the destination of the moving tube train with advanced announcements of approaching stations, at times with hints to tourists where to get off for sightseeing etc.
National Express buses from Victoria to other destinations are akin to aero plane travel in terms of safety and comfort. Here wearing of seat belts becomes compulsory. On long distance journeys toilet facilities are provided on the lower deck of the bus with free wi fi facilities connecting to the Internet to keep boredom away from commuters.
Public Library in Wood Green in North London stands out not only as a modern lumber room for books, newspapers, video and music cassettes etc., but it caters for the community in several different ways with a free membership internet area, kids library and play area and allocation of a massive section catering for students to do their studies, projects and homework peacefully with the help of free wi fi facilities. Many students are seen regularly logged on to the internet via laptops and I pads with the help of numerous internet terminals provided by the library for this purpose.
Domestic issues
Talking about England, one area that cannot be ignored is the British Monarchy. Queen Elizabeth II and her husband Duke of Edinburgh seem to grow old gracefully. On June 10, Prince Phillip turned 92, and had to celebrate his birthday inside a Harley Street clinic recovering from an abdominal surgery. The Queen had to visit him in hospital to deliver a birthday card and the KingƒÆ''¢ƒ¢-¡'¬ƒ¢-¾'¢s Troop Royal Horse Artillery fired a 41ƒÆ''¢ƒ¢-¡'¬ƒ¢¢"š¬…" gun salutes at Green Park in Central London to mark the DukeƒÆ''¢ƒ¢-¡'¬ƒ¢-¾'¢s birthday.
The Mayor of London (Conservative) Boris Johnson seems to be very much in the news these days with his vision to make London ƒÆ''¢ƒ¢-¡'¬ƒ"¹…"The Greatest City on Earth'. Various journalists have viewed, reviewed and criticized his plans but the London Evening StandardƒÆ''¢ƒ¢-¡'¬ƒ¢-¾'¢s editorial on June 11 put the MayorƒÆ''¢ƒ¢-¡'¬ƒ¢-¾'¢s intended programme as ƒÆ''¢ƒ¢-¡'¬ƒ"¹…"ambitious in scale and spirit, and it embraces a plethora of subjects but at the heart are plans for a ƒÆ''¢ƒ¢-¡'¬ƒ…-Golden age TransportƒÆ''¢ƒ¢-¡'¬ƒ"š'.
Rumours too are afloat in the Capital to say that the some of the Tories want popular Johnson to bring his winning brand of optimism to the next election but the Mayor has denied of any approaches or offers to him so far and says he does not want to get in anyoneƒÆ''¢ƒ¢-¡'¬ƒ¢-¾'¢s way either. However, some Conservative party members seem to think that ƒÆ''¢ƒ¢-¡'¬ƒ"¹…"JohnsonƒÆ''¢ƒ¢-¡'¬ƒ¢-¾'¢s new role could work, detoxifying the Tories through personality rather than a diluted ideologyƒÆ''¢ƒ¢-¡'¬ƒ¢-¾'¢.