Stop Hillary Clinton – Stop Support for Tamil Tiger Suicide Terrorists
Posted on July 23rd, 2013
John MacKinnon
"We have a straightforward mission, and we have only one reason to exist. And that is to make sure that Hillary Clinton never becomes president of the United States"
Stop Hillary Clinton Web site: www.stophillarypac.org
Mrs. Hillary Clinton is a huge supporter of LTTE Terrorists and their genocidal terror agenda.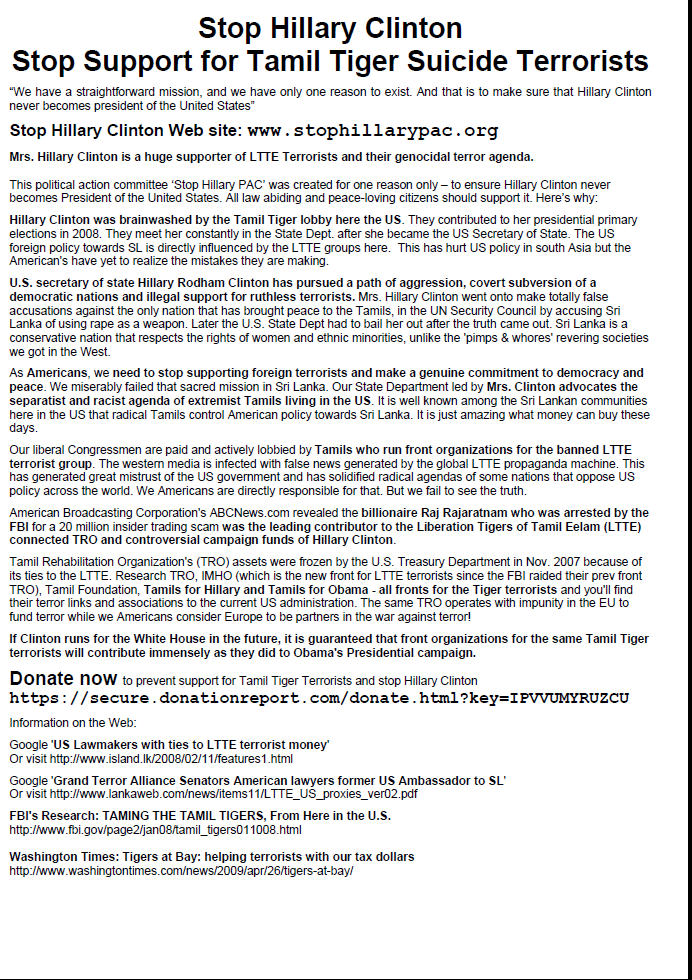 ƒÆ'-¡ƒ"š'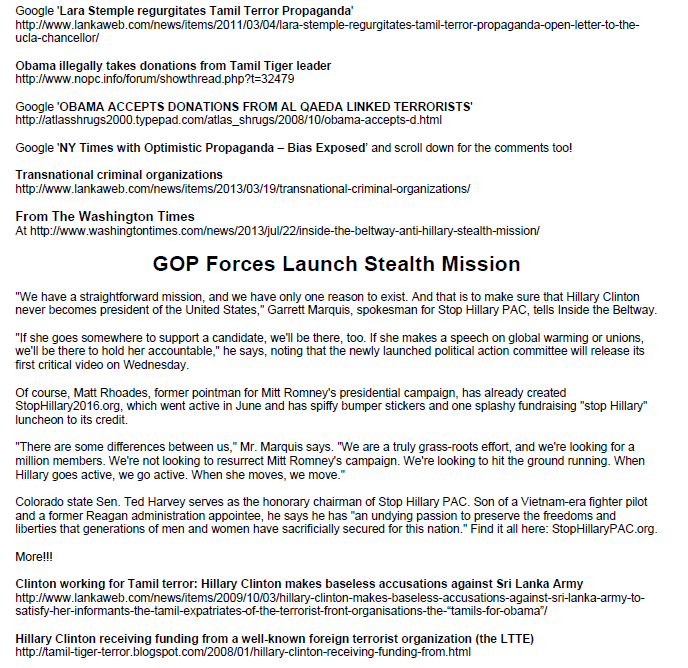 This political action committee 'Stop Hillary PAC' was created for one reason only – to ensure Hillary Clinton never becomes President of the United States. All law abiding and peace-loving citizens should support it. Here's why:
Hillary Clinton was brainwashed by the Tamil Tiger lobby here the US. They contributed to her presidential primary elections in 2008. They meet her constantly in the State Dept. after she became the US Secretary of State. The US foreign policy towards SL is directly influenced by the LTTE groups here. ƒÆ'-¡ƒ"š' This has hurt US policy in south Asia but the American's have yet to realize the mistakes they are making.
U.S. secretary of state Hillary Rodham Clinton has pursued a path of aggression, covert subversion of a democratic nations and illegal support for ruthless terrorists. Mrs. Hillary Clinton went onto make totally false accusations against the only nation that has brought peace to the Tamils, in the UN Security Council by accusing Sri Lanka of using rape as a weapon. Later the U.S. State Dept had to bail her out after the truth came out. Sri Lanka is a conservative nation that respects the rights of women and ethnic minorities, unlike the 'pimps & whores' revering societies we got in the West.
As Americans, we need to stop supporting foreign terrorists and make a genuine commitment to democracy and peace. We miserably failed that sacred mission in Sri Lanka. Our State Department led by Mrs. Clinton advocates the separatist and racist agenda of extremist Tamils living in the US. It is well known among the Sri Lankan communities here in the US that radical Tamils control American policy towards Sri Lanka. It is just amazing what money can buy these days.
Our liberal Congressmen are paid and actively lobbied by Tamils who run front organizations for the banned LTTE terrorist group. The western media is infected with false news generated by the global LTTE propaganda machine. This has generated great mistrust of the US government and has solidified radical agendas of some nations that oppose US policy across the world. We Americans are directly responsible for that. But we fail to see the truth.
American Broadcasting Corporation's ABCNews.com revealed the billionaire Raj Rajaratnam who was arrested by the FBI for a 20 million insider trading scam was the leading contributor to the Liberation Tigers of Tamil Eelam (LTTE) connected TRO and controversial campaign funds of Hillary Clinton.
Tamil Rehabilitation Organization's (TRO) assets were frozen by the U.S. Treasury Department in Nov. 2007 because of its ties to the LTTE. Research TRO, IMHO (which is the new front for LTTE terrorists since the FBI raided their prev front TRO), Tamil Foundation, Tamils for Hillary and Tamils for Obama – all fronts for the Tiger terrorists and you'll find their terror links and associations to the current US administration. The same TRO operates with impunity in the EU to fund terror while we Americans consider Europe to be partners in the war against terror!
If Clinton runs for the White House in the future, it is guaranteed that front organizations for the same Tamil Tiger terrorists will contribute immensely as they did to Obama's Presidential campaign.
Donate now to prevent support for Tamil Tiger Terrorists and stop Hillary Clinton
https://secure.donationreport.com/donate.html?key=IPVVUMYRUZCU
Information on the Web:
Google 'US Lawmakers with ties to LTTE terrorist money'
Or visit http://www.island.lk/2008/02/11/features1.html
Google 'Grand Terror Alliance Senators American lawyers former US Ambassador to SL'
Or visit http://www.lankaweb.com/news/items11/LTTE_US_proxies_ver02.pdf
FBI's Research: TAMING THE TAMIL TIGERS, From Here in the U.S.
http://www.fbi.gov/page2/jan08/tamil_tigers011008.html
Washington Times: Tigers at Bay: helping terrorists with our tax dollars
http://www.washingtontimes.com/news/2009/apr/26/tigers-at-bay/
Google 'Lara Stemple regurgitates Tamil Terror Propaganda'
http://www.lankaweb.com/news/items/2011/03/04/lara-stemple-regurgitates-tamil-terror-propaganda-open-letter-to-the-ucla-chancellor/
Obama illegally takes donations from Tamil Tiger leader
http://www.nopc.info/forum/showthread.php?t=32479
Google 'OBAMA ACCEPTS DONATIONS FROM AL QAEDA LINKED TERRORISTS'
http://atlasshrugs2000.typepad.com/atlas_shrugs/2008/10/obama-accepts-d.html
Google 'NY Times with Optimistic Propaganda – Bias Exposed' and scroll down for the comments too!
Transnational criminal organizations
http://www.lankaweb.com/news/items/2013/03/19/transnational-criminal-organizations/
From The Washington Times
At http://www.washingtontimes.com/news/2013/jul/22/inside-the-beltway-anti-hillary-stealth-mission/
GOP Forces Launch Stealth Mission
"We have a straightforward mission, and we have only one reason to exist. And that is to make sure that Hillary Clinton never becomes president of the United States," Garrett Marquis, spokesman for Stop Hillary PAC, tells Inside the Beltway.
"If she goes somewhere to support a candidate, we'll be there, too. If she makes a speech on global warming or unions, we'll be there to hold her accountable," he says, noting that the newly launched political action committee will release its first critical video on Wednesday.
Of course, Matt Rhoades, former pointman for Mitt Romney's presidential campaign, has already created StopHillary2016.org, which went active in June and has spiffy bumper stickers and one splashy fundraising "stop Hillary" luncheon to its credit.
"There are some differences between us," Mr. Marquis says. "We are a truly grass-roots effort, and we're looking for a million members. We're not looking to resurrect Mitt Romney's campaign. We're looking to hit the ground running. When Hillary goes active, we go active. When she moves, we move."
Colorado state Sen. Ted Harvey serves as the honorary chairman of Stop Hillary PAC. Son of a Vietnam-era fighter pilot and a former Reagan administration appointee, he says he has "an undying passion to preserve the freedoms and liberties that generations of men and women have sacrificially secured for this nation." Find it all here: StopHillaryPAC.org.
More!!!
Clinton working for Tamil terror: Hillary Clinton makes baseless accusations against Sri Lanka Army
http://www.lankaweb.com/news/items/2009/10/03/hillary-clinton-makes-baseless-accusations-against-sri-lanka-army-to-satisfy-her-informants-the-tamil-expatriates-of-the-terrorist-front-organisations-the-"tamils-for-obama"/
Hillary Clinton receiving funding from a well-known foreign terrorist organization (the LTTE)
http://tamil-tiger-terror.blogspot.com/2008/01/hillary-clinton-receiving-funding-from.html