Sri Lanka and Belarus inked Seven Bilateral Agreements
Posted on August 28th, 2013
By Janaka Alahapperuma
Belarus Republic and Sri Lanka have inked the seven bilateral agreements designed to promote all-round cooperation on Monday afternoon (26) at the Cabinet Hall of the Government House in Minsk, the capital during Sri Lankan President's three day state visit to the country.  On Sri Lanka side President Mahinda Rajapaksa signed the joint statement with his Belarus counterpart, President Alexander Lukashenko at the end of bilateral discussions.
Both leaders jointly presided over the signing ceremony of seven Agreements and Memorandums of Understanding (MOUs). At the signing ceremony they hailed the agreements, which they said marked a big step forward in bilateral relations.
Belarus President Alexander Lukashenko said it was "with great pleasure" that the deal was finally concluded and the goals achieved by signing those agreements. The primary goals were to "maintain and promote friendly trade and economic cooperation" and to "strengthen the existing friendly relations with Sri Lanka," he said.
In this connection, President Rajapaksa said that "this visit has been very fruitful. Bi-national relations represent a strategic alliance which may be assumed, for instance, as a bond of respect, fraternity and common development. Sri Lanka is offering many attractive incentives and facilities for direct foreign investments, he further noted. Expressing his thanks to the warm welcome received not only by his but also the Sri Lankan delegation, President Rajapaksa appreciated the recent economic and social progress achieved by the Belarus state under the leadership of President Lukashenko in recent years. The President also stated that Sri Lanka which was plagued by terrorism for 30 years and now advancing speedily in development.
Sri Lanka and Belarus agreed to enhance cooperation in a number of sectors, including investment, education and technology. Agreements were also signed in the areas of trade and economic cooperation, taxation and tourism.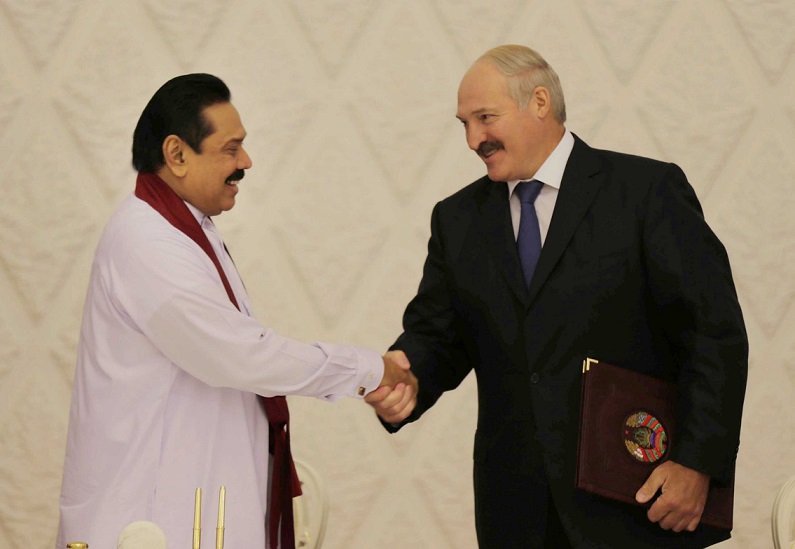 Minister of External Affairs Prof G.L. Peiris and the Justice Minister of Belarus Slizhevsky Oleg signed a treaty on mutual legal assistance in criminal matters between the two nations and an MOU on cooperation between the Justice Ministries.
The agreement for visa exemption for holders of diplomatic and official passports was signed by Sri Lanka's Ambassador in Russia accredited to Belarus, Udayanga Weeratunga and the Belarus Minister of Foreign Affairs Vladimir Makei. Secretary to the President Lalith Weeratunga and Deputy Chairman of the Belarus National Security Agency Vladimir Sulimov signed an agreement on technical cooperation in military affairs.
The Minister of External Affairs Prof. G.L. Peiris, Secretary to the President Lalith Weeratunga, Sri Lanka's Ambassador in Russia accredited to Belarus Udayanga Weeratunga, and Additional Secretary to the Ministry of External Affairs Mrs. Kshenuka Seneviratne also took part in the signing ceremony.
Pix By: Sudath Silva