Platinum 1 partners Konsept Centro for Nolte Pantries
Posted on November 8th, 2013
Media Release
Newly re-branded home furnishings consultancy Konsept Centro, formerly Centrepoint interiors, has been awarded the contract for the import, supply and installation of high-end German pantries at the exclusive and luxurious PLATINUM 1 residential skyscraper.
The sole Sri Lankan agent for Nolte of Germany, which offers a full range of high-end pantries, kitchens, etc., Konsept Centro has been contracted to fit out PLATINUM 1-â"¢s 20 floors, which encompasses a premium residential condominium that comprises 66 apartments and four duplex type penthouses, along with luxury shopping and recreational space.
Located in the heart of the city, at Number 1, Bagatalle Road, Colombo, including Galle Road frontage, with expansive Ocean Views, PLATINUM 1 was designed by renowned architects Manitayakul Associates of Thailand in collaboration with Design Advocacy of Sri Lanka.
Said Mr. Niranjan Weerasinghe, Chief Marketing Officer of Konsept Centro; "We are thrilled to be working on a project as unique and as state-of the-art as PLATINUM 1, which has publicly made known its intention to only offer its customers the best. This is fitting because the Nolte Pantries from Germany that we will be providing are likewise the best pantries available in the market today and, without doubt, what a project like this deserves."
Over the past five years, as Centrepoint Interiors, Konsept Centro has worked with homeowners at many of Sri Lanka-â"¢s top condominium projects in furnishing customers-â"¢ apartments to suit their lifestyles. These projects include hundreds of kitchen, bedroom and wardrobe units at high-profile condominiums such as Trillium, Hedges Court, the Empire, the Emperor and (soon to be completed) On320, in addition to the Lobby area of the recently refurbished Taj-â"¢s Gateway Airport Garden Hotel. In addition, the consultancy will also soon unveil its ultra-chic, multi-storey showroom at No. 141, Vijaya Kumaratunga Mawatha, Polhengoda, Colombo 5.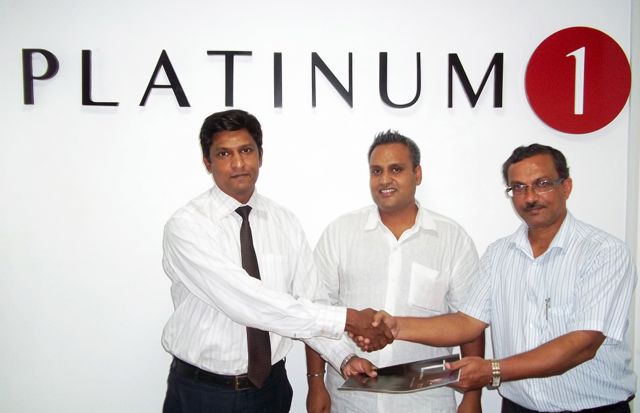 From Left to Right is Mr. Niranjan Weerasinghe, Chief Marketing Officer of Konsept Centro, receiving the contract from Mr. Kishore D. Reddy, Managing Director, and Mr. Ranajit Kundu, Assistant General Manager for Projects, both from PLATINUM 1.