Life Abroad – Part 76-Presidential Election and Colvin's dejection
Posted on April 23rd, 2014
Dr. Tilak Fernando

(Continuation of Nicky Karunarathna experiences)
Among the mixed bag of feed backs on Nicky Karunarathna's exposures on the masked characters of the yesteryear politicians in this country, especially the so called Socialist comrades who have been cheating and misleading the innocent public, I found another reader last week commenting thus: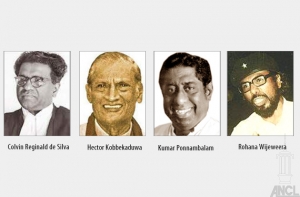 "You are a bit late to expose these characters! However, it is better late than never!! They were pretending to be the saviours of the proletariat. You may also be aware of Dr.N. Perera going through the share list every morning as a habit, despite his busy schedule! Do you know anything about the problems arose then with regard to the Giridara Mills? Your endeavor to reveal these facts will be most welcomed by the general public who are not aligned to any political party".
 Well! Going by Nicky Karunarathna's revelations that keeps on unwinding gradually and continuously, it is beginning to unravel more and more historical facts which had affected this nation and buried under for so long. As many interesting disclosures become exposed in the future, one thing that will register in readers' mind would be the stand taken by a patriotic Sri Lankan who had been disillusioned at first, but evidently put his country on top of politics as time passed by.
 First or Second Election?
 The second Presidential election held in 1982 (though officially recognised as the first of its kind through a democratic process) was fought amongst the candidates in a very competitive atmosphere. From the ruling UNP, the incumbent President J.R. Jayawardene contested, the SLFP was represented by Hector Kobbekaduwa, who didn't get the full backing due to infighting and undercutting tactics that existed within the party, Rohana Wijeweera (JVP), Kumar Ponnambalam (All Ceylon Tamil Congress), Colvin R. de Silva (LSSP) and Vasudeva Nanayakkara from the Nava Sama Samaja Party.
 Colvin assumed he had a better chance of making a mark, but at the end of the day, it was a total disappointment for his faithful party supporters when he ended up with only 58,531 votes against J.R. Jayawardene who scored 3,450,811votes, Hector Kobbekaduwa 2,548,438, Rohana Wijeweera received 273,428, Kumar Ponnambalam 173,934 and Vasudeva Nanayakkara ended up with 17,005votes.
 Nicky Karunarathna was involved mainly in Colombo district, particularly in Borella, which was   a unique electorate with one section of the population diluted with extreme poverty and associated with brutal acts of thuggery and murder in areas such as Vanathamulla, while another section of the electorate consisted of an affluent elite of the society which extended up to Colombo 7 .    
'No Go Zone'
Vanathamulla area had been converted into a 'no go zone' for anyone except for the UNP sympathisers. The place was infested with daring and dangerous type ruffians of the UNP who carried hand bombs and swords threatening the entire neighborhood. For Colvin, therefore, it became a non starter, even to dream of visiting the area without Nicky Karunarathna, who was pretty well known both in Colombo 7 elite as well as among the Vanathamulla down trodden population.
As an adolescent he (Nicky) had been intermingling with people at all levels in Vanathamulla. His best friend from Borella happened to be Mahinda Dharmapala, the owner of Borella Wallawa, who was equally a fearless character who could control the perilous underworld gangs known as 'Chandiyas' in the area.
Nicky's humility had earned a lot of respect in the area which made certain groups to approach him and request not to send Colvin to the area alone unless escorted by Nicky Karunarathna! That helped Colvin to canvass in the Vanathamulla area with confidence by going very deep inside of Vanathamulla locale and holding 'garden meetings' in the company of Nicky.
Dispute
M.H Mohamed, (UNP) who was based in Borella also had a lot of influence over the Vanathamulla folk equally. Nicky was identified as the Chief Organiser of the LSSP for Borella at that time. However, on the election night, prior to the vote counting at the Royal College premises, Nicky was allowed four comrades from the LSSP with all the necessary documentation to lead the delegation as the Chief scrutiniser for the Party. M.H. Mohamed represented the UNP with five people, while Rajitha Senaratne represented the SLFP candidate Kobbekaduwa.
The Election Ordinance of the country strictly stipulated only five personnel from each party could be accommodated in the counting area. However, M.H.Mohomed, being a Cabinet Minister at the time, had brought one extra person which ensued an argument, following an objection raised by Nicky Karunarathna alleging minister's attempt to abuse government power!
This led to somewhat a hullaballoo which ended up being reported to the Election Commissioner              (Dissanayake) who was presiding that day over the entire Royal College counting centre. Dissanayake     (who became the longest serving election commissioner subsequently) overruled Minister's appeal and M.H.Mohomed had to knuckle under with greatest reluctance. Nicky Karunarathna remembers how Rajitha Senaratne, who was watching this pandemonium, was completely balled over by his action of challenging a powerful Minister of J.R. Jayewardene cabinet!
Subsequently, Nicky and M.H.Mohomed became close buddies. When the latter became the Minister of Transport and introduced a new concept for Omnibuses as a separate Department. Nicky still remembers with gratitude how M.H. Mohamed acceded to his request and appointed Mrs. Soma Kotakadeniya (with a comment that it was not a post suitable for a female) as the first Director of the new Department!
Upon taking over the responsibilities of the Director of the new department, it did not take much time for Mrs. Soma Kotakadeniya to find out what M.H. Mohamed had commented on, prior to her appointment, when the big wigs in the JRJ administration sent her to the proverbial administrative Siberia (CAS pool) where she had 'nothing to do except twiddling her thumbs'!
This made her irritated and very frustrated and she took it personally as a punishment meted out to her by JRJ government. Still for all, Nicky Karunarathna was happy that at least being a member of the LSSP his initiative to convince the UNP Minister had worked and he managed to get Soma Kotakadeniya appointed as the first Director of the Department of Omnibus. Seemingly she progressed in her career and became the Commissioner of RMV (Registrar of Motor Vehicles) and later introduced the computerised plastic driving licence in Sri Lanka replacing the old book type of Certificate of Competence to drive motor vehicles.
Nicky Karunarathna appreciates M. H. Mohamed as a politician and a gentleman with a pleasing personality who disregarded party politics when he had to take some action. "As a politician I always respect him for having known me as a member of an opposition political party , yet keeping his Ministries as well as his residence always open for me without any security or protocols", says Nicky.
Assessment
Doing an assessment of the first Presidential elections in Sri Lanka, Nicky has seen the LSSP going into total disarray and in absolute shambles with a final nail in the coffin as a political party to reckon with! This was based on the fact that stalwarts such as Dr. N.M. Perera got defeated to a completely unknown candidate from Yatiyantota as much as Colvin R. de Silva lost appallingly.
As an organiser of the LSSP, Nicky says 'the LSSP managed to bring hornet's nest upon their own shoulders mainly due to the attitude adopted by the party by ignoring the majority voice of the country. They did not want to see the truth as truth and only made hair splitting arguments to deny the due place of the destitute Sinhala/Buddhist majority. 1970- 1977 was the only chance they had, if at all, to serve the masses, but it came to an abrupt end by getting kicked out of the government unceremoniously'.
"All this was due to the LSSP unscrupulous henchmen who were hell bent in using every chance they had to get their Christian Tamil agenda to work! Even at present, it is evident from some of the newspaper articles written by X.Y.Z   et al (names withheld) who try to propagate this issue to punish the Rajapaksa government with all damn lies and with the so-called International Community, better known as predator nations who think only Christians and Christian countries can win wars with the bible in one hand and sword in the other! Throughout history this has been the case, and if others do it in a different manner, it becomes intolerable for them to digest"!
tilakfernando@gmail.com
Next week: Signing of the Indo-Lanka Pact and introduction of the 13th Amendment