Wesak 2014 in Malaysia
Posted on May 16th, 2014
More than a million devotees and visitors visited Buddhist temples and centres throughout Malaysia on Wesak Day, which fell on May 13 this year and a national holiday. While the mood was of piety and devotion, there were places where it took a carnival like atmosphere with stalls selling various types of food, drinks, delicacies, religious hymns and also images and paintings of the Buddha and other deities.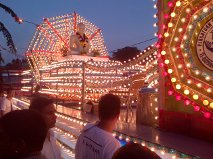 At the Buddhist Maha Vihara in Brickfields, Kuala Lumpur which was established by Sri Lankan Buddhists in 1894, about 100,000 devotees visited this 120 year old temple since Wesak Eve. Within the Vihara, various activities were held such as blessings by monks, oil lamps lit, a Sunday School Exhibition, blood and organ donation and free distribution of food, drinks, books and Dhamma talks on CD. Fund raising for the temple building fund and maintenance was also held.
At night, a huge gathering of about 30,000 people joined the 8km long Wesak candle light and float procession to the city center, commencing from the Buddhist Maha Vihara and back. About 30 beautifully decorated and colourfully lit floats bearing the image of the Buddha, from about 50 Buddhist organizations joined this procession which was participated by both Malaysian Buddhists of the Chinese, Indian and small Sinhala community and Buddhists from countries such as Sri Lanka, Nepal, Bangladesh, Thailand and Myanmar.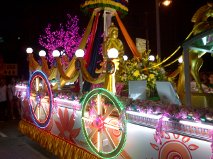 Elsewhere in the country, large crowds too joined various Wesak processions held with beautiful floats bearing the image of the Buddha in Sentul, Klang, Petaling Jaya, Penang, etc. Buddhists make up 19% of Malaysia's 30 million population. A large majority of the Buddhists, estimated to be more than 70% follow Mahayana Buddhism, 20% Theravada Buddhism and the balance follow Vajrayana Buddhism and Nichiren Soshu.
The first Buddhist temple in modern Malaysia is a Mahayana Buddhist temple, which was built in 1645 in Melaka dedicated to the Bodhisatva Kwan Yin. The largest temple in Malaysia is a Mahayana temple located in the island of Penang, located majestically on a hill which is the Kek Lok Si. It was built in 1893 and is the most frequented Buddhist temple by both Buddhists and tourists alike. Two of the world's largest reclining Buddha images are located in Malaysia in the island of Penang and the northern state of Kelantan which borders Thailand. These images built in Thai style are located in huge Thai temples and are major tourist attractions.
Archaelogical findings in northern Malaysia at Lembah Bujang had unearthed structures and artefacts dating back to the 1st Century BC. A structure believed to be the base of a stupa has been found two years ago which dates back to the 1st Century AD, making it the oldest man made structure found in the whole of South East Asia. This finding suggests the possibility that one of Emperor Asoka's 9 Dhammadutta missions, ie Sona and Uttara who were carrying the Buddha's message of peace came to Lembah Bujang instead of Thailand, Myanmar, Cambodia or Indonesia. Lembah Bujang was then a thriving maritime port for Indian traders for their trade en route with Chinese merchants.