COMMONWEALTH CRICKET UNIFIES THE PEOPLE – DR CHRIS NONIS
Posted on June 14th, 2014
Sri Lanka High Commission London
Cricket is a strong unifier amongst all communities, Dr Chris Nonis said, as he warmly welcomed the Sri Lankan Cricket team to a Commonwealth Cricket Reception at the Sri Lanka High Commission in London. He congratulated the team for their perseverance and dedication and that it was a great tribute to Sri Lanka in the post-conflict era.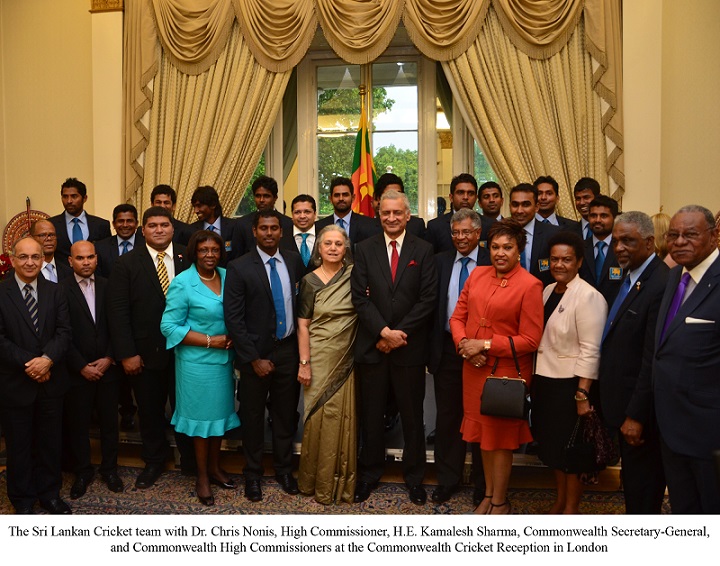 Commonwealth Secretary-General, H.E. Kamalesh Sharma and High Commissioners from Commonwealth Countries; Rt Hon Lord Naseby, Damian Collins M.P., David Campbell-Bannerman M.E.P., David Morris, M.P., joined other Members of Parliament, Commonwealth Institutions, and cricket enthusiasts to felicitate the team. Captain of the team, Angelo Matthews, and Manager of the team, Michael de Zoysa also addressed the gathering.
Dr Nonis stated that the Sri Lankan cricket team is a microcosm of Sri Lanka, reflecting the diversity and heterogeneity of the country, and the spirit and aspirations of the Commonwealth.
It was particularly appropriate that a Commonwealth Cricket Reception was held in London to felicitate our Cricket Team, as Sri Lanka successfully hosted CHOGM 2013 and H.E. President Mahinda Rajapaksa is the current Chair-in-office of the Commonwealth.