'LANKA'S VICTORY, OUR SECURITY' – Dr. Subramanian Swamy
Posted on August 21st, 2014
CHAMINDA PERERA Courtesy The Daily News
India will not accept any inquiry against SL
Sri Lanka's issue not ethnic, but linguistic
Chairman of the Bharatiya Janata Party (BJP) Committee for Strategic Action and Leader of the Janatha Party Dr. Subramanian Swamy yesterday said Sri Lanka's victory over terrorism helped ensure the security of India too. "Not only that Sri Lankans have started to live in normalcy without fear but a major national security goal of India was also achieved as a collateral gain by Sri Lanka's victory over the LTTE," he said. Swamy added that reconciliation will go a long way if Tamils as a bloc do not vote against Sinhala candidates at the forthcoming elections.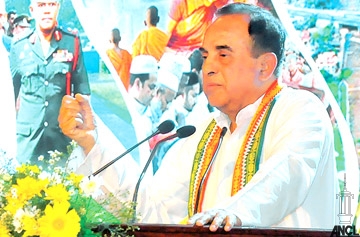 "We will not accept any inquiry against Sri Lanka from any quarter.
"No genocide has taken place in Sri Lanka," Dr. Swamy emphasized. He was addressing the delegates at the Defence Seminar 2014 in Colombo yesterday.
The Janatha Party leader said that India's foreign policy will be formulated with national interests in mind. India will always place its own national interest above the interests of Provincial governments.
Swamy said that issue in Sri Lanka is not an ethnic issue but purely an issue related to linguistics.
"Patriotic Indians do not consider the core issue of the Sri Lankan strife as connected to ethnicity as the West is prone to project, but that it was a linguistic one," he said.
He said that he has never been able to understand the attitude of the Tamil people who adopted former Army Commander Sarath Fonseka as a candidate at the last Presidential election while leveling baseless allegations that the army committed genocide in Sri Lanka.
"I have never been able to understand the Tamil attitude in Sri Lank particularly in the North.
The Tamils who kept on telling me that that the army committed genocide have selected the Commander of Army as their candidate," he said.
Swamy queried as to how the Commander of the Army was not aware of a genocide if it had been perpetrated.
"How is it possible that the Commander of Sri Lanka Army knew nothing about the human rights atrocities carried out by the Sri Lankan army and President Rajapaksa would alone be responsible for them.
The Janatha Party Leader added that no genocide had taken place in Sri Lanka during the conflict and even the UN has not said that Sri Lanka has committed genocide.
"It is a group of people with vested interests based in London who are trying to propagate this ideology," he said.