Sri Lanka must demand the return of the remains of Ven. Thotagamuwe Sri Rahula from Goa, if the DNA tests prove positive
Posted on November 27th, 2014
Shenali D. Waduge
Holocaust, Crusades, Portuguese and Spanish inquisitions, Salem witch trials, Genocide of the native peoples of the Americas and Carribean, Genocide of Middle Eastern peoples, Genocide of Africans and Australian Aborginals, the Portuguese Inquisition in Goa and Sri Lanka the list can go on. These are unforgivable crimes committed by European Christians in the name of Christianity. Adolf Hitler was a Roman Catholic, a Christian. He had Jews killed in the name of God.  The Holocaust was conducted primarily to avenge the killing of Jesus Christ. That is why the Catholic Church including the then Pope Pius X11 never really opposed it.  When the Holocaust comes to mind, it must be remembered that Germany was, and still is, a predominantly Christian country.
500 years ago, when Christians started moving out of Europe to seize and occupy lands peopled by black, brown and yellow races,  they resorted to mass murder to convert the natives. They also specialized in hijacking anything of cultural and religious importance that the indigenous had and twisted the facts to suit their fancy, even the remains of human beings e.g. skeletons of Australian Aborginal chieftains and their families, Egyptian mummies and the like were not spared. They were dug from the graves or stolen from Pyramids and transported to the Museums and Castles of Europe.
Even in the colonies Buddhist and Hindu Temples were destroyed and Catholic Churches were built on the destroyed sites. For example the famous St. Anthony's shrine in Kochchikade was an ancient temple of Kali Amma (The current Hindu temple has been shifted down the road) while the Madhu Church was formerly the site of a Hindu Pattini Devale and called Amman Kovil.
In the context of theft by western colonial countries of anything valuable that the subject peoples had, this paper will focus attention on the mortal remains now lying in state in the Bassilica Dom Jesus in Goa, India that has generated a significant question for a number of centuries that continues to be asked repeatedly but never answered.
Is the body lying inside a glass vessel that of Ven. Thotagamuwe Sri Rahula Thero or that of Francis Xavier?
With scientific methodologies available why are authorities reluctant to put these guesses to rest? It is the simplest, logical and impartial means of putting to rest centuries of doubt.
The body of 'Francis Xavier' is to be displayed from 22 November to 4 January 2015 to celebrate 500 years since the arrival of the Portuguese and Catholicism. It is now reported that the Konkani Christian victims of Francis Xavier's atrocities have started a nation-wide campaign demanding that the body lying in the Goa Church be sent back to his home in France, Before such a deportation of the remains takes place, it is important that a DNA test be conducted to determine whether the body is that of Francis Xavier or that of Ven. Thotagamuwe Sri Rahula Thero so that the body can be returned to Sri Lanka and not be sent to France.
http://www.indiafacts.co.in/victims-of-francis-xavier-oppose-the-public-display-of-his-corpse-demand-return-to-france/#.VHSBcGdh7TO
 Ven. Thotagamuwe Sri Rahula Thero
 In a manner similar to a beacon of light illuminating 15th century Lanka in the literary sphere, Venerable Thotagamuwe Sri Rahula Thero was a literary giant who authored such famous literary works during the period from 1430 to 1440 such as Buddhagajjaya, Vurthamala Sandesaya, Paravi Sandesaya, Selalihini Sandesaya, Kawyasekaraya, Panchika Pradeepaya, Buddipasadiniya, Gira Sandesaya, Sakaskada and Mawulu Sandesaya.  

http://srirahulathero.com/about.html
Born on 9th June 1409 during the reign of King Parakramabahu the 6th, ordained as a Bhikkhu in 1429 Sri Rahula Thero was known as Vachchiswara. The Kotte period was known as the Golden Era of Sri Lanka and his works Selalihini Sandeshaya, Gira Sandeshaya, Paravi Sandeshaya, Kawyasekera poetry belong to this golden era. Sri Rahula thero himself was proficient in 6 languages and was a distinguished author, veteran astrologer and proficient in ayurvedic medicine.
He became the first Bhikkhu to be conferred the post of Sangaraja by the King. He was also the chief incumbent and the principal of Thotagamuwe Vijayaba Pirivena, the internationally acclaimed institute of education founded by King Vijayabahu 1 that became a target for Catholic destruction.  Both Vijayaba Pirivena and Rathpath Vihara were destroyed by Thome de Souza in 1580 AD leaving only some granite pillars. The temple was reconstructed in 1765 by Ven. Pallattara Thero.
The destruction that the Portuguese invaders committed are little mentioned and whenever these examples are brought up contemporary commentators rush to declare that past misdeeds should be buried and forgotten and attempt to bury their dark historical deeds. These acts under modern laws would be catalogued as heinous crimes.
Sri Rahula Thero passed away on 27th September 1491 at the age of 82. Upon his death the villagers arrived at the Vijayaba Pirivena and placed his body (with growing hair and nails) in the Ambana Indurugiri cave close to Elpitiya for safety.
Ven. Rahula Thero is said to have consumed a medication (Siddaloka Rasaya) that enabled his body to remain unchanged until year 4230 (engraved in a stanza on a sheet of copper before his death).  The Portuguese had eventually taken control of the body and decided to dispatch the body to Goa, India. Francis Xavier who had arrived to engage in Christian Missionary activities was tasked with shifting Ven. Sri Rahula Thero's body to Goa. Francis Xavier died at sea during the journey.
http://amazinglanka.com/wp/thotagamuwe-sri-rahula/
http://www.thegoan.net/Goa/Big-Story/SAINT-OR-MONK/07275.html
Francis Xavier
Francis Xavier, SJ, born Francisco de Jasso y Azpilicueta (7 April 1506 – 3 December 1552), was a Roman Catholic missionary born in Xavier, Kingdom of Navarre (now part of Spain), and co-founder of the Society of Jesus.
On May 6th 1542, St Francis Xavier of the Jesuit order of Ignatius Loyola (to which present Pope belongs), at the young age of 36,  landed at Goa, after a 13 month ardous voyage round the Cape of Good Hope under orders of King of Portugal Joao III.
As soon as Xavier landed at Goa he wrote to his king Whoever has seen Goa need not see Lisbon"
Pretty soon, he found out the hard way– that the local Indians are NOT east to convert from Hinduism to Christianity. He then ordered temples to be demolished. But then people had idols in their houses.
In 1545 Francis Xavier, frustrated — wrote to Rome (this letter is preserved) and to the King —
QUOTE The Hindus are an unholy race. They are liars and cheats to the very backbone. Their idols are black—as black as black can be— ugly and horrible to look at , smeared with oil and smell in a evil manner. –UNQUOTE
Francis Xavier formally ordered the Portugese Inquisition for Goa, which ran from 1516 to 1812. The rest of Europe had terminated the Inquisition in 1774. It stopped in 1812 due to British intervention.
More than 20,000 people were brought under trial by this Inquisition.
They were NOT allowed to wear the Shendi ( hair tuft ), have a Tulsi plant in front of their house, wear the sacred thread , have an idol in their homes , wear sandals , read the Vedas etc
The Portugese first started off with high ranking Saraswat Brahmin Hindus who held the land and riches. Whoever was caught in a palanquin had to undergo the brutal inquisition.
This drove all of them away from Goa, leaving the land behind.  Some of them unwillingly converted into Christianity.
It was NOT religious hatred alone, the main reason was to steal as many ancient Sanskrit and Malayalam Vedic texts on Science, Medicine and Mathematics. It is from Xavier that Europe came to know about medicinal leech vaccination ( among other things ), and later Freemason Edward Jenner made a name for himself. The ancient Maharishis from Kerala, like Imhotep, has been vaccinating the Pharaohs of Egypt, 6500 years before Edward Jenner.
The Hindu masses were converted into Christianity, saddled with Portuguese surnames , given menial jobs, made to eat Beef and Pork and drink cheap Feni ( a local brew made of Cashew and Coconut ). This easy inebriated life destroyed their mindset and till today no Catholic Goan boy has passed the IIT entrance exam. ( ala the Red Indians of North America and the Aborigines of Australia )
See
PORTUGUESE INQUISITION IN GOA ORDERED BY FRANCIS XAVIER — CAPT AJIT VADAKAYIL
http://ajitvadakayil.blogspot.com/2010/12/portuguese-inquisition-in-goa-and.html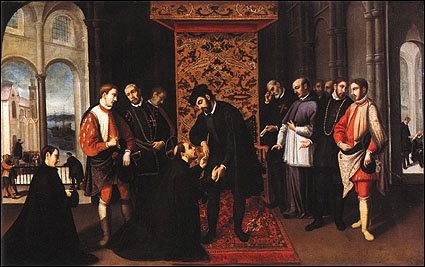 St. Francis Xavier requesting John III of Portugal for a Catholic expedition and inquisition in Portuguese India.
http://upload.wikimedia.org/wikipedia/commons/3/37/Joao_III_Francisco_Xavier.jpg
http://en.wikipedia.org/wiki/Francis_Xavier

In the 16th and 17th centuries, the Portuguese Empire of the East or Estado da Índia ("State of India") included possessions in all the Asian Sub-Continents, East Africa, and Pacific.
Historical records of Francis Xavier's barbarism, mass murder and torture of Hindus diminishes his glorification as a miracle worker by Christians. The victims of Francis Xavier claim that it is heinous to glorify such a mass murderer and to make a saint when he died in 1552. Francis Xavier was beatified by Pope Paul V in 1619 and three years later, Pope Gregory XV canonized him. The victims declare that Portuguese rule does not prevail in Goa and thus there is no real requirement to preserve Xavier's corpse in Goa. 'We will soon petition the Goa Government and the Central Government' – said Robert Rosario, activist and leader of the Victims of Francis Xavier movement.
http://www.indiafacts.co.in/victims-of-francis-xavier-oppose-the-public-display-of-his-corpse-demand-return-to-france/#.VHUnLhtxlMv
Crimes of Christian Missionaries
Christian missionaries first arrived in Malabar after Vasco da Gama's arrival in Calicut, India in 1498. Francis Xavier born in 1506 was a missionary with a mission to 'uproot paganism' and he arrived on 6th May 1542. The Christian mission was to destroy Hinduism and in its place plant Christianity. Francis Xavier is exalted by Christians because he began 'mass baptism' initiated by Jesuits and Franciscans. Foul methods were adopted by Christian priests to convert – they are said to have roamed the streets with their African slaves and smeared the lips of Indians with beef making them 'untouchable' and leaving them no choice but to convert. Francis Xavier took part in these forced conversion tactics and his letters to the Jesuits in Rome reveal his character:
There are in these parts among the pagans a class of men called Brahmins. They are as perverse and wicked a set as can anywhere be found, and to whom applies the Psalm which says: 'From an unholy race, and wicked and crafty men, deliver me, Lord.' If it were not for the Brahmins, we should have all the heathens embracing our faith."
Following the baptisms, the new Christians return to their homes and come back with their wives and families to be in their turn also prepared for baptism. After all have been baptised, I order that everywhere the temples of the false gods be pulled down and idols broken. I know not how to describe in words the joy I feel before the spectacle of pulling down and destroying the idols by the very people who formerly worshipped them."  
Francis Xavier even despatched a letter to King John III of Portugal on 16th May 1545 (just 3 years after arriving in India) to demand the inquisition to be sent to Goa.
The second necessity for the Christians is that your Majesty establish the Holy Inquisition, because there are many who live according to the Jewish law, and according to the Mahomedan sect, without any fear of God or shame of the world. And since there are many spread all over the fortresses, there is the need of the Holy Inquisition and of many preachers. Your Majesty should provide such necessary things for your loyal and faithful subjects in India."  – Joseph Wicki, Documenta Indica, Vol. IV, Rome, 1956.
Historian Paul Roberts (The Empire of the Soul: Some Journeys in India, 1997) describes the Goa Inquisition:
Children were flogged and slowly dismembered in front of their parents, whose eyelids had been sliced off to make sure they missed nothing. Extremities were amputated carefully, so that a person could remain conscious even when all that remained was a torso  and head. Male genitals were removed and burned in front of wives, breasts hacked off and vaginas penetrated by swords while husbands were forced to watch…. And it went on for two hundred years."
In 2012 Sita Ram Goel's 'St. Francis Xavier : A pirate in priest's clothing' was published by the Asian Age and Deccan Chronicle.
http://bharatabharati.wordpress.com/2012/12/04/st-francis-xavier-a-pirate-in-priests-clothing-sita-ram-goel/
Capt Ajit Vadakayil contends that Francis Xavier ordered the Portuguese Inquisition for Goa which ran from 1516 to 1812 and was stopped only due to British intervention.
http://robinlea.com/pub/FrancisXavier/a-brutal-inquisition-ordered-by-st-francis-xavier.html
The role of Francis Xavier in the Goa Inquisition 
He had written to King João III of Portugal in 1546, encouraging him to dispatch the Inquisition to Goa, which he did many years later in 1560. Francis Xavier passed away in 1552 without living to see the horrors of the Goa Inquisition, but some historians believe that he was aware of the Portuguese Inquisition's brutality. In an interview to an Indian newspaper, historian Teotónio de Souza stated that Francis Xavier and Simão Rodrigues, another founder-member of the Society of Jesus, were together in Lisbon before Francis left for India. Both were asked to assist spiritually the prisoners of the Inquisition and were present at the very first Auto-da-fé celebrated in Portugal in September 1540, at which 23 were absolved and two were condemned to be burnt, including a French cleric. Hence he believes that Francis Xavier could not have been unaware of the brutality of the Inquisition.
Some of Francis Xavier's quotes have been used to argue for this stance. In particular the following two quotes are used:
"When I have finished baptizing the people, I order them to destroy the huts in which they keep their idols; and I have them break the statues of their idols into tiny pieces, since they are now Christians. I could never come to an end describing to you the great consolation which fills my soul when I see idols being destroyed by the hands of those who had been idolaters."
On Baptising and inducting children into Christianity, he wrote in 1543 to the Society of Jesus in Rome:
" These children, I trust heartily, by the grace of God, will be much better than their fathers. They show an ardent love for the Divine law, and an extraordinary zeal for learning our holy religion and imparting it to others. Their hatred for idolatry is marvellous. They get into feuds with the heathen about it, and whenever their own parents practise it, they reproach them and come off to tell me at once. Whenever I hear of any act of idolatrous worship, I go to the place with a large band of these children, who very soon load the devil with a greater amount of insult and abuse than he has lately received of honor and worship from their parents, relations, and acquaintances. The children run at the idols, upset them, dash them down, break them to pieces, spit on them, trample on them, kick them about, and in short heap on them every possible outrage."
http://en.wikipedia.org/wiki/Francis_Xavier
Goa inquisition
Religious persecution took place by the Portuguese in Goa, India from 16th to the 17th century. The natives of Goa, most of them Hindus were subjected to severe torture and oppression by the zealous Portuguese rulers and missionaries and forcibly converted to Christianity.
In 1567, the campaign of destroying temples in Bardez met with success. At the end of it 300 Hindu temples were destroyed. Enacting laws, prohibition was laid from December 4, 1567 on rituals of Hindu marriages, sacred thread wearing and cremation. All the persons above 15 years of age were compelled to listen to Christian preaching, failing which they were punished. In 1583, Hindu temples at Assolna and Cuncolim were destroyed through army action. "The fathers of the Church forbade the Hindus under terrible penalties the use of their own sacred books, and prevented them from all exercise of their religion. They destroyed their temples, and so harassed and interfered with the people that they abandoned the city in large numbers, refusing to remain any longer in a place where they had no liberty, and were liable to imprisonment, torture and death if they worshipped after their own fashion the gods of their fathers." wrote Filippo Sassetti, who was in India from 1578 to 1588. An order was issued in June 1684 for suppressing the Konkani language and making it compulsory to speak the Portuguese language. The law provided for dealing toughly with anyone using the local language. Following that law all the non-Christian cultural symbols and the books written in local languages were sought to be destroyed.
Methods such as repressive laws, demolition of temples and mosques, destruction of holy books, fines and the forcible conversion of orphans were used."
See
http://en.wikipedia.org/wiki/Forced_conversion#Christianity
http://en.wikipedia.org/wiki/Goa_Inquisition
The controversy: Francis Xavier and Sri Rahula Thero
We now come to the controversy of determining whose mortal remains are in Goa.
Background to this is the contention that Francis Xavier who was tasked by the Portuguese to forcibly remove the body of Sri Rahula from the Ambana Indurugiri cave (near Elpitiya) in Sri Lanka, had died of dysentery and his body was thrown out to sea but the body lying in a Roman Catholic Church in Goa is projected as that being Francis Xavier and not Sri Rahula.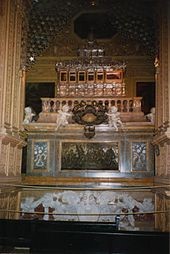 Casket in Goa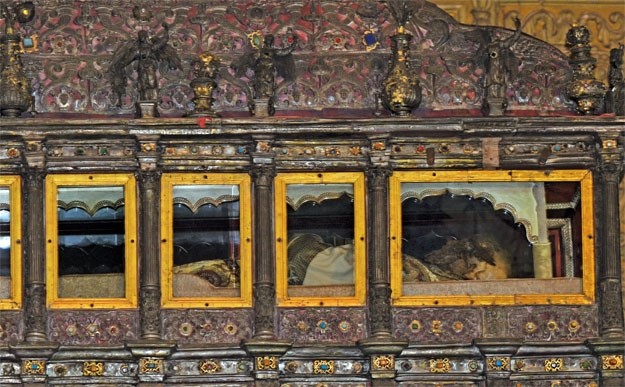 Casket in Goa
https://mail.google.com/mail/u/0/?tab=wm#inbox/149e7648475bad6f?projector=1
Arguments favouring the contention that the body is that of Sri Rahula's
Francis Xavier was a Spaniard from the Basque country which is known for tall people with high cheek bones and well-built bodies – the body lying in Goa is short with South Asian features.
The body is dark skinned – Capt Ajit Vadakayil also claims that the excuse that Francis Xaviers body was covered in lime in China cannot be accepted as lime does not convert white skin to a uniform brown texture (which is the color of the body lying in Goa)
The Post-mortem of Francis Xaviers body published in the Christian journal Catholic Messenger in 1931, 1st December edition records that the body is of Asian origin and not European origin
Capt Ajit Vadakayil asserts that Francis Xavier's converted servant Christopher from the town of Calicut in Malabar who was on board the ship was witness to the Captain of the ship throwing Francis Xavier's body to sea after dressing Sri Rahula's body with the clothes worn by Francis Xavier.
http://ajitvadakayil.blogspot.com/2010/12/portuguese-inquisition-in-goa-and.html
https://www.youtube.com/watch?v=hxjJoNB2miE
This presentation on YouTube covers other aspects of the argument against the body being that of Francis Xavier.
See views of Sunday Observer Sri Lanka's Special Correspondent W.T.J.S.Kaviratne
https://www.youtube.com/watch?v=AmckPSGCkZo
When in doubt, remove that doubt…
Stories and legends do not hold water. But scientific research does. To establish the credibility of stories and legends there is a very methodical and acceptable way out. That is to conduct a simple DNA test. Scientific evidence will prove beyond doubt.
The Buddhists of Sri Lanka and rest of the world will be ready to accept the findings of an impartial DNA test conducted by an unrelated Third Party with unimpeachable scientific credentials to determine whose mortal remains lie in Goa.
If not DNA even finger printing and matching of Francis Xavier's bones with that of one of the living descendants of Sri Rahula has also been suggested.
With the newest development from the victims of Francis Xavier calling for the body lying in the church in Goa to be returned to France, it is important that it is conclusively determined whose body it is for it would be a tragedy if the body of one of Sri Lanka's most venerated Buddhist icons and literary wizard, Ven. Thotagamuwe Sri Rahula, is to be sent to France when it should rightly be returned to Sri Lanka.
The Government of Sri Lanka through its Ministry of External Affairs must lose no time in contacting its counterpart in India and if necessary even Prime Minister Narendra Modi himself to intervene and ensure that a proper DNA test is conducted under the auspices of the Government of India to ensure that justice is done and the air cleared of all doubts regarding the authenticity and identity of the remains.
If the DNA test establishes that the corpse is of Asian origin as stated in the Christian journal Catholic Messenger in 1931, 1st December edition, then it would be tantamount to a travesty of justice and incident of scandalous proportions to send the remains to France. It will further contribute to unnecessary friction between communities in Sri Lanka. The voice of the Buddhists of this country must not remain silent on this issue. The Government of Sri Lanka which is mandated by Article 9 of the Constitution to protect and foster Buddhism must not shirk its Constitutional responsibilities.
Let the truth prevail, must be the abiding principle in the resolution of this historical dispute which can be easily solved by the application of modern scientific DNA tests.
Shenali D. Waduge