Let's go back to the 1st UNHRC Resolution on Sri Lanka in May 2009
Posted on September 2nd, 2015
Shenali D Waduge
3 decades of terrorism in Sri Lanka ended in May 2009 following a military defeat of the LTTE. The Human Rights Council announced on 22 May 2009 that it would hold a special session to address the human rights situation in Sri Lanka on 26 May 2009. It was being convened at the request of Germany on behalf of 17 members of the HRC: Canada, France, Italy, Mexico, the Netherlands, Korea, Slovakia, Slovenia, Switzerland, Ukraine, Argentina, Bosnia & Herzegovina, Mauritius, Chile, Uruguay and the UK. General Assembly Resolution 60/251 which created the Human Rights Council states in its operative paragraph 10 that the Council shall be able to hold Special Sessions when needed at the request of a member of the Council with the support of one-third of the membership of the Council". To convene a special session 1/3 of the HRC members were required. The magical 16 number was achieved. Arguably if the members of the UN/HRC had shown this much of passion during the terrorist conflict about human rights et al we may have not had to endure 3 decades of terror.
http://www.ohchr.org/EN/NewsEvents/Pages/DisplayNews.aspx?NewsID=9105&LangID=E
Thus on 27th May 2009, less than 10 days following the military defeat of the LTTE, the Human Rights Council adopted a resolution. It was called a 'resolution of assistance to Sri Lanka in the promotion and protection of human rights'. The resolution went to vote. 29 voted in favour, 12 against and 6 abstained.
Voted in favour (29):
Voted against (12):
Abstained (6) :
Angola, Azerbaijan, Bahrain, Bangladesh, Bolivia, Brazil, Burkina Faso, Cameroon, China, Cuba, Djibouti, Egypt, Ghana, India, Indonesia, Jordan, Madagascar, Malaysia, Nicaragua, Nigeria, Pakistan, Philippines, Qatar, Russian Federation, Saudi Arabia, Senegal, South Africa, Uruguay, and Zambia.

Bosnia and Herzegovina, Canada, Chile, France, Germany, Italy, Mexico, Netherlands, Slovakia, Slovenia, Switzerland, and United Kingdom

(the highlighted 4 originally supported Germany's call for a special session)

Argentina, Gabon, Japan, Mauritius, Republic of Korea, and Ukraine
Little is said about the counter resolution (no-action motion) L.1/Rev.2 brought by Cuba submitted before taking action on the draft resolution. Germany in fact wished to make 9 amendments to the L.1/Rev.2 forcing Cuba to invoke rule 117 of the Rules of Procedure and block discussions.
| | | |
| --- | --- | --- |
| Voted in favour (22): | Voted against (17): | Abstained (7) : |
| Angola, Bahrain, Bangladesh, Bolivia, Burkina Faso, Cameroon, China, Cuba, Djibouti, Egypt, Ghana, India, Indonesia, Madagascar, Malaysia, Nicaragua, Pakistan, Philippines, Qatar, Russian Federation, Saudi Arabia, and South Africa | Argentina, Bosnia and Herzegovina, Canada, Chile, France, Germany, Italy, Japan, Mauritius, Mexico, Netherlands, Republic of Korea, Slovakia, Slovenia, Switzerland, United Kingdom, and Uruguay | Azerbaijan, Brazil, Gabon, Nigeria, Senegal, Ukraine, and Zambia. |
It was interesting that after 3 decades throughout which so many civilians were targets of LTTE terror was ignored the very same nations are suddenly piqued about violations of rights that they jumped to sponsor a Special Session which however led to no consensus for a follow-up against Sri Lanka despite the chirping by them of violations devoid of evidence! What were these nations doing all these years when LTTE were sending suicide missions and placing bombs in public places or cutting up villagers to pieces?
The very countries that had been shouting weapons of mass destruction in Iraq (a mere publicity stunt to invade & occupy Iraq) were now screaming 'war crimes' against Sri Lanka without an iota of evidence. The statements issued by the envoys of the members clearly established that even after 3 decades member nations were clueless about the terrorist situation in Sri Lanka, the type of terror LTTE unleashed, how and who created and funded LTTE and the other entities linked to LTTE over the years some of them being the very countries who were pretending to be paragons of virtue.
http://www.ohchr.org/EN/NewsEvents/Pages/DisplayNews.aspx?NewsID=9105&LangID=E#sthash.RuMeKctv.dpuf
Be that as it may the Human Rights Council resolution of 26 May 2009 S-11/1 Assistance to Sri Lanka in the promotion and protection of human rights
If in 2009 the Human Rights Council reaffirmed its respect for the sovereignty, territorial integrity and independence of Sri Lanka and Sri Lanka's sovereign rights to protect its citizens and to combat terrorism, the HRC must be fully aware that the decision to militarily defeat the LTTE came after 3 decades of suffering terror at the hands of the LTTE and after ceasefires, peace talks, negotiations, foreign-monitoring missions, foreign-mediated talks all failed to stop LTTE from murdering people and causing mayhem across the country. 
While the 2009 HRC Resolution condemned LTTE for 'launching attacks on civilian populations' and 'using civilians as human shields' and kept 'against their will as hostages' what riot act is the HRC reading out to the LTTE and against whom will the HRC take action?
When the 2009 HRC Resolution welcomed the conclusion of hostilities and efforts by the GOSL to ensure the safety and security of all Sri Lankans on what grounds were the parallel accusations being brought?
If the HRC is upholding Sri Lanka's rights to its sovereignty why did the HRC include the need to implement the 13th amendment and refer to a political solution when Sri Lanka has been all the time saying that we suffered a terrorist problem which even the Tamils were victims of.
It is also interesting to note that following the liberation of the East in 2008 none of the present pressures about IDPs, relief, rehabilitation, human rights was shown by any of the countries delivering heart rendering speeches about Sri Lanka's duties towards its citizens!
 The highlights of the 2009 resolution
HRC's acknowledgement of the continued engagement by GOSL in regularly and transparently briefing and updating the council on the human rights situation on the ground in Sri Lanka and the measures taken (if Sri Lanka has been regular, transparent and updating the Council why is the Council and its High Commissioner going on a tangent against Sri Lanka via OHCHR reports)
Commended the measures taken by the GOSL to address needs of the IDPs
Welcomed the continued commitment of Sri Lanka to the promotion & protection of all human rights and encouraged Sri Lanka to continue to uphold its human rights obligations and norms of international human rights law.
Encouraged the GOSL to continue to pursue its existing cooperation with UN organizations.
Welcomed the proposal to safely resettle IDPs in 6 months (did the HRC give such timelines to the US/UK & NATO in all the nations they invaded and occupied leaving millions of IDPs?)
Acknowledged the commitment of the GOSL to provide access to international humanitarian agencies to ensure humanitarian assistance
Encouraged the GOSL to persevere in efforts to disarm, demobilize and rehabilitate former child soldiers recruited by non-state actors and reintegrate them into society (in fact a very successful rehabilitation and reintegration program was created by Sri Lanka).
Urged the GOSL to continue strengthening its activities to ensure there was no discrimination against ethnic minorities
Welcomed the cooperation between the GOSL and UN agencies and humanitarian organizations to provide humanitarian assistance
Welcomed the recent visits to Sri Lanka by the Under-Secretary-General for Humanitarian Affairs and the Representative of the Secretary-General on the human rights of the internally displaced persons and encouraged them to continue to cooperate in mobilization and provision of humanitarian assistance
Welcomed the visit of the Secretary General at the invitation of the President of Sri Lanka and endorsed the joint statement (though this statement did not have any line to say Sri Lanka was going to investigate the conflict)
Welcomed the resolve of the Sri Lankan authorities to begin broader dialogue with all parties to enhance the political settlement (again this has nothing to do with the terrorist problem and is very much within the internal affairs of a sovereign country)
Urged the international community to cooperate with the GOSL in reconstruction efforts including financial assistance.
Adopted by a recorded vote of 29 to 12, with 6 abstentions
Let us remind again that apart from the commonly expected to be used statements issued by member nations and use of words/phrases simply because envoys are expected to use them there was nothing substantial in any of the comments made by either the HRC or the member envoys.
The numbers game
 As you can see from 2009 other than less than 10,000 figure there was no mention whatsoever of a 40,000 figure. Gordon Weiss was the first culprit to start the ball rolling hoping to kickstart his career as an author and similar others took their cue. Soon the 40,000 reached bizarre heights of imagination going up to 200,000 at times forgetting that 300,000 had actually been saved.
What was hilarious about these inflated figures was that it only enabled to showcase the lies being played. While the sick and injured could be counted the media coverage about 'hundreds of thousands dead' had a big piece missing – there was no physical body and no signs of bodies being buried either. The dead must have bodies!!!
As this photo of 2500 dead Iraqi's show, someone should have been able to take a picture of 40,000 dead bodies in a small stretch of land that they were confined to…. And while Channel 4 became famous for funded documentaries about isolated acts of soldiers which cannot be argued as war crimes by a State on orders of command, where are their footage on the 40,000 dead??? We have been waiting 6 years now and only one or two isolated cases are being repeatedly shown which hardly account for a nation to be accused of war crimes. Individual soldiers responsible for not keeping to military discipline should certainly be punished via a Sri Lankan military tribunal per SL military laws.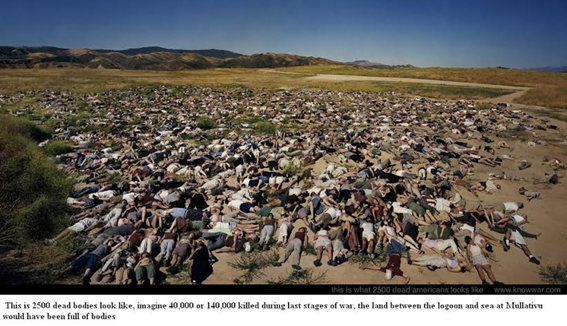 13 March 2009 – Navi Pillay quoted 2800 deaths
24 April 2009 – UN gave 6432 deaths
UK Guardian on 24 April 2009 quoted UN officials unofficially confirming 6500 dead from January to April 2009
UK Times placed the figure of dead at 20,000 on 29 May 2009.
Tamilnet – pro-LTTE website gave death total as 7,398
A UN document estimated that 7,721 civilians were killed between August 2008 and 13 May 2009 (Ban Ki Moon's panel thought the number too low a ridiculous reason to not accept the UN figure)
In February 2010 he appeared on an ABC television programme where he cited anything between 10,000 and 40,000" civilian deaths in the 'seige zone.'
Gordon Weiss initially quoted 7000 figure which was quoted by the UN New York office. After leaving the UN and starting his book the civilian figures conveniently got elevated to 15,000 and then that figure became 40,000 and media as expected quoted Weiss's inflated figures as being quoted by the UN instead of saying these were personal views of a former UN spokesman!
When Weiss quoted 7000 Sir John Holmes, the UN Under-Secretary-General for Humanitarian Affairs and UN Emergency Relief Coordinator on 24 March 2009 said the figure could not be verified.
Ban Ki Moon the UN Secretary General arrived in Sri Lanka on 23 May 2009 for a 3 day visit. A joint statement was issued but nothing that committed Sri Lanka to assuring to hold any investigation. Following much diplomatic pressure the Lessons Learnt and Reconcilation Commission was appointed on 15 May 2010 with a mandate covering 2002 to May 2009. Hardly a month passed for UNSG to appoint a 3 member panel on 22nd June 2010 with a mandate to appraise the UNSG on the last 3 months of the conflict. UNSG's spokesman Martin Nesirky declares that the panel is "not a fact-finding mission…not an investigation…not an inquiry…not a probe….only a panel to advise the UNSG".
In the words of Ban Ki Moon's panel if there is no authoritative figure for civilian deaths or injuries in the Vanni in the final phases of the war." Why is there a tendency to be selectively choosing which numbers are more appropriate to be held against Sri Lanka?
Recalling the words of Abdel Wahab Hani of Arab Commission for Human Rights human suffering had no color, race, language or gender' why is it that the UN/HRC and foreign envoys insist on investigating only the last 3 months when they are well aware that terrorism lasted 3 decades?
As you can see the first resolution had none of the frills that has accompanied the rest of the resolutions against Sri Lanka which have become confused by putting anything and everything the drafters could cook up in their vengeance to somehow press charges hoping at least one of these charges would work.
In such a scenario of ungentlemanly action, lies and hype over 6 years it is time the witch-hunt stops and the Sri Lankan military, the former President and all those that eliminated terror are absolved from the lies that have been promoted.
Shenali D Waduge