යහපාලනය සම්බන්ධයෙන්
Posted on October 7th, 2016
Kanthar Balanathan DipEE(UK), GradCert(RelEng-Monash),DipBus&Adm(Finance-Massey), C.Eng., MIEE (Retired) Former Director of Power Engineering Solutions Pty Ltd, Consulting Electrical Engineers Cromwell Drive, Rowville Melbourne, VIC 3178, Australia
His Excellency Mr. Maithripala Sirisena
Executive President of the DSR of SriLanka
Presidential Secretariat
Galle Face,
Colombo 1,
Sri Lanka
Dear HE the President of the DSR of SriLanka
යහපාලනය සම්බන්ධයෙන්
This letter comes to you as a letter of appeal, for you to save and protect our beautiful mother Lanka from invaders. I am taking the liberty as a son of the soil of SriLanka to bring out to light, the truths and myth of the past and current events, by unpatriotic scrupulous politicians and leaders, of the past, and present. Politicians cannot hide truths forever, if not corrected, it may blast off with a mass revolution, which is what the west and India wants. The main problem of the SriLankan Sinhala sons of the soil is to look upwards and not downwards. They always obey and bow down to Tamils and Suththas (known as Pākehās in NZ), not knowing their strengths. There is no reason for Pakiasothy, Mahendran and Paskaralingham to be advisors to the government. Does this mean that there is no one from the Sinhala community to guide and provide direction to GOSL?
Your Excellency, a leader needs IQ>120, diplomacy, and ingenious originality talent, to protect and govern, and administer the nation. Sorry to state this Sir, our politicians are full of fervent to accumulate wealth and take vengeance against their opponents, which may throw some light, that they do not fit into a democratic stream of politics. What is happening now in SL is, holding the former regime to Ransome by the theme: Obey our orders and keep silent and do not enter for political leadership, if not FCID & JAIL, will embrace you". Sir, it is a democratic country, everyone has the right to enter politics. Do you consider SriLanka, as a democratic country OR is it been driven using, megalomaniac, power-crazy Manipulative Democracy".
The election in 2015 results are as follows:
| | | |
| --- | --- | --- |
| United People's Freedom Alliance(UPFA) | 144 | |
| United National Party (UNP) | 60 | |
| Ilankai Tamil Arasu Kadchi (ITAK) | 14 | |
| Democratic National Alliance (DNA) | 7 | |
ප්රජාතන්ත්රවාදය උල්ලංඝනය – Violation of democracy
UPFA has the majority. Still the PM was appointed from the minor party, which is UNP. It is crystal clear that the appointment has been directed by a foreign body for their advantage, and not for SL. This also is a clear statement, and act by yourself that there are none in the majority party, who is competent to be the PM of SriLanka. Following the formation of the government there may be parasites who would have joined the UNP for their own benefits, and collaterals. And that's third world politics, which the west is fully aware of to activate manipulative democracy".
Some members from the UPFA crossed over to the governing group, to be eligible for the collateral, which is the Minister, Deputy Minister, State Minister position. Do they think that they are better personnel to offer their services as Ministers? Can we consider them as unpatriotic and untrustworthy politicians who are only interested in accumulating wealth? Can anyone deny that all politicians are honest in SL?
The Tamils were determined to throw crackers to the Sinhala mass right from 1948. Initially through hypothetical non-violence, slowly transforming into armed struggle, and subsequently terrorism. How can someone prove that LTTE is not a terrorist group? Definition of terrorism is: The United States Department of Defence defines terrorism as the calculated use of unlawful violence or threat of unlawful violence to inculcate fear; intended to coerce or to intimidate governments or societies in the pursuit of goals that are generally political, religious, or ideological. Within this definition, there are three key elements, violence, fear, and intimidation and each element produces terror in its victims", Ref: http://www.terrorism-research.com/). What types of argument could the Tamils put forward for a separate country? Right from independence the country did not practice discrimination or oppression. If the country did, then how come CV Wigneswaran did not practice as a lawyer, but quickly rose up to the judiciary sector and ended up as the Chief Justice. Is CVW so superior in legal matters? How is it possible that he is not aware of the significant amount of educated Tamils loafing around the globe, having forums, congress, associations, being doctors, engineers, lawyers, accountants etc.? These Tamils received free education in SL, or got free education in the UK to receive a PhD. Jaffna was never a separate kingdom, but paid taxes to the Rajarata, or the Chakravarty. CVW demands for basic human rights. What does he want? Cannot Tamils run a media, speak in public, join the forces, or marry anyone in SL, or run a business. Can CVW come forward and state what the Tamils are denied of in SL? Can CVW define and categorise the basic human rights? It is a school of thought that CVW does not understand the concept, meaning of Basic Human Rights. Tamils are bluffing, and the Sinhalese do not understand the Tamils medieval, barbaric lies, complaining, that does not prevail in SL. Tamils say they lived for centuries, however, most of the imbecile clan does not want to give up their Tamil Eelam demand. If they were that clever they should have satisfied their economic sustenance. They could not even build a reservoir to catch the rain water. Their only fervent is to do easy work, menial work and sell mustards or Dosa. Have any of the Tamil politicians contributed to the legal system of SL except a few. Tomorrow if SL appoints CVW as the PM, it is definite that CVW will shut up and carry out his duties supporting the countries policies. The very same SJV Chelvanayagam agreed to allow his MP(s) to serve the cabinet anyway.
Recently Admiral Dr. Sarath Weerasekara's case was dismissed on grounds of the following section of the constitution:
Ministers and their subjects and functions.
(1) The Prime Minister shall determine the number of Ministers and Ministries and the assignment of subjects and functions to Ministers.
(2) The President shall, on the advice of the Prime Minister, appoint from among the Members of Parliament, Ministers to be in charge of the Ministries so determined, and the Prime Minister shall, in tendering such advice, have regard to the need to ensure the representation of all the major communities in the Cabinet of Ministers.
(3) The Prime Minister may, at any time, change the assignment of subjects and functions and recommend to the President changes in the composition of the Cabinet of Ministers and such changes shall not affect the continuity of the Cabinet of Ministers, including the continuity of its responsibility to Parliament.
Just to refresh your memory, I wish to draw your election manifesto of the 100 day work program. Your promise was: Sunday January 11, A Cabinet of not more than 25 members, including members of all political parties represented in Parliament, will be appointed with Leader of the Opposition Ranil Wickremasinghe as Prime Minister.

 

Firstly, the PM should have been appointed from the majority party in the house, secondly, the promise was violated to go beyond 25 ministers and appoint discreetly a large number of ministers. The

Parliament now can be compared to a large Indian Dosa Kade with large number of waitpersons and chiefs.
https://www.colombotelegraph.com/index.php/maithripala-sirisenas-100-day-work-programme-detailed-diary-description/
With due respect, being in the developed world, we feel that the parliament is like a Dosa Kade within a fish market (මාළු වෙළෙඳපොළ තුළ තියන තොස කඩේ වගේ). The rest is self-explanatory. This is what is called Discrete Manipulative Democracy".
You as the President, have violated several promises given to the people. The country belongs to the people of SriLanka, not you, or Ranil Wickremasinghe. You have been appointed by the people to administer and run the government, for the people to have a better, sustainable, peaceful living. What does Buddha Dharma teaches Sir? Lord Buddha gave up his throne to serve the people, however, in SriLanka, people cling on to power to accumulate wealth. When we think of SriLankan parliament and the people, it is a laughing matter. For 39 years the GOSL was playing a drama with the LTTE, however, when Mahinda Rajapaksa eradicated LTTE, now you have joined with the fervent west to fix our military of war crimes. Isn't that a joke Sir? Tony Blair and Bush should be charged of war crimes.
The poor people have been driven to the edge to make them shut their mouth, not raise any protest, not to talk against the government etc. Do you consider the country is in a state of absolute democracy with human rights? People have been shut in a cell like animals.
ජාතික ආන්ඩුව – National Government
You are aware that some of the congenitally imbecile Tamils drove a wedge between the Sinhalas and Tamils in 1948, just after independence. The wedge and the propaganda was driven by the incompetent lawyer SJV Chelvanayagam for reasons of jealousy of GG Ponnambalam being given a portfolio. Just his megalomaniac ego drove him to gather the Tamils on false propaganda against the Sinhalas. It is pertinent to ask a question. Why SJVC, and what have the Sinhalese done to the Tamils in 1948. Nothing. SJVC's egoistic propaganda drove youngsters to take up arms, while majority of Tamils had free education and qualified as professionals. It is a mindset within the minds of the Vellala caste from the Ponnambalam circle. They found out that the Sinhala government did not hate any lower caste Tamils, but the lower caste Tamils were able to come up in life, which the Vellalas could not endure, because the Vellalas always wanted the lower caste Tamils to be under their thumb. This is the main reason why Elite Vellala Pandarams want separate administration.
The election gave 16 seats to Tamil National Alliance. In terms of national government constitution the majority and the opposite minor party should join hands to govern the country. It would have been appropriate if your SLFP/UPFA party invited Sambanthar & Co, to join and form a government, with RW become the leader of Opposition. That would have been quite diplomatic, politically effective, and would have paved the way for a reconciliation process. A couple of portfolios to TNA would have been effective. However, the parasites who live on collateral did not allow you to do that, presumably, which drove the wedge further deep. What you have now is not a NATIONAL GOVERNMENT, still an ethnically constituted government, in terms of your definition of National Government". However, do not you think that a SLFP + TNA government would have been more effective, politically, than the present one? I am relating this concept in the context of the current situation of RW's federalism.
Sir, please remember one thing; Tamils are an egoistic ethnic group constituted of different races. Even if you give 13++ or Federalism, they will not be satisfied. They will want their Tamil Eelam. After that they will try to swallow SriLanka with the help of Tamil Nadu. It is up to your government to strengthen the defense forces and place them in the North and East to protect the border and avoid the Federal structure.
දෙමල ජනයා අතර කුල ක්රමය-Caste System among Tamils
The caste system in North and East is considered the major human rights violation in human race. Such human rights violation does not exists anywhere in the world. Historically the Tamil people have been oppressed by the so called Vellalas, who are nothing but Farmers.  Subsequently they changed the history, stating that Vellalas are land owners, which is nothing but cattle excreta. Did they pay for the land? They just come, invade and acquire, on invasion. The people in the North & East, historically were Sinhalas and natives. They were displaced and made low caste by these invaders. Same act was conducted in India. Who are the Brahmana? Are they natives of India? NO.
After Independence, the low caste people were able to acquire knowledge, get good education in a school, had freedom of expression and all what a human being can have, through the Sinhala government. There were instances, when people talk against Vellalas, they were intimidated by the Federal Party goons. The low caste were not allowed to enter politics, they were man handled. Most of government jobs were given to FP supporters. FP members have a cunning system of saying one thing in the N&E, however, when in Colombo, in parliament they seem to deliberate a different thing, because they want jobs for their relations and supporters. The so called Vellalas are historically not Tamils, but Pallavars, from Karnataka. They were originally known as Gadambas".
Within a federalism form of government, the Tamils are going to be treated like animals. The Vellalas will determine what jobs they have to do, whether they need education, knowledge etc. The extent of Human Rights Violation" will increase, and the state will enter another phase of instability, which will be a burden to the Center. There will be N&E to    Sinhala state drift. The issues and problems will proliferate and explode within the N&E. The elites will say that it is democracy in the state. However, the Tamils will state that within SL, it is not democracy but oppression and discrimination. It is to be stated that most Tamils lag in certain human qualities, such as in the social sector, they lack courtesy, customer focus, customer satisfaction, pleasantness, openness, and good manners, however, they generally are rude to customers, in an office or in the trade sector. CVW is an example.proliferation escalation escalation escalation escalation escalation
It is up to the Sinhala to protect, and ensure that the Tamil low caste people are being treated with dignity, to which the answer is, NOT FEDERALISM, but as before, have one central government with the GAs.
ආර්ථික හා තාක්ෂණ සහයෝගිතා ගිවිසුම–Economic and Technology Cooperative Agreement
In this context, I wish to refer Kumari Jayawardhane's book, titled, Ethnic and class conflicts in SriLanka. Section 2 para 2. Excerpts from the book: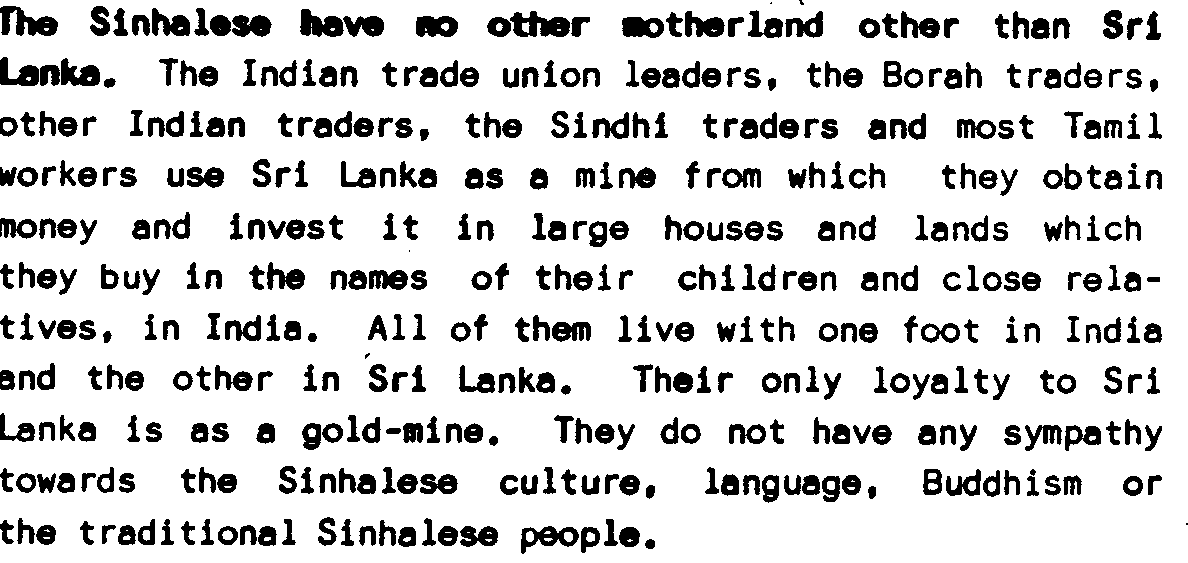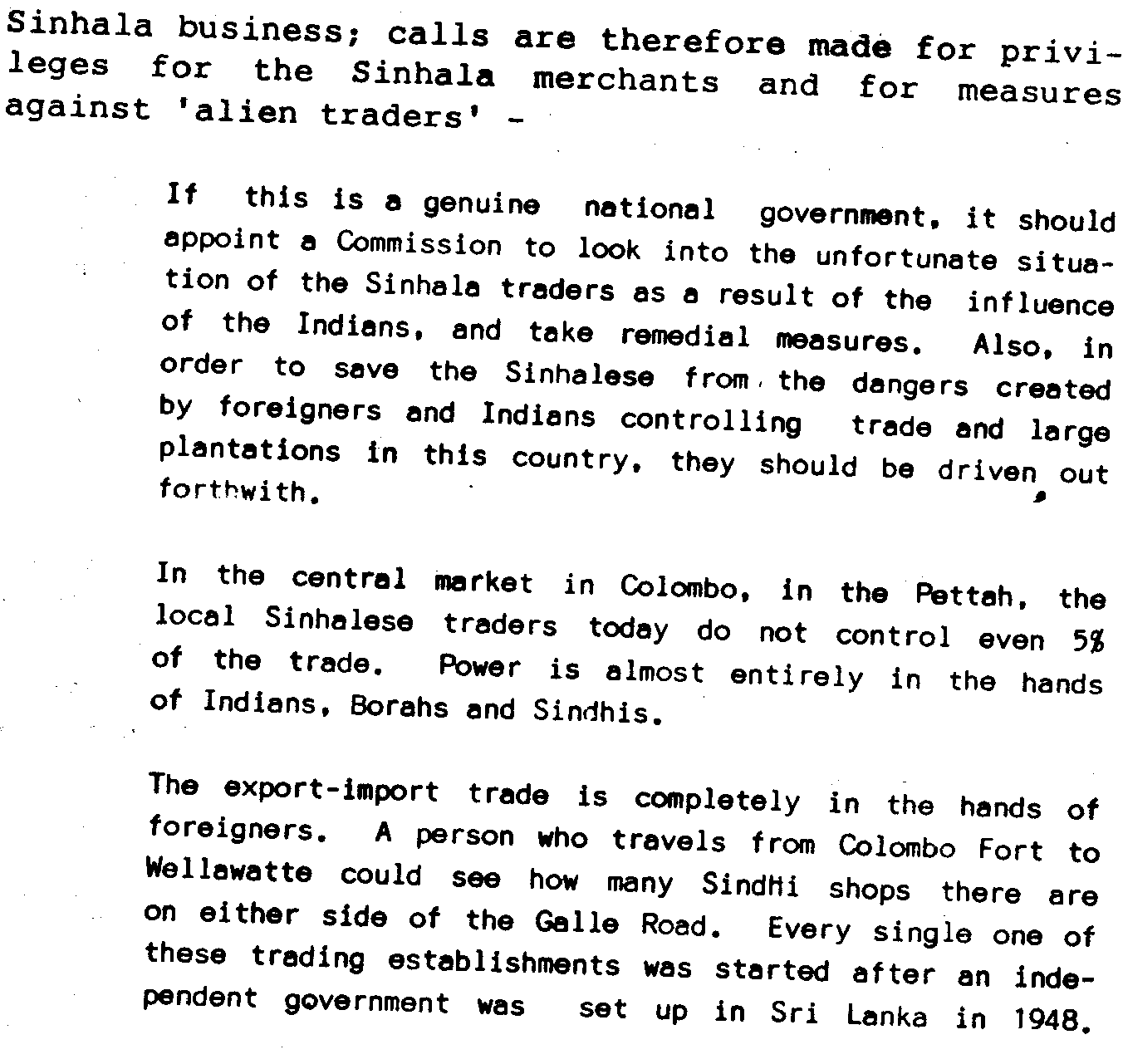 At one period before and after the independence, no Sinhalas were able to walk into the Pettah market or have any trading outlet in Colombo area. Isn't that HR violation? When sons of the soil (Sinhale) have been excluded, migrants from India and Sind's have trade outlets, with one foot in SL and the other in India. It is a crime that the government encourage ETCA to allow Indians to walk in and conquer the trade sources with sub-standard value products and work practice. The government is there to protect the බූමිපුත්රයෝ, not eliminate their living standards and the race. When almost a million were brought from India by the British to work on the central highlands, no Sinhala leader raised his hand to object. Are there any Sinhale in India?
People can try to tell the government up to a point only. The government should not use its authority and power to override, and dance to the tune of the west to bring SriLanka to the knees of the west.  ETCA (CEPA). Ref: https://www.yamu.lk/blog/ectacepa-faq. Government can give flimsy excuses and reasons, why it should carry on to implement the agreement.
The PM in 2002, did not seek people's verdict to sign the CFA and the ISGA. The ISGA was a dam threat to the nation, and if it did proceed, it was an open approval for LTTE to establish their mushroom Tamil Eelam", resulting SL to divide.
Further, if a federal form of government is setup in SL, it is paving the way for the N&E to establish Tamil Eelam", and subsequently the whole of SL to be swallowed by the neighbor, you know who. Let the people in SL know the risks and threats of, Federalism" form of government in SL. It is a high threat to a small nation: economically, socially, technically, and the sovereignty held for several centuries will be buried under the carpet.
බටහිර උනන්දුව දක්වන ක්ෂෙත්ර-West Interest
Excellency, you have to study the events in the past as to what USA and UN did to small nations in Europe, South America, Africa and Asia. Today several countries have become beggars and their life on this planet has been destroyed, giving birth to new war, and struggles. What is the state of Libya, South Sudan and so on? Sir, please get your specialists to study and give you a report on global politics, west's interest, and how they have destroyed small countries for them to control economically and politically. SriLanka having attained self-sufficient, economically and politically, solving the terrorist problem, will be absorbed into this stream of multi-directional oppressive platform, if not realized soon.
The Bond scam was another issue, and a major blow to SL.
Excellency, it is up to you to study, analyze, and realize the reality of the threat and risks prevailing as a result of PM's move on unwarranted decisions, which will drive the country to lose its sovereignty.
There are Sinhala experts in SriLanka and Australia, who could provide you with top information for you to make a decision and propagate driver for the people to oppose PM's moves please.
Tamils are congenitally imbecile to understand what will happen to them if USA moves into Trincomalee. Only reality will educate them.
It is an opinion that the Non-Vellalas will never ever agree for Federal form of government, and power vested in CVW or Sambanthar & Co, in SL.
Thank you
Kind regards,
I remain,
Yours Obediently
කන්තර් පි බාලනාතන්
‍ශ්‍රීලංකන් පුත්‍රයා