Eastern Governor's wife interferes in temple issue- Is it reconciliation ( Sanhindiyawa   සංහිඳියාව ) 
Posted on December 30th, 2017
Dr Sarath Obeysekera  
We all know that most of the wives of discarded politicians visit Kali Amma Kovil in Modera –Colombom15 . These wives visit the Kovil to curse on the opposition members begging divine help to bring the husbands to power .I wonder whether the VIP visited the Kovil to seek divine help ?
I am sure this Kovil in Muttur has been a place where Adivasi Tamil speaking community patronize  to seek help to punish people who may have done something wrong to them.
If it is a historical Buddhist archeological site, independent commission should be formed with members of Buddhist clergy   and ascertain the correctness the claims by  both parties.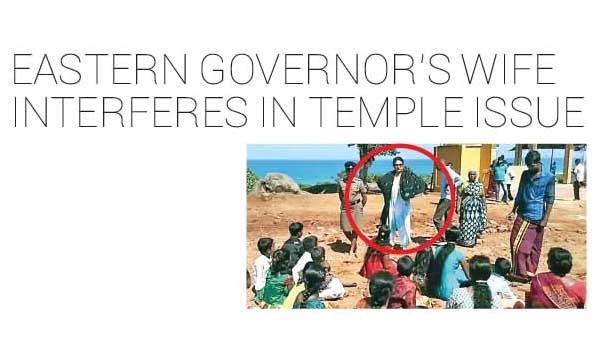 If one visits Kathatagama Devalaya .one can see the prominence is given to God Kathargama who is a Hindu God and Buddhist Temple ,Bo tree and all other gods of your choice are given a place inside the premised .
During this period of reconciliation ( Sanhindiyawa   සංහිඳියාව )  spearheaded by none other than Ex-President of Sri Lanka ( Whose father was instrumental in creating the rift between two nationalities for political gains and killed by a Buddhist monk) ,Mrs Chandika Bandaranayake  can chair the commission and find an amicable solution to this Temple /Kovil problem .
My suggestion is to provide space for both communities to pray the god they prefer if they wish.
Real Buddhist should preach Metta .Karuna and act with Upeksha  and preach for reconciliation .
Dr Sarath Obeysekera