SRI LANKA NAVY DESTROYS TWO 70 METER LONG LTTE ARMS CARRYING VESSSELS OFF THE COAST OF EASTERN PROVINCE WITHIN 24 HOURS
By Walter Jayawardhana

Sri Lankan naval ships destroyed and sank two suspected arms carrying vessels of the Liberation Tigers of Tamil Eelam during the morning and noon hours of March 18 off Sri Lanka's Eastern coast.
The 70 meter long arms and ammunition carrying vessels entering Sri Lanka's Exclusive Economic zone were destroyed after they fired shots at the Sri Lankan naval vessels. The first one was destroyed about 9 a.m. after it did not obey when it was ordered to stop for inspection , navy sources said. The second ship of the same size was destroyed around 12.45 of the same day, the navy said. This is the first time the LTTE lost two big consignments of arms and ammunition within 24 hours with the ships.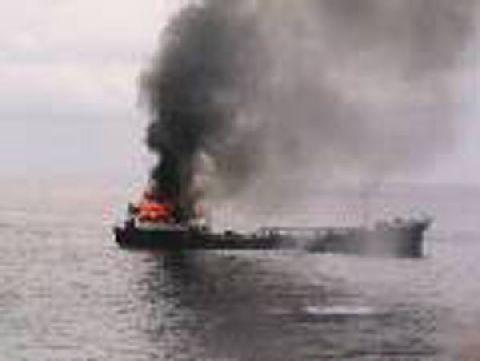 The same sources said the first vessel was destroyed with spectacular explosions 190 nautical miles East of the beautiful Arugam Bay area of the island's East coast.
The Navy further said the first LTTE vessel was initially noticed during the small hours of the day around 2.30 a.m. by naval units patrolling the nation's Eastern coast .
The Sri Lanka naval vessels intercepted the intruding vessels by Radio Channel 16, which is the international maritime radio beam.
The naval units understood the first suspected vessel gave erroneous identification about themselves and noticed they were now trying to evade the area.
Then the naval units following a hot pursuit of the vessel ordered the sailors to stop the vessel for inspection .
The navy said then they fired warning shots and ordered them once again to comply. They fired the shots several times over the bows of the vessel.
The suspected vessel sailing without an ensign then fired its guns at the naval vessels.
The navy said the time when the Navy started retaliating by firing guns was around 7.30 in the morning.
The vessel then was fired at by several naval vessels surrounding it. Spectacular huge explosions on board indicated the the vessel was indeed carrying huge amounts of explosives. The vessel exploded and sank around 9.09 a.m. the navy further reported. A search operation was launched around the point the ship was sunk in order to trace debris of its cargo.

Detailing the destruction of the second LTTE vessel the Media Center for National Security said, "Adopting accepted international procedure, naval vessels fired warning shots over the bows of the vessel ordering it to stop. The suspected vessel retaliated with gunfire around 12.45 p.m. Naval gunfire resulted in massive explosions setting the vessel ablaze confirming the suspicion that this vessel was also engaged in gun running carrying explosives and military hardware for the LTTE. The vessel is still ablaze at the time of reporting."