Surrendered LTTE cadres joins their families after rehabilitation - Jaffna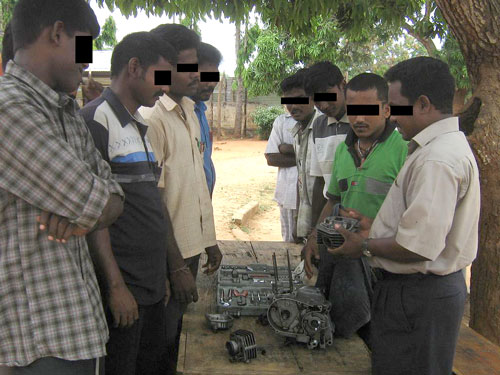 Sri Lanka's war on terror is a process that goes beyond military operations. Though many LTTE sympathizers and their stooges in media try to give a wrong picture to the world that LTTE is as a representative of the Tamil citizens in Sri Lanka, there is ample evidence barred from the world that Tamils are nothing but the main victim of LTTE terrorism. This was evident when defence.lk covered the recent release of a group of rehabilitated LTTE cadres by Sri Lanka Army in Jaffna.
A batch of 15 former hardcore LTTE cadres who had been successfully rehabilitated at the Army Protective Accommodation and Rehabilitation Center at Thelippale were released on 29th and 30th June 2008. The rehabilitated men were received by their happy family members who had been invited to the Army establishment.
According to an official of the rehabilitation center, the group is a part of the 54 LTTE cadres who surrendered themselves to the Army in earl March this year. Apart from the re-socialization process, the center conducts short professional courses on building construction, plumbing , automobile technology , electric wiring , and also on English language for its inhabitants, he said. The professional courses has been conducted with the assistance of Technical College, Jaffna, he added.
According to the officials, most of the LTTE cadres undergoing rehabilitation had been forcibly recruited to the terror outfit in their childhood and had not received any formal education. It has been the long used strategy of the LTTE leadership to deprive education to the Tamil youth to make sure they would have no other option than to depend on the terror outfit.
"Some of the youth rehabilitated here had killed dozens of armed forces members in claymore attacks as LTTE terrorist " , told one of the councilor of the Rehabilitation center. "They are now astonished about the kindness they receive from Army whom they had been taught as enemies of their race", he added. He further said that they are no longer blinded by tribalism but undergoing the programs with great enthusiasm hoping to for better productive life.
families who received their rehabilitated relatives expressed their gratitude to the Army officials for creating a future for the them who once had been lost in a fanatic dream. The officials told them that the rehabilitation is just the first step and further guidance will be provided for their relatives when necessary.
Padmanadan Vignashwaran a student qualified for university education was also among the men released. Padmanadan said that he would continue his education without further destroying his future for a terror outfit.