IS THERE A SRI LANKAN LINK TO THIS MAN? IS THE MEDIAL PROFESSION IN SRI LANKA FREE OF GUILT?
Noor Nizam. Canada.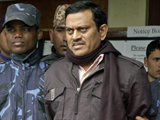 Nepalese policemen escort the fugitive doctor Amit Kumar after his arrest in Katmandu, Nepal on Friday, Feb. 8, 2008. (AP / Binod Joshi)
Amit Kumar, 40, was arrested at a hotel in Sauraha, shortly after he checked into a resort hotel in the remote Chitwan National Park at the foot of the Himalayan mountains.

The above horror story has rocked the world of humanity and the rich who pay money to rob the healthy living years of poor farmers and labourers, destined by God AllMighty. In Sri Lankan ther are many who suffer from kidney disease and have had to pay hundreds of thousands of rupees and dollars for an operation or treatment. Many private kidney transplant clinics and hospitals have come up over the years in Colombo and the suburbs and have had flourishing business/clients. The surgeons and doctors who are attached to government hospitals own and run these specialized clinics/hospitals in Sri Lanka. They even arrange for the supply/so-called donation of the organs. Many have been routed to India for the final transplant. The question now is - Is there a Sri Lankan (medial) link to Dr. Horror? Is the medical profession in Sri Lanka free of guilt?

The government of HE. Mahinda Rajapaksa and the "Mahinda Chintanaya" campaign should kindly request the Hon. Minister of Healthcare and Nutrition to probe this doubt immediately. This maybe a suspicious call/just a doubtful allegation. But the truth is that, the Sri Lankan medical profession has been fleecing money from the sick and vulnerable, be it poor, middle class or the rich.

While the government is fighting terrorism, the government should not allow such social harm to slip the attention of the government. Heathcare and Heathcare administration and management has and is the responsibility of the government.

The people of Sri Lankan will be very grateful to the government if necessary action is taken immediately.