PRESIDENT RAJAPAKSA SAYS ONCE AGAIN THE HOLY TOOTH RELIC STAYS WHITHIN A NATION THAT HAS BEEN UNITED AND BROUGHT UNDER ONE RULE
Posted on August 6th, 2009
By Walter Jayawardhana
President Mahinda Rajapaksa said in Kandy yesterday that once again the holy tooth relic stays within a nation that has been united and brought under one rule.
ƒÆ''¢ƒ¢-¡'¬ƒ…-As long as the holy tooth relic exists in Kandy the Sri Lankan nation also exists has been our generations long belief and during the humanitarian operations the belief gave us strength,ƒÆ''¢ƒ¢-¡'¬ƒ"š' said the President addressing vipƒÆ''¢ƒ¢-¡'¬ƒ¢-¾'¢s after receiving the Kandyan Chieftans led by the Diyawadana Nilame, Nilanga Dela who handed the head of state the traditional written message that the Kandy Perehera has been successfully completed. The message was handed over at the Presidential House in Kandy. Later, the President sat for a group photograph with the Kandyan Chieftans and other vips.The Diyawadana Nilame and Basnayaka nilames, the Kandyan chieftans present at the ceremony, attired in their full regalia took the minds of the onlookers to ancient times when the King performed the duties that are being performed by an elected President today. Under the Kandyan convention, those duties were performed by a colonial governor of the British from the same Presidential House.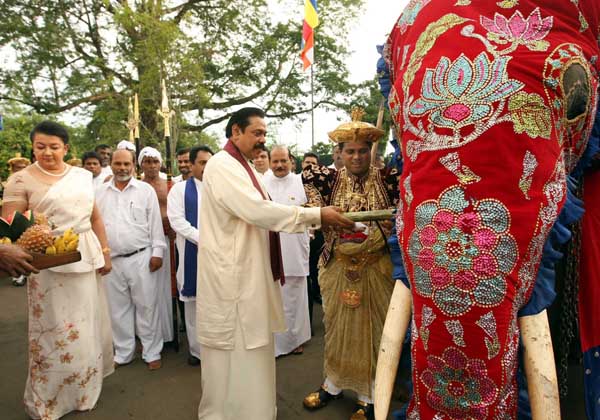 photos by Sudath Silva
President Rajapaksa further said under the patronage of the holy tooth relic in Sri Lanka freedom, equality, national integrity, and high moral standards should exist.
President Rajapaksa also presented five presidential awards to dancers who performed at the Perehera.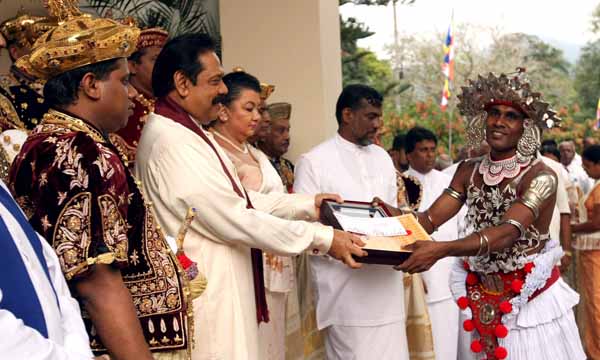 photos by Sudath Silva
During his stay in Kandy President Rajapaksa also declared open a new pirivena building put up at a cost of Rs 165,00000 for the student monks at the Asgiriya Vihara. Asgiri Mahanayaka Thero Venerable Udugama Buddharakkhitha Thero also participated in the event.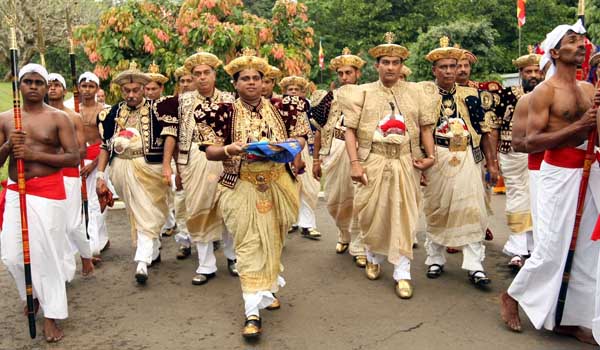 photos by Sudath Silva