PRESIDENT MAHINDA RAJAPAKSA ARRIVES IN TRIPOLI TO TAKE PART IN THE 40TH ANNIVERSARY OF THE LIBYAN REVOLUTION
Posted on August 31st, 2009
By Walter Jayawardhana
President Mahinda Rajapaksa was given a rousing welcome by the Libyan government when he arrived at Matiga Airport in Tripoli ƒÆ'-¡ƒ"š' as a special invited guest to participate in the 40th anniversary of the Libyan revolution.
Planning Minister Abdul Hafeed Al-Zlatny received the President on behalf of the Libyan government.
P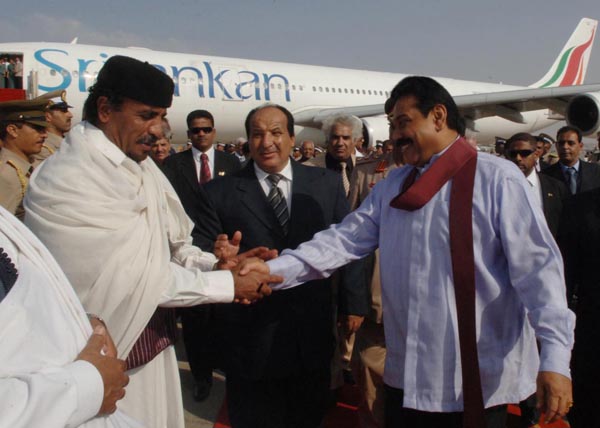 PICTURES BY SUDATH SILVA
Sri Lanka is one of three nations from Asia who will be participating in the grand celebrations of the Libyan revolution. The Philippines and Pakistan are the other two Asian nations taking part in the celebrations.
The Sri Lankan President before taking part in the celebrations will meet the Presidents of the Philippines and Pakistan to strengthen bilateral relations with those countries in Tripoli.
It was on September 1 , 40 years ago in 1969 the Libyan leader Muammar Al Quadaffi led the Libyan revolution and came to power. Leaders from all over the world are scheduled to arrive in Tripoli to take part in the celebrations. The celebrations will start at 4 p.m. Libyan time.