GOVERNMENT USHERING IN MUCH NEEDED DEVELOPMENT THE LACK OF WHICH GAVE BIRTH AND NUTURED TERRORISM SAYS PRESIDENT
Posted on October 3rd, 2009
By Walter Jayawardhana
President Mahinda Rajapaksa said at the inaugural celebrations of the Sri Lanka ArmyƒÆ''¢ƒ¢-¡'¬ƒ¢-¾'¢s 60th anniversary that terrorism was born and nurtured in Sri Lanka due to lack of development and immediately after the crushing of terrorism the state has taken over the responsibility of ushering in the much needed growth that would help the people to improve their lives.
The celebrations started off at the Bandaranaike memorial International Conference Hall premises in Colombo that exhibited the tons of weapons captured from the crushed Liberation Tigers of Tamil Eelam (LTTE) in various battles from Mavil Aru where the terrorists blocked drinking and irrigation water to people to Nandi kadal, where the LTTE Supremo Velupillai Prabhakaran was killed with all his leading men.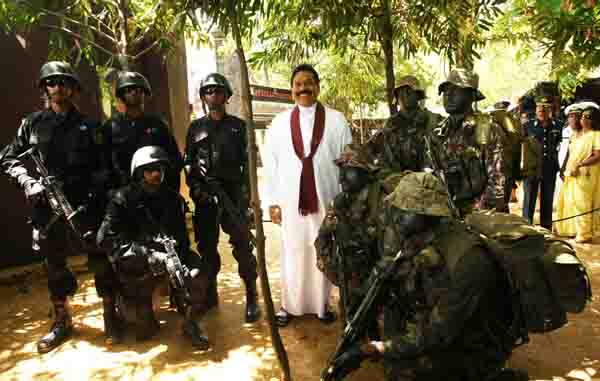 The President said,ƒÆ''¢ƒ¢-¡'¬ƒ"š'This is the golden era of the 60 year old Sri Lanka Army,ƒÆ''¢ƒ¢-¡'¬ƒ"š' mindful of the fact that his nationƒÆ''¢ƒ¢-¡'¬ƒ¢-¾'¢s fighting machine was able to finally demolish the most formidable obstacle that stood in the path of economic uplift of the people since independence against all odds.
He said with all obstacles removed the government now has taken over the responsibility of ushering in development.
The President who is also the Commander in Chief of the Army with obvious pride of his brave soldiers said anyone who has witnessed the bravery and courage of the army that fought the most dreaded terrorists in the world would not think of leaving the country.
The exhibits, captured from the enemy , display the pride of Sri Lanka Army that leads to the unmistakable conclusion that this is the golden era of the force.
ƒÆ'-¡ƒ"š' The President said the army flag undoubtedly has strengthened the national flag of Sri Lanka.
This is the first time the Sri Lanka Army is celebrating an anniversary after their historic victory over the LTTE against which it fought for three long decades.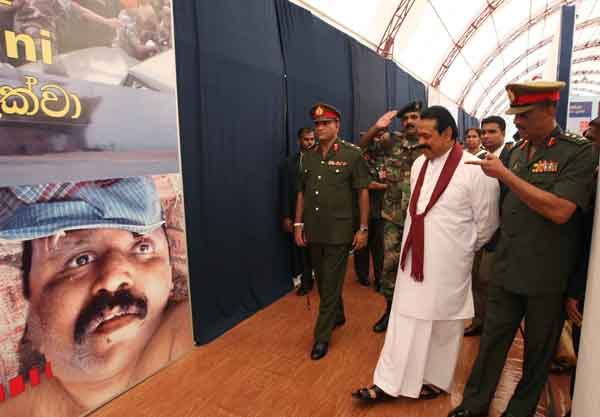 Presidential Secretary Lalith Weeratunga, Defence Secretary Gothabaya Rajapaksa, Chief of Defence Staff General Sarath Fonseka, Chiefs of the Security Forces, the IGP and high ranking officers of the Security Forces participated in this occasion. An exhibition is underway at the BMICH premises that displays the major events of the operation that was started at Mawilaru and concluded at Nandikadal lagoon. Modern and ancient weapons including all arms and ammunition recovered from the LTTE terrorists are being exhibited. The submarines that were recovered from the LTTE are also on display.