RUSSIAN FOREIGN MINISTER SAYS SRI LANKA WAS QUITE CAPABLE TO FACE ANY INTERNATIONAL PRESSURE ON ALLEGED WAR CRIMES
Posted on October 26th, 2009
By Walter Jayawardhana
Sri Lanka was quite capable to face ay international pressure on alleged war crimes or any other problems said Russian Foreign Minister Sergei V. Lavrov addressing a press conference at the Foreign Ministry in Colombo.
ƒÆ''¢ƒ¢-¡'¬ƒ…-This is because the country had a proper judicial system and the Russian government had always supported the Sri Lankan government to protect its national integrity,ƒÆ''¢ƒ¢-¡'¬ƒ"š' Lavrov further said.
He added, ƒÆ''¢ƒ¢-¡'¬ƒ…-We supported Sri Lanka to fight against terrorism and bring peace.ƒÆ''¢ƒ¢-¡'¬ƒ"š'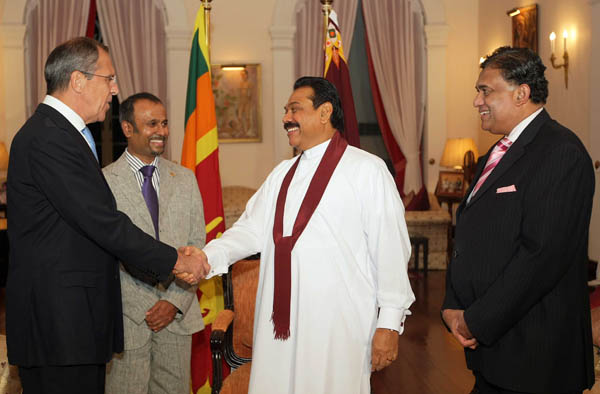 PHOTO BY SUDATH SILVA
The Sri Lankan Foreign Ministry said during the history of 52 years of diplomatic ties between Russia and Sri Lanka this the first time a Russian Foreign Minister has visited the country.
Russian Foreign Minister Lavrov said both countries had strengthened the mutual relations and friendship and had discussed bilateral issues on economic, investment, trade, tourism, illicit traffic of narcotics and drugs as well as urgent international issues.
Russia also would continue to assist practically in the de-mining process by sending a team of de-mining experts and humanitarian assistance, the visiting Foreign Minister said.
Foreign Minister Rohitha Bogollagama said Sri Lanka was grateful for the cooperation and support given by Russia in the international forums and both countries held discussions on vital international issues.
Russia remained a friend to our country and we expect to strengthen the existing ties in the fields of economic, trade cooperation, investment, oil explorations, cultural, sports and international relations. An agreement on cooperation to suppress illicit traffic in and abuse of narcotic drugs and psychotropic substances was signed at the Foreign Ministry Colombo yesterday by the Russian Ambassador and officials of the Disaster Management and Human Rights Ministry.