Milinda makes donation to Hindu College, Bambalapitiya -Rejects campaign extravagance.
Posted on March 15th, 2010
Gamini Sarath Godakanda
As part of his no-frills campaign to put the focus of the elections back on the community, the Leader of the Sri Lanka National Congress (SLNC), Milinda Moragoda today presented a donation to the Hindu College, Bambalapitiya. The donation, which will be used towards the restoration and extension of the roof of the 76 kovil, was handed over to the the Principal of the College, Mr. T. Muthukumarasamy and Deputy Principal, T. Vijayaratnam by SLNC General Secretary R. A. D. Sirisena.
President of the All Ceylon Hindu Congress (ACHC), T. Neelakandan, speaking on the occasion, praised Mr. Moragoda for the support he has extended to the Tamil community in strengthening social and educational institutions. He pointed out that by improving the quality of peopleƒÆ''¢ƒ¢-¡'¬ƒ¢-¾'¢s lives, harmony and understanding between different communities can be achieved. He added that the College had wanted to refurbish the Kovil roof as this year marks the CollegeƒÆ''¢ƒ¢-¡'¬ƒ¢-¾'¢s 60th Anniversary and that they were grateful for this donation. He also thanked Mr. Moragoda for having worked with the Tamil community to help set up of the framework for the rehabilitation and education programme of IDP children at the Hindu College, Ratmalana.
Milinda Moragoda, as Leader of the SLNC, has made earlier donations to other religious and educational institutions as part of his pledge to stand firm against the trend towards wasteful and extravagant election campaigns that put politicians first and to put the focus back on the people. He is standing for reelection in the Colombo District as a candidate on the UPFA list.
ƒÆ'-¡ƒ"š'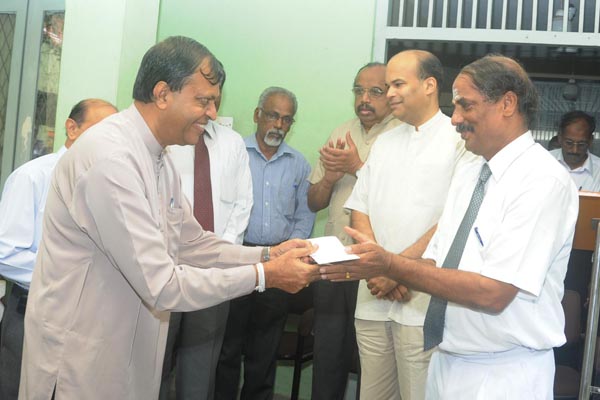 Pictured: SLNC General Secretary, Mr. R. A. D. Sirisena handing over a donation for the Hindu College kovil repairs to the Principal of the College, Mr. T. Muthukumarasamy. In the background (right to left): SLNC Leader, Milinda Moragoda and President of the All Ceylon Hindu College, K. Neelakandan.