Cardinal Sins!
Posted on November 5th, 2010
– Kumar MosesƒÆ'-¡ƒ"š' ƒÆ'-¡ƒ"š' 
Amidst some reasonable representations at the LLRC commission, Cardinal Malcolm Ranjith also regurgitated ultra Tamil vile racism espoused by the LTTE. He warned that any attempt to change the ethnic ratio in the Northern and Eastern Provinces through colonization could cause ethnic trouble. He should be ashamed of making such comments that border racism. What he calls colonization is actually ethnic integration! He is against ethnic integration in areas that were ethnically cleansed by LTTE terrorists using violence. If anyone cannot stand what they call colonization, they better leave Sri Lanka and settle down in a mono ethnic nation. State sponsorship, private sponsorship or NGO sponsorship does not matter. What matters is the actual changing of the ethnic imbalance in the north which is essential for lasting peace.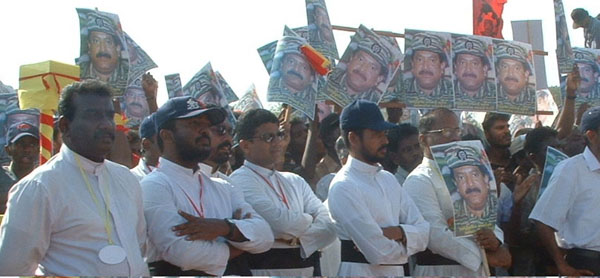 ƒÆ'-¡ƒ"š' Due to ethnic imbalance in the north, its politics was hijacked by racist political parties. Every general election in the north returned racist political parties to parliament even before Independence. At the 1947 election the All Ceylon Tamil Congress swept the Jaffna district. This was the ominous start of racism in politics. Since then at every election Tamil racist political parties won the north. These include Ilankai Tamil Arasu Kachchi, Tamil United Liberation Front and Tamil National Alliance. Together they always won the majority vote in the north. LTTE was the offspring of these Tamil racist political parties. Unfortunately Tamils in the north followed racist politics as they do in Tamil Nadu whereas Tamils in multicultural Colombo followed the exact opposite approach by totally rejecting race politics. Nobody raised a finger against massive Tamil colonization of Colombo and similarly no one has any right to stop private or state sponsored re-colonization of the north. When the north is multiethnic there will be no room for race politics. Fearing the end of race politics, Tamil race based political parties are in panic mode over changing the mono ethnic nature of the north.
ƒÆ'-¡ƒ"š' The only way to save the north from Tamil racist politics is to change the ethnic imbalance in the north which is now unfortunately Tamil only. By hindering the noble act of settling people of every race in the north, the cardinal is committing the sin of maintaining what Tamil racist political parties and the LTTE achieved through violence. In 1971 there were 20,402 Sinhalese in Jaffna District and by 1981 it was reduced to a mere 4,615 by the Vaddukoddai crowd. After the war started in 1983, it fell to zero. The 1981 census recorded 13,757 Muslims in Jaffna District but now it is zero. These horrendous crimes must be reversed at all cost.
ƒÆ'-¡ƒ"š' Every square inch of Sri Lanka belongs to all Sri Lankans irrespective of creed or race. There are absolutely no racial enclaves in this country. The real meaning of the 2009 Nanthikadal victory was to defeat and destroy all perceptions and possible existence of racial enclaves.
ƒÆ'-¡ƒ"š' People of all races must enjoy all the economic resources in the north. Fisheries, minerals, fertile lands, business opportunities and other economic resources in the north belong to the Sinhalese as well as to Tamils. This is the rationale behind annually investing US$ 1.5 billion dollars in defence. If most Sri Lankans who happened to be Sinhalese cannot use northern economic resources at will, there is no justification for defence expenditure.
ƒÆ'-¡ƒ"š' However, there is another aspect missed by many. Cardinal Malcolm Ranjith has not been very effective in maintaining discipline in the Roman Catholic Church leading to disgust among Catholics. A large number of Catholic clergy openly supported LTTE terrorists. Some of them were dastardly enough to carry an INTERPOL wanted terroristƒÆ''¢ƒ¢-¡'¬ƒ¢-¾'¢s portrait as they wore the cross! This was both sin and crime. Then there was this Catholic bishop who illegally removed a statue belonging to all Catholics from its rightful place. Bishop Rayappu Joseph refused to co-operate with the army. However, all these criminal and sinful acts went unpunished!
ƒÆ'-¡ƒ"š' Disrupting genuine peace building efforts that essentially require re-establishing ethnic diversity and unity in the Tamil only mono ethnic north is a cardinal sin. It is time to put an end to treason and racial enclaves. Government must make it a point to erase mono ethnic racial enclaves in the north that conceived and produced the LTTE.