NATIONAL ANTHEM IN ONE LANGUAGE-BOLD DECISION BY A PROUD NATION HIGH TIME TO CORRECT THE SPELLING OF THE COUNTRY NAME
Posted on December 13th, 2010
Shripal Nishshanka Fernando
Let it be Tamil, English or Sinhalese. But let it be in one language. That is how an Anthem of a nation shall be.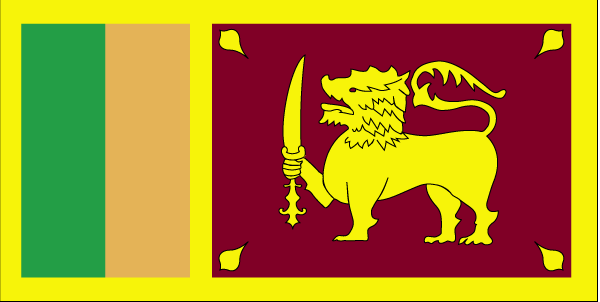 ƒÆ'-¡ƒ"š' 
Flag of Sri Lanka
ƒÆ'-¡ƒ"š' Certainly it was hilarious that Sri Lanka had allowed an alternate Anthem for a considerable period of time till today other than its original Sinhalese version. Those were weak tolerations of previous Sri Lankan governments which paved for a disastrous destructible situation which ended recently with a massive sacrifice.
Due to the far sighted and broad minded vision of the Rajapaksa regime, another calamity could be avoided today by scrapping other versions of National Anthem. There is no any other country in the world which has more than one national Anthem and it is unfortunate that two ministers of the government were opposing the move even though the cabinet made the correct decision.
As the minister Weerawansa has stated, when India has one Anthem despite its more than 300 languages spoken by a one billion population, why a tiny country like Sri Lanka with just 20 million population should allow more Anthems?
The decisions shall be firm and fair in the face of national security.
In the same manner, the time has arrived to correct the English spelling of the name Sri Lanka. When Sri Lanka is written in Sinhala, the letter ƒÆ''¢ƒ¢-¡'¬ƒ…-ShaƒÆ''¢ƒ¢-¡'¬ƒ"š' (Gashayanna) is used and it is properly pronounced as ƒÆ''¢ƒ¢-¡'¬ƒ…-ShriƒÆ''¢ƒ¢-¡'¬ƒ"š'. But when the word is written in English the letter ƒÆ''¢ƒ¢-¡'¬ƒ"š'hƒÆ''¢ƒ¢-¡'¬ƒ"š' has been omitted after ƒÆ''¢ƒ¢-¡'¬ƒ…-SƒÆ''¢ƒ¢-¡'¬ƒ"š' and just ƒÆ''¢ƒ¢-¡'¬ƒ…-SriƒÆ''¢ƒ¢-¡'¬ƒ"š' is used. This too is also a grave mistake which nobody tried to correct so far.
We believe that this request of spelling correction of our country name from Sri Lanka to Shri Lanka will be brought to the attention of the relevant authorities and the President Rajapaksa to rectify the error at the earliest.
Then the foreigners will also start pronouncing the name accurately and it will not only correct the spelling mistake but also will enhance the prosperity as the sound ƒÆ''¢ƒ¢-¡'¬ƒ…-ShriƒÆ''¢ƒ¢-¡'¬ƒ"š' stands for.
National Anthem of Sri Lanka;
Shri Lanka matha- apa Shri Lanka
Namo namo namo namo matha
Sundara siribarinee – Surandi athi shobhamana lanka
Dhanya dhanaya neka mal palathuru piri- Jayabhoomiya ramya
Apahata sapa siri setha sadana-Jeewanaye matha
Piliganumana apa bhakthee pooja-Nnamo namo matha
Apa Shri Lanka-Namo namo namo namo matha
ƒÆ'-¡ƒ"š' 
Oba we apa vidya-obamaya apa sathya
Oba we apa shakthee ƒÆ''¢ƒ¢-¡'¬ƒ¢¢"š¬…" apa hadathula bhakthee
Oba apa aloke-apage anuprane
Oba apa jeewana we-Apa mukthiya oba we
Nava jeewana demine nithina apa pubudu karan matha
Gnana weerya wadawamina ragena yamu mena jayabhoomi kara
ƒÆ'-¡ƒ"š' 
Eka mawakage daru kela bavina- Yamu yamu wee nopama
Prema vada sama bheda durarada ƒÆ''¢ƒ¢-¡'¬ƒ¢¢"š¬…" Namo namo matha
Apa Shri Lanka ƒÆ''¢ƒ¢-¡'¬ƒ¢¢"š¬…" Namo namo namo namo matha
Apa Shri Lanka – Namo namo namo namo matha