RAJAPAKSA CALLS FOR TOLERANCE AT SANCHI
Posted on September 21st, 2012
A Hindu report
Sri Lankan President Mahinda Rajapaksa on Friday called for tolerance in a world where enmity and hatred towards other faiths had a ƒÆ''¢ƒ¢-¡'¬ƒ…-tragicƒÆ''¢ƒ¢-¡'¬ƒ"š' fallout in violence even as MDMK chief Vaiko protesting his visit was arrested.
The visit of Mr. Rajapaksa amid tight security was marked by protests by Mr. Vaiko and 750 workers of his party who were arrested at the Maharashtra-Madhya Pradesh border while setting out on a march to Sanchi, about 45 km from Bhopal.
MDMK has been opposing Mr. RajapaksaƒÆ''¢ƒ¢-¡'¬ƒ¢-¾'¢s visit as they hold him responsible for the alleged atrocities on Tamils in Sri Lanka.
ƒÆ''¢ƒ¢-¡'¬ƒ…-I think the message of tolerance and understanding is of great relevance today, as we see the tragic results of enmity and hatred towards other faiths leading to violence and destruction, and great loss to societies.
ƒÆ''¢ƒ¢-¡'¬ƒ…-This message of tolerance is of equal importance in the East and West alike,ƒÆ''¢ƒ¢-¡'¬ƒ"š' Mr. Rajapaksa said in his address after laying the foundation stone of the Sanchi University of Buddhist and Indic Studies.
Recalling Mahatma Gandhi as the greatest son of modern India, he said people on both the sides of the country have duty to spread the message of non-violence, peace and compassion to the world which is ƒÆ''¢ƒ¢-¡'¬ƒ…-trapped in material-based progress.ƒÆ''¢ƒ¢-¡'¬ƒ"š'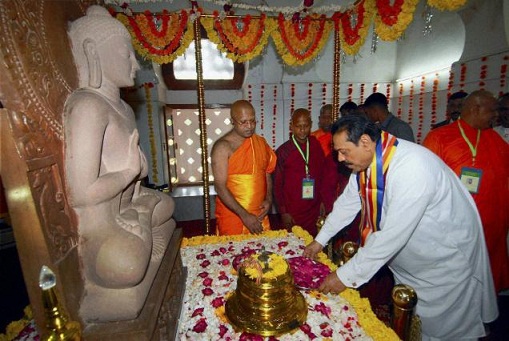 Mr. Rajapaksa pointed out the profound contribution by Dr B.R. Ambedkar for the revival of Buddhist thought in India and his efforts to incorporate Buddhist and Indic values in the modern day governance systems of the country.
The Sri Lankan President criticised conventional education which led to ruthless competition and wasteful consumption and said that a complete education must involve self awakening.
Mr. Vaiko and his supporters were arrested at Badhchicholi village ƒÆ''¢ƒ¢-¡'¬ƒ¢¢"š¬' about 370 km from Bhopal ƒÆ''¢ƒ¢-¡'¬ƒ¢¢"š¬' where he has been staging a dharna for the last three days when police stopped the convoy of buses carrying them.
Mr. Vaiko has been arrested along with nearly 750 supporters, Inspector General (Jabalpur Range) Madhu Kumar, told PTI.
ƒÆ''¢ƒ¢-¡'¬ƒ…-They have been booked under 151 of CrPC (Disrupting peace),ƒÆ''¢ƒ¢-¡'¬ƒ"š' he said.
The protesters also burnt two effigies and around 2,000 posters of Mr. Rajapaksa at the dharna site and raised slogans against him.