UK's hypocrisy exposed
Posted on July 18th, 2013
Michelle Alexander
Despite incessant requests to other nations to not commit human rights abuses, the government of the United Kingdom stands exposed of its double speak after it has been revealed that more than 3000 export licenses has been issued for military and intelligence equipment, said to be worth a ƒÆ'-¡ƒ"š'£ 12.3 billion (14.6 billion Euros or US$$18.6 billion), with some of these exports to countries said to be on the UK governmentƒÆ''¢ƒ¢-¡'¬ƒ¢-¾'¢s watch list for human rights abuses. This was revealed by a report compiled by The House of Commons Committees on Arms Export Controls.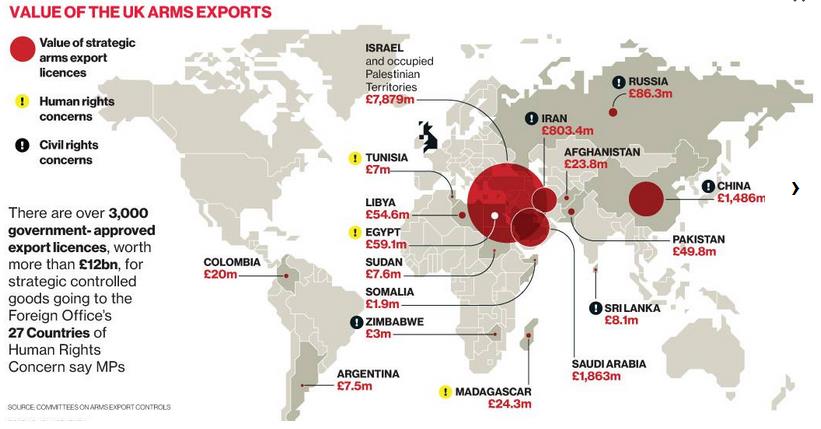 Countries that have the most current deals with UK:-
China ƒÆ'-¡ƒ"š' ƒÆ'-¡ƒ"š' ƒÆ'-¡ƒ"š' ƒÆ'-¡ƒ"š' ƒÆ'-¡ƒ"š' ƒÆ'-¡ƒ"š' ƒÆ'-¡ƒ"š' ƒÆ'-¡ƒ"š' ƒÆ'-¡ƒ"š' ƒÆ'-¡ƒ"š' ƒÆ'-¡ƒ"š' ƒÆ'-¡ƒ"š' ƒÆ'-¡ƒ"š' ƒÆ'-¡ƒ"š' ƒÆ'-¡ƒ"š' ƒÆ'-¡ƒ"š' ƒÆ'-¡ƒ"š' ƒÆ'-¡ƒ"š' ƒÆ'-¡ƒ"š'  – 1163 export licenses worth 1.49 billion pounds (this is despite an existing EU arms embargo on China )

Saudi Arabia ƒÆ'-¡ƒ"š' ƒÆ'-¡ƒ"š' ƒÆ'-¡ƒ"š' ƒÆ'-¡ƒ"š' ƒÆ'-¡ƒ"š'  -ƒÆ'-¡ƒ"š' ƒÆ'-¡ƒ"š' ƒÆ'-¡ƒ"š'  417 export licenses worth 1.86 billion pounds

Israel ƒÆ'-¡ƒ"š' ƒÆ'-¡ƒ"š' ƒÆ'-¡ƒ"š' ƒÆ'-¡ƒ"š' ƒÆ'-¡ƒ"š' ƒÆ'-¡ƒ"š' ƒÆ'-¡ƒ"š' ƒÆ'-¡ƒ"š' ƒÆ'-¡ƒ"š' ƒÆ'-¡ƒ"š' ƒÆ'-¡ƒ"š' ƒÆ'-¡ƒ"š' ƒÆ'-¡ƒ"š' ƒÆ'-¡ƒ"š' ƒÆ'-¡ƒ"š' ƒÆ'-¡ƒ"š' ƒÆ'-¡ƒ"š' ƒÆ'-¡ƒ"š' ƒÆ'-¡ƒ"š'  -ƒÆ'-¡ƒ"š' ƒÆ'-¡ƒ"š' ƒÆ'-¡ƒ"š'  381 export licenses worth 7.88 billion pounds
ƒÆ'-¡ƒ"š' Human rights records in nations such as Pakistan, Afghanistan, Saudi Arabia, Somalia and Zimbabwe are bad, even downright horrific, yet they are awarded export licenses for arms and other equipment.
ƒÆ'-¡ƒ"š' Even countries such as Syria and Iran have deals for arms exports, with IranƒÆ''¢ƒ¢-¡'¬ƒ¢-¾'¢s current contracts valuing at a little over 800 million pounds, and Syria had three deals worth a little less than 150,000 pounds, notwithstanding the fact that the UK is sending weapons to Syrian rebels fighting pro-Assad forces. ƒÆ'-¡ƒ"š' William Hague recently issued statements saying that "Our sanctions on Iran are extremely tough and we do not export to Iran anything that conflicts with the sanctions agreed at the United Nations or in the European Union," and ƒÆ''¢ƒ¢-¡'¬ƒ…-I think people can be confident in our export controls, they are among the toughest in the world."
ƒÆ'-¡ƒ"š' Sir John Stanley, the chairman of the committee and a former Defense minister added, ƒÆ''¢ƒ¢-¡'¬ƒ…-The Government needs to acknowledge that thereƒÆ''¢ƒ¢-¡'¬ƒ¢-¾'¢s an inherent conflict between strongly promoting arms exports to authoritarian regimes whilst strongly criticizing their lack of human rights at the same time. Instead they continue to claim these two policies ƒÆ''¢ƒ¢-¡'¬ƒ"¹…"are mutually reinforcingƒÆ''¢ƒ¢-¡'¬ƒ¢-¾'¢.ƒÆ''¢ƒ¢-¡'¬ƒ"š'