THE BEAST-A liberation theology for Tamils By Mario Perera-Published by Godage & Brothers (Pvt) Ltd), Maradana
Posted on January 29th, 2014
Lankaweb Book Introduction
This 256 page book analyses the fanatical declarations of Rev.Fr.S.J.Emmanuel, President of the Global Tamil Forum and reveals him for what he is. Its appearance coincides with the upcoming Geneva Conference and could prove useful in countering the activities of the Global Tamil Forum and its affiliated organizations.
Rev. Father S. J. Emmanuel's comparison of the LTTE leader, Velupillai Pirabhakaran to Jesus Christ has generated a feeling of remorse and resentment among various sections of the Sri Lankan expatriate community living in London. The controversial statement was carried in a newspaper interview by a journalist from the INDEPENDENT, a national British newspaper published in the UK sometime ago after an interview with the Roman Catholic Father Emmanuel in Jaffna. (By Tilak Fernando in 'The London Diary').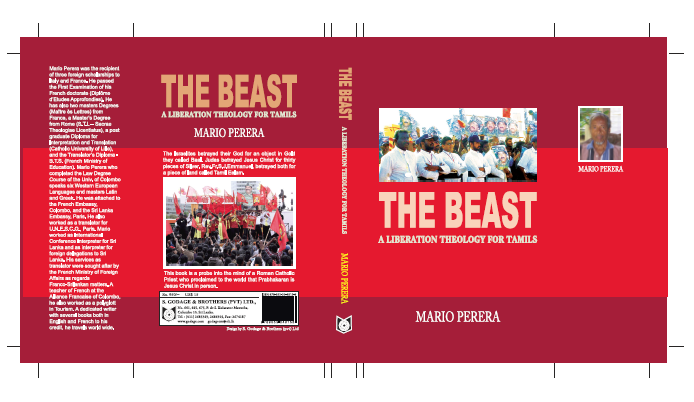 This book is a timely publication and would well serve the cause of Sri Lanka at the upcoming Geneva Human Rights Assembly. It is to be expected that all the Tamil organizations and their affiliated bodies will be heavily represented in Geneva with a view to humiliate our nation. This book will go some way to overturn their expectations as it denudes Fr. S, J. Emmanuel, terror ideologue of the L.T.T.E., President of the Global Tamil Forum, of all his intellectual, moral, religious and humanitarian pretensions. It reveals and exposes him as shameless and a hypocrite.
'The Beast' opens the eyes of Catholics, Christians and of all men of good will to the vilest heresies against Catholic and Christian belief in the entire history of Catholicism. What Emmanuel propagated was not merely of an intellectual and abstract nature as the other heresies on the subject of Jesus. They were lethal, murderous, inducing, promoting and glorifying mass killings.
The book expresses stupefaction that such heresies were not exposed and such a heretic not brought to book by his ecclesiastical superiors ranging from his local bishop, the Bishops Conference of Sri Lanka which includes the cardinal archbishop of Colombo, the Bishops Conference of Asia (of which Emmanuel was theological adviser!), and of the Vatican, meaning the Pope himself.