We will contest at the General Election, says Mahinda ඔබේ ආරාධනාව පිලිගන්නවා.. මැතිවරණයට තරඟ කරනවා.. ජයඝෝෂා මැද මහින්ද කියයි.. [Full Speech]
Posted on July 1st, 2015
We will contest at the next General Election and form a new government, former President Mahinda Rajapaksa said at his home in Medamulana this morning (01).
The fight that started in Nugegoda has become a major driving force in the country. I have no right to reject the request by people to protect the country and the party. The economic progress that has been stalled will be rebuilt and reenergized," Rajapaksa said.
The young generation of this country has not yet witnessed the darker side of the United National Party (UNP). The younger generation doesn't know how the UNP paved the way for the separatists before 12-years ago or how they acted during the 88-89 insurrection period," he added.
He also went into say that there is a clear threat to the national security. The cabinet approval has not been granted for a request to give compensations for terrorists," he said, adding that the present government, however, has ignored those who sacrificed their lives or been disabled in service of the country. This would have been a world record, if the request was given the cabinet nod," Rajapaksa pointed out.
He also accused the present government of issuing some 27 license to import ethanol spirits within 100-days of time.
We never ran in an unconstitutional manner. We respect the law and order of this country. But the present government even defames the judiciary," Rajapaksa charged.
Adaderana
තම නිවසට පැමිණ කල ආරාධනාව පිලිගෙන මැතිවරණයට තරඟ කරන බව හිටපු ජනාධිපති මහින්ද රාජපක්‍ෂ මහතා පවසයි.
මැදමුලන පිහිටි ඒ මහතාගේ නිවසේ සිට ඔහු කියා සිටියේ සන්ධානයේ, ශ‍්‍රීලනිපයේ, එජාපයේ, ජවිපෙ ඇතුළු සියලුම පක්ෂවල දේශප්‍රේමී ජනතාවට තමා සමඟ අත්වැල් බැදගන්නා ලෙස ඉල්ලා සිටින බවයි.
ඒ මහතාගේ කතාවේ සම්පූර්ණ හඬ පටය [Link]
58,096 Viewers
———————————————————————————————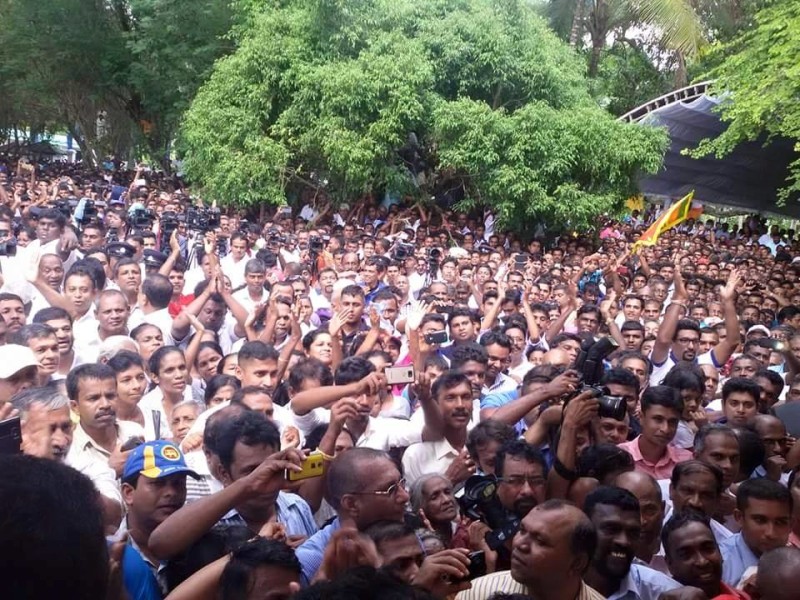 ———————————————————————————————