LTTE Terrorism-Church Links – Can someone explain these photos?
Posted on September 26th, 2016
Shenali D Waduge
The following photos are alarming and raises more questions than answers. Who can explain the connection?
There were many Church-based NGOs operating in the North and East throughout the conflict. Many of them had their offices virtually next door to LTTE offices.
Audit the monies sent to these organizations throughout 30 years and evaluate against what they had done against what their websites and reports claimed they did. What were they really upto in the North and East when LTTE was running a defacto state using LTTE police, LTTE judiciary, LTTE courts, LTTE schools, LTTE teachers, LTTE curency…? Who can answer?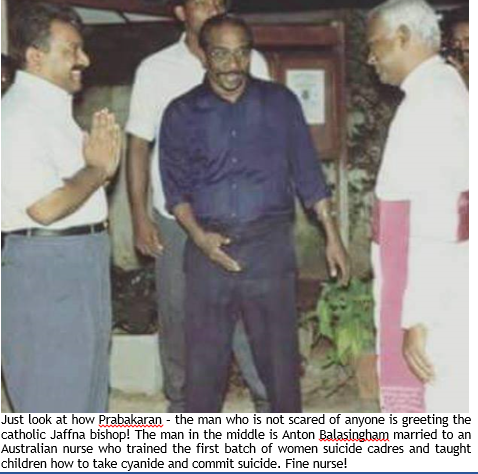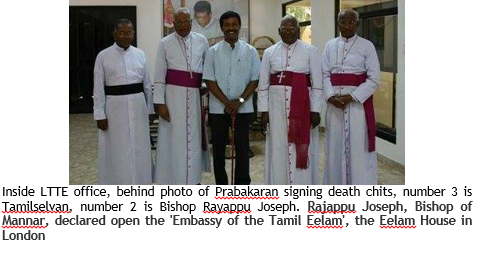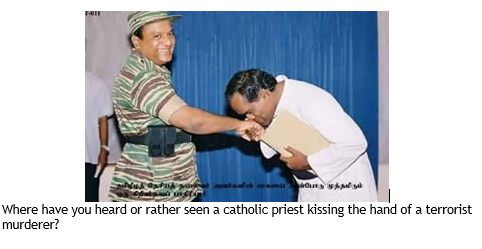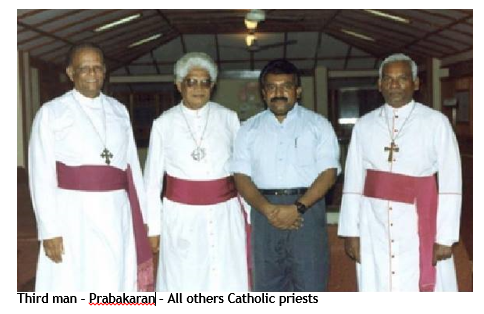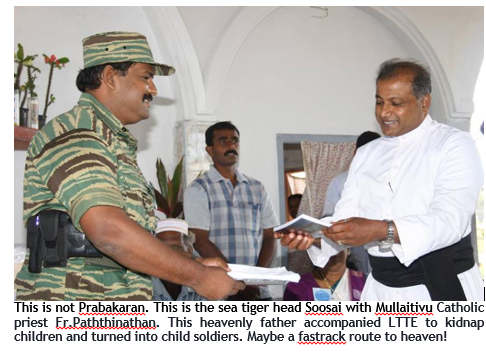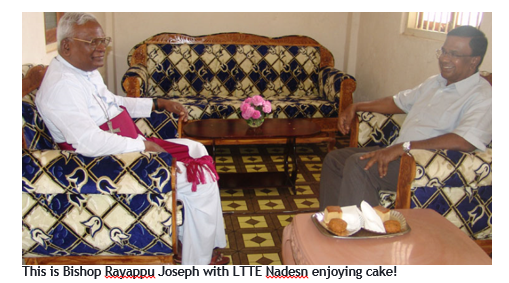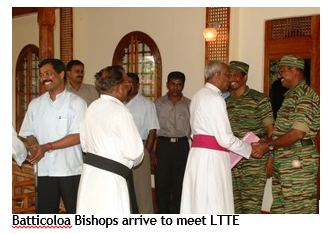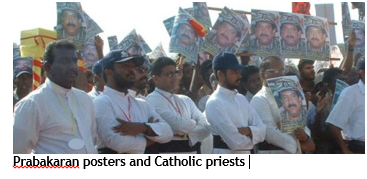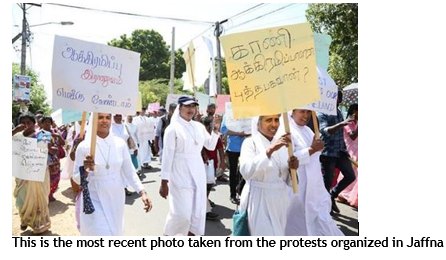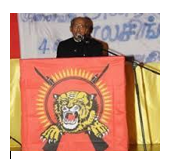 Father Emmanuel of GTF – whats the flag at the podium? LTTE flag
He and his diaspora organization were banned under UNSC Resolution 1373 but has since change of government been deproscribed under reconciliation. He is on record saying he is first a Tamil and then a Christian. He called Prabhakaran 'Jesus Christ', the LTTE 'soldiers of Christ', the suicide bombers 'martyrs of the Catholic Church' to whom the Church provided a Catholic burial, and proclaimed himself as 'the Moses' who would lead the Tamil nation from the bondage of Sinhalese-Buddhists to the land chosen for them by God: Eelam.  http://www.infolanka.com/org/diary/2.html
Fr. Jegath Gasper Raj main link for Tigers in India Tamil Tigers and the Church consider Fr. Gaspar Raj as their latest pop priest."
http://www.asiantribune.com/node/4959
LTTE Voice of Tigers tied up with Radio Veritas, a Catholic broadcasting station run by the Asian Catholic Bishops Conference based in The Philippines. The Tamil Service of the Radio Veritas is run by the Tamil Catholics of Tamil Nadu. Voice of Tigers had a "coordinating office" inside St. Sebastian's Church in Mallavi, Wanni; the office was opened by the pro-LTTE Bishop of Mannar Fr. Rayappu Joseph.
Incidentally, Jaffna Mayor and MP of the Sri Lanka Freedom Party, Alfred Duraiappa, Prabhakaran's first assassination, had got off at the Madhu Church before proceeding to Jaffna. Many believe it was a tip off from the Church that informed Prabhakaran of Duraiappah's arrival in Jaffna, leading to his death.
 World Council of Churches has been promoting the concept of traditional homeland theory in 1994 at the UNHRC in Geneva. http://www.sangam.org/2008/12/IFT_UDHR.php?uid=3197&print=true
The power of the Church is such that the present Chief Minister of Tamil Nadu even repealed the anti-conversion law (in 2004) implemented by her own Government. For this she was rewarded with the Golden Star for Dignity and Honor from the International Human Rights Defense Committee, a Christian body funded by USAID. She was also awarded with the Bharath Jyothi in 2005 and evangelist KA Paul presented Rs. 1 crore for tsunami relief. In 2003, Sri Lanka's Buddhist and Hindu leaders also drafted an anti-conversion bill, but heavy Church influence upon the Government has ensured reluctance to implement it.
There are some 3000 Churches/para-churches in and around Chennai, 46 Bible colleges, 23 Christian media centers, 122 Christian magazines in English and Tamil, 114 church planting missions. The Church sponsors rallies, posters, conventions etc. Christianity is broadcast via national Doordarshan, satellite/cable channels of GOD TV, CBN, TBN, MiracleNet, Daystar TV, Raj TV, Zee TV, Vijay TV, Blessing TV, Angel TV, Shalom TV, Jeevan TV and web-based telecasts like Jesus Calls, Num.TV. These Christian channels are relayed to 216 cities across India to an audience of 21million. http://indiatoday.intoday.in/story/independent-churches-mushroom-across-india-attracting-foreign-funds/1/136664.html
https://bharatabharati.wordpress.com/2011/03/31/tamil-nadu-politcs-cancerous-church-eats-into-dravidian-parties-radha-rajan/
https://bharatabharati.wordpress.com/2010/11/08/christian-denigration-of-buddhism-and-conversion-of-the-vulnerable-j-goonetilleke/
https://bharatabharati.wordpress.com/2010/02/02/world-vision-christian-ngo-engaged-in-culture-murder-not-social-service-v-k-shashikumar/
http://rajeev2004.blogspot.com/2009/04/church-ltte-srilankaguardianorg.html
The church also had played a role in these activities in Norway with the involvement of the World Council of Churches to which the National Christian Council (NCC) in Sri Lanka headed by Rev. Kenneth Fernando is affiliated. The National Peace Council, of which Mr. Jehan Perera is the secretary, has been established by the NCC. A Christian priest by the name Devus had campaigned that the Norwegian government should take steps to pressurise the Sri Lankan government to stop military operations in Jaffna. These are only few of the involvements of the LTTE and its front organisations in Norway. A fuller account is given in the above-mentioned article in the "Irida Divaina". These criticisms on the hierarchy of the Church should not be considered as an attack on the Christians in general. The ordinary Christian, especially the Sinhala Christian has nothing to do with these activities and, in fact, I know of many Sinhala Christians who are against these members of the hierarchy but are not in a position to take any action against them." http://www.sinhaya.com/NorwayAndLTTE.htm
Lankan church helps 'despairing' Tamil Tigers  Sri Lanka church workers are trying to help former Tamil Tiger rebels, who are said to be living in the blackest of despair," claiming many should be released.  http://www.tamilcanadian.com/news/index.php?action=comments&id=11781
Sri Lankan Tamils, the 'Cats Paw' of the Church http://www.asiantribune.com/index.php?q=node/8060 the World Council of Churches that sponsored the LTTE office in London which commenced its operation from 1984 denigrating the SL Government in general and the Sinhalese Buddhist in particular. The heads of the different Christian denominations in SL issue press statements from time to time, on the ongoing conflict, blaming mostly both parties to the Sri Lankan conflict, quite oblivious to the fact that on the one hand you have the legitimate Government of the country bending over backwards for peace and on the other the intransigent, ruthless and a totalitarian terrorist organization. They also make pilgrimages to Kilinochchi and eulogize the most ruthless terror leader and his activities. These are mostly done for the consumption of the Tamil Diaspora and the LTTE sympathizing Governments in the west."
Unrepentant alliance of National Christian Council of Sri Lanka ….. http://www.asiantribune.com/node/14082
main objectives of the NCCSL and its affiliates seem to be the creation of space for the LTTE and strengthening of the separatist agenda. National Christian Councils in other Western countries who are continually fed with information from NCCSL have constantly adopted a stance to brush aside the realities facing Sri Lanka, a sovereign country, and, her people. Their past and present actions compel one to conclude that they prefer Sri Lanka to be Balkanized and LTTE to hold sway in the North and the East of Sri Lanka."
LTTE abducts 16 children from Catholic Church run orphanage – Dharmapuram http://www.rainbowinformation.com/sss_srilanka/newsflash/Newsflash-18.pdf
Why would the Catholic clergy train youth to enact cultural events to build resentment against the Sri Lankan Government (3 dramas held on 16 Dec 2012 by children from Jaffna Central College, Hindu College and Vembadi Girls College enacted that Eelam cause was not over / a drama staged on 27 Jul 2013 depicted 13th amendment the clergy involved were M V E Ravichandran (In Charge), Justin Gnanaprakasham (Committee Coordinator), Anton Jeyamsnadan (Pullopalai East Church)
why would Catholic clery from Vavuniya, Mannar, Kilinochchi, Mullaitivu and Jaffna join TNA and TNPF politicians on 27 Aug 2013 to conduct anti-Government protests in front of the UN office during Navi Pillai's visit.
Church calls for an international investigation into war crimes in Sri Lanka http://www.asianews.it/news-en/Church-calls-for-an-international-investigation-into-war-crimes-in-Sri-Lanka-30468.html
Christian Clergy from North and East Want UN Human Rights Council to Pass Strong Action-Oriented Resolution on Sri Lanka. Over a hundrd members of the Christian Clergy serving in the Northern and Eastern Provinces of Sri Lanka have appealed to the United Nations Human Rights Council that a strong and action oriented resolution in relation to accountability, reconciliation and human rights in Sri Lanka going beyond the resolution adopted at the 19th session of the Council should be passed at the forthcoming sessions in Geneva. The full text of the letter and list of signatories led by the Catholic Bishop of Mannar Diocese Most Rev Dr.Joseph Rayappu are posted here)
http://dbsjeyaraj.com/dbsj/archives/16702
Shenali D Waduge