WATERS EDGE ,UDA AND SPORTS MINISTRY TO ESTABLISH A LEISURE SPORTS ISLAND…..New Items Does right hand of  Magapolis  know what  left hand is doing ???
Posted on December 14th, 2016
Dr Sarath Obeysekera
When I read above new item where UDA chairman exchanging MOU in the presence of the Megapolis Minister and the Sports Minister to establish Leisure Sports Island in the lake next to Waters Edge. Few week back during a presentation , Megapolis  Minister clearly  indicated that the starting point of the Canal Transport Project to take passengers from Battaramulle to Wellawatte should be at the same location behind the Waters Edge Lake next to Integerated Megapois development area .
SLLRDC which is the authority of the Diyawanna Lake and entrusted to implement the Canal Project  has no clue that Sports Island should be established in the same location .
New sports venture envisages to have 40 types of sports such as Kayaking,archery ,sailing ,air rifles ,horse trekking etc in the same location .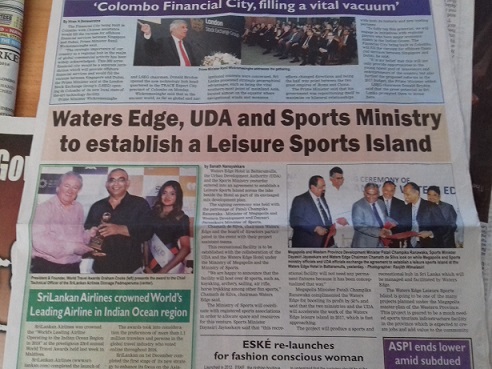 I wonder how you intend to implement such a program when boats carrying 50 over passengers  in each boat plan to ply through the lake every 5 minutes or even every three minutes ??
They will have to manoeuvre the canal boats in Zig Zag pattern to avoid hitting the kayakers ??
People keep wondering why professionals who advise the ministers suggest to take such adhoc decisions without interacting with other agencies who are stakeholders of the Megapoils devlo[ment plan  ?
No wonder we are sailing in troubled waters sometimes rudderless"