DONATIONS FOR FLOOD RELIEF IN SRI LANKA – A PARTNERSHIP WITH ARPICO – Online donations to a central distribution location
Posted on May 30th, 2017
Anjalika Silva
We are monitoring the ground situation in Sri Lanka. Sources on the ground have informed us that the immediate need is nonperishable packaged food for immediate consumption.  When flood waters recede and the displaced are housed in camps, there will be a future need for dry rations. Donors can choose to provide what they choose through the Arpico site with online ordering.  They need all basic items for survival.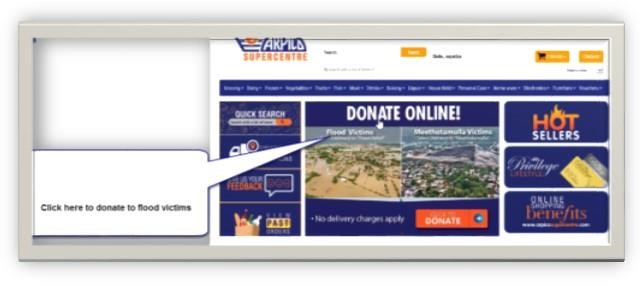 Arpico, has provided 7 categories of care packages ranging from $15 to $99 for donors to choose and order online. These care packages consist of essential items that will be needed by those displaced.   In addition, donors can choose to donate whatever they wish  from the range of items available on the eCommerce site  All donations will be delivered free.  Deliveries can be made to individual organizations known to donors or to a central collection location handled by Professional and Intellectual Women's Association. The address for deliveries is No. 1, Byrde Place, Kirullapone, Colombo.5.
(pay attention to the https:// secure site and spelling of arpicosupercentre)
Click on Flood victims to view care packages.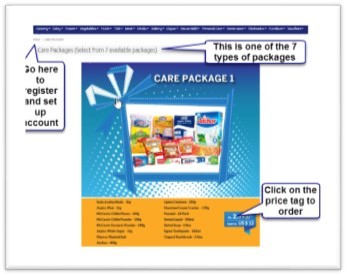 To order click on the blue price tag.
To register, click on Home" and register to log in.
Please note that the https:// denotes a secure site for credit card payments.
Donors who do not have contacts for delivery in Sri Lanka can use the organization below.  The address as:
Sharmila Gonawala under the name of recipient.  The distribution/delivery address is
Professional and Intellectual Women's Association, No. 1 Byrde Place, Kirulopane in Colombo 5,
This organization has agreed to be the collection point and contact to handle distribution to the victims.
NOTES FOR DONORS:
Donors will be required to register and use a password for your account.  Please note this for tracking.
Overseas addresses and telephone numbers can be entered in your registration (e.g. +1 202-1234-5678)
Overseas customers are not required to provide Passport and NIC information
If your credit card sends an alert and doesn't recognize the overseas payment, you may receive an email to authorize your payment.  OR you can call and inform your credit card company that you will be making an overseas transaction.   Your debit will show as ARPICO ECOM.
This eCommerce site is also available to anyone ordering items for family, or friends, private charities or for any other purpose by registering as a customer.  Please take advantage of this to donate or for private orders to your family and friends.  More items will be added in the future.
For issues and questions, please contact:
Anjalika Silva – USA
For website related issues, you will be referred to the web development professionals at Arpico.
Anjalika Silva
490 Whetstone Glen Street
Gaithersburg, MD 20877