Hypocrite Terrorist Sambandan deserves to die as a banished traitor
Posted on November 5th, 2017
By : A.A.M.NIZAM – MATARA.
TNA Leader R.Sambandan is in fact a vicious tiger terrorist.  He would undoubtedly have been a frontline hardcore tiger terrorist if not for his about to die age.  He lost in the 2000 General Election by contesting as a TULF candidate and following which the LTTE making the Tamil politicians to understand the danger of the disunity among them converged different Tamil political groups and formed the Tamil National Alliance as a political wing of the tiger terrorists.
The press communique issued on October 22nd 2001 heralding the formation of the Tamil National Alliance(TNA)was signed by four persons representing the Tamil United Liberation Front (TULF)All Ceylon Tamil Congress (ACTC) Tamil Eelam Liberation Organization (TELO) and Eelam Peoples Revolutionary Liberation Front (EPRLF).
They were R.Sampanthan (TULF), N.Kumarakuruparan (ACTC) N. Srikantha (TELO) and K.Premachandran(EPRLF)
The formation of TNA as an appendage of the LTTE was robustly welcomed by almost all the LTTE Frontline Organizations overseas and the pro-separatist Tamils in USA, Canada and in the European countries. In many circles of the Tamil polity it is considered that the TNA are still the creatures and lackeys of the LTTE even though the tigers had been militarily defeated five years ago..
The leader of the TNA Saambandan addressing the Constitutional Assembly (Parliament meeting as the CA) blamed all past leaders of Sri Lanka for placing the Tamils in a perilous state, denying them their legitimate rights and making them second class citizens in this country.  He spoke like that the Tamils were new born babes devoid of any black spot on their part.  He said that it was the Sinhalese who unleashed brutal crimes against innocent Tamils in 1956 and intermittently thereafter in 1958, 1961, 1977, 1983 and continuously since then conveniently attempting to camouflage the guilt of initiating all these troubles by Tamils themselves through their Satyagrahas and Hartals and ambushes.  He avoided mentioning about the Sri number plate" violence in which Tamils were accused of adopting the brutal method of tarring the breasts of Sinhala women with the symbol of Tamil Shri".
Sambaandan also blamed the former President Mr. Mahinda Rajapaaksa and Members politically affiliated to him saying that they are today taking up a position which is diametrically opposite to what Mr. Rajapaksa in his capacity as President told the APRC and the Experts Committee on 11th July, 2006, shortly after he assumed the Office of President. When he was speaking about Mr. Rajapksa his inherent envy against him for defeating his protagonists tiger terrorists and de-merging North and East were clearly evident. However, there was no criticism about their lackey Ranil Wickremasinghe.
During the course of his speech he mentioned about their 1970 Election Manifesto and said that they never demanded separation.  However, he deliberately and cunningly avoided making any mention about their 1977 Election Manifesto, which categorically stated that they would establish an independent, sovereign, secular Socialist State of Tamil Eelam Given below is extracts from their 1977 Election manifesto which this hypocrite tried to hide.
Sub Heading : One Question – Freedom or Servitude?
The General Election of 1977 is a crucial one to the Tamil Nation.  So far as the Tamil territory is concerned, this general election is a clash between the only political movement of the Tamil Nation and the representatives of the various political parties of Sinhalese imperialism that keeps that Tamil nation under its heels. The election in the Sinhala territory decides the question as to which of their parties should come to power. And in the Tamil territory, the question is whether the Tamils want their freedom or continued servitude. The Tamil United Liberation Front is to resolve the issue.
History
Though Ceylon is a single state now, yet by facts of history, by languages spoken by its inhabitants, by culture, tradition and by psychology, it is the common home of two nations and consists of two countries.
Tamil Eelam – A Secular Socialist State
Hence the Tamil United Liberation Front seeks in the General Election the mandate of the Tamil Nation to establish an independent, sovereign, secular Socialist State of Tamil Eelam that includes all the geographically contiguous areas that have been the traditional homeland of the Tamil speaking people in the country.
For full details, please surf http://www.sangam.org/FB_HIST_DOCS/TULFManifesto77.htm
Now let us see what this hypocrite terrorist did during the course of war to help his terrorist clan.
Extracts from an interview given for Sunday Leader of 13 October 2013
On military presence in the North:
We do not support an oppressive military presence as we do not want our people to be humiliated. There are families headed by females, quite a large number of whom are widows, and we do not want our young females to be inconvenienced or humiliated in any way. A large military presence is oppressive
Funds for the functioning of the Northern Provincial Council:
We would welcome funds from anywhere as we need immense funding to fulfil the requirements of our people. Everyone must realise that the Northern and Eastern provinces, particularly the Tamil areas, had been devastated and people's lives have been shattered. People are virtually destitute. So I do not see how anyone can raise any objection to funds being required to fulfil the legitimate needs of these people, and we would welcome funds from anywhere.
On LTTE.
When the LTTE was up and around everyone had to take recognition of the LTTE, including the government of Sri Lanka. Every government of Sri Lanka was engaged in negotiations with the LTTE, and they did not regard the LTTE as untouchables.
Oneindia News Chennai  Published: Monday, June 1, 2009.
R Sambandan, a lawmaker of Sri Lanka now on a visit to India has sought amnesty for surrendered Liberation Tigers of Tamil Eelam (LTTE). The leader of Tamil Nationalist Alliance said that the Tamil rebels should be provided with opportunities so that they can lead normal life in the mainstream of society. "Even the legitimate rights of these people, in a situation when the war has come to an end, have got to be seriously considered. Normally in any situation they are given amnesty, and they are granted pardon, and people will be with opportunities to return to normal life," he added.
Posted on August 27, 2013by ltteagents
Several ethical and legal questions raised by Canadians with Sri Lankan origin, on the TNA leaders' recent visit to Toronto. Sri Lankans in Toronto claim that TNA leader R. Sambandan in their recently concluded trip to Toronto had several fundraising events organized by Pro LTTE fund raisers. Specially the one held at Jaasmine Banquet Hall, no. 90 Nolan Court, Markham, Ontario, raised more concern; as they doubt whether the fundraising was carried out by the LTTE funding arm TRO.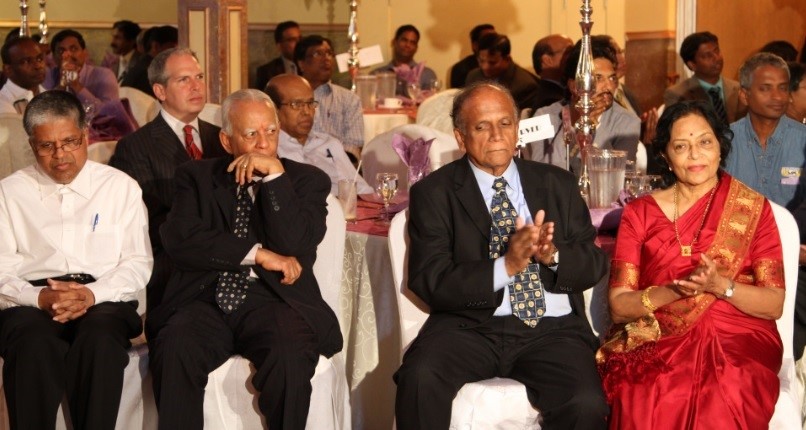 TNA leader withTRO President in the fundraising event
TRO, which is better known as Prabakaran's charity is banned in Sri Lanka and USA due to its direct link to LTTE. The U.S. Department of the Treasury designated the TRO as a supporter of the Liberation Tigers of Tamil Eelam (LTTE) in Sri Lanka. They claimed TRO was a fundraising front of LTTE. The US designation, authorized by Executive Order 13224, prohibit Americans from engaging in financial transactions with designated groups and freeze any assets the groups may have under U.S. jurisdiction. TRO designated under this executive order still valid in USA. TRO's US IRS Form 990 indicates the group rose over US $1.6 million in 2006.
Also during the same time the International Leader of the TRO, Dr. Murugan Vinayagamoorthy and his wife were taken in to custody by the US authorities for master minding LTTE naval strength. US claimed he was involved with developing and the use of sea Submarines in LTTE Sea attacks.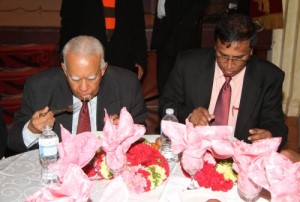 Eating it Out
On Nov. 22, 2007; the government of Sri Lanka banned TRO also in an audit held by Canada Revenue Agency (CRA) found the Canadian arm of TRO the Canadian Foundation for Tamil Refugee Rehabilitation (CAFTARR) provided more than CDN$ 700,000 to unknown organizations outside Canada. CRA also claimed both TRA and CAFTARR are part of the Tamil Tiger's support network.
Despite these facts, TNA leaders participating in a fundraising event with Raj Guna-nathan, President and Coordinator of the Tamils Rehabilitation Organisation – Canada, raised everyone's concern.
LTTE-TNA Imposed boycott of poll on Tamil People
(Tamilweek – November 13 – 19, 2005)
The presidential election campaign of Ranil Wickremasinghe suffered a terrific
jolt from the LTTE and its appendage the Tamil National Alliance
There was a general impression gaining ground that Rajapakse would get more
majority community votes and Wickremasinghe the bulk of minority community votes.
The  UNP alliance with the Sri Lanka Muslim Congress and Ceylon Workers Congress
ensured the majority of Muslim and Plantation Tamil votes. The LTTE and TNA were
expected to deliver the  Sri Lankan Tamil votes through covert and overt means respectively.
Subsequently, the LTTE – TNA said that the Tamils will be "neutral" in the election. There was no direct appeal to the Tamils asking them  to vote against Wickremasinghe or vote for a
candidate other than Ranil but a great emphasis was laid on the "useless" nature of the
poll. There was no direct call for a Tamil boycott but indirectly it was being projected
that Tamil voters would prefer to stay away.
A decision was reached after a three hour conclave at Kilinochchi between the LTTE
and TNA. The TNA has no mind of its own but faithfully echoed the diktat laid down by
its political master the LTTE. 21 of 22 TNA Parliamentarians attended the meeting
presided over by Suppiah Paramu Thamilselvan the tiger political commissar. Only
Gajendrakumar Ponnambalam away in USA was absent.
Addressing the media was senior Tamil leader and Trincomalee district MP
Rajavarothayam Sambandan. Though present at the media meet Thamilselvan
remained pointedly silent.
"Tamil residents in NorthEast are fully aware of the conduct of the two major Sinhala
parties. They have been through and suffered through periods under these parties'
governance. We know and understand Tamil peoples' frame of mind. We have no
doubt that they are in full agreement with our thinking," Sampanthan told the media.
"We discussed in depth and exchanged our views on the situation related to the
elections and what historical significance our participation in the elections is going to
be for the future of our people.
"There was no doubt in any of the participants' mind that the Presidential election will
not produce any positive shift in the Southern Polity's thinking and approach that will
in anyway result in any progressive advance towards resolving the Tamil question.
"That is why we decided that it is a futile exercise to show any interest in the
elections," Sampanthan told the media.
Later Thamilselvan spoke over the Tamil Eelam National Television where he
reiterated the stance outlined by Sambandan. "Our people are well – experienced in
politics and politically mature. The view gathering strength among them is that they
should keep away from the poll. That is their decision. We will be supportive of them in
this decision" said Thamilselvan.
The website said that at Kilinochchi R. Sambandan did not refer disparagingly to Rajapakse or Wickremasinghe. He emphasised a general apathy on the part of Tamils as opposed
to antipathy towards particular candidates.
India has to act in Sri Lanka, pro-LTTE group tells PM
(Indo-Asian News Service – August 2, 2008)
Manmohan Singh reportedly told the MPs from the Tamil National Alliance that any political solution would have to be largely acceptable to the Tamil people and to everyone else in Sri Lanka.
The website said that TNA sympathetic to the Tamil Tigers told Prime Minister Manmohan Singh that India has to play a role in ending the ethnic conflict in Sri Lanka. Accusing Colombo of causing misery to civilians by relentlessly pursuing war against the Tigers, a team of MPs from the Tamil National Alliance (TNA) led by R.Sambandan has told Manmohan Singh in Colombo that the global community also expected India to act. Sambandan has said India has a role to play. India's role (in Sri Lanka) is primary. And India should play that role," Sambandan has said the international community, which too favours peace in Sri Lanka, was deferential to India and did not want to take any step without New Delhi's approval. So India has to play a role," he has said.
Sambandan has said that during the 15-20 minute meeting, the TNA briefed Manmohan Singh at length about the situation in Sri Lanka, in particular the northeastern region where the military is locked in fierce battles with the Liberation Tigers of Tamil Eelam (LTTE).
Sambandan has alleged that the Sri Lankan military offensive against the LTTE was largely affecting the civilian population, leading to deaths, serious injuries and mass displacement in the island's northeast.
So, this is what this hypocrite has done all these years to promote Tiger terrorists throughout the world.  Having miserably failed in all his cunning attempts this hypocrite now shed crocodile tears as sympathetic to the people of Sri Lanka.  He should be immediately taken into custody for his terrorist fund raising and other terrorist activities and prosecuted for anti Sri Lankan activities after having sworn allegiance to the constitution of this country.  It is interesting to know how his recently found hubby dollar greedy JVP hooligan Anura Kumara Dissanayake reacts to these revelations.
We urge especially the patriotic UNP MPs in the government to take revenge from this hypocrite and call for his immediate arrest. This hypocrite whose hands are soaked with the blood of the innocent people of this country deserves to die banished as a traitor.