Jaffna University–TNA commemorate LTTE 'TAMIL HEROES' – Did Diplomats & UN attend too?
Posted on November 28th, 2017
Shenali D Waduge
In a shocking turn of events unabashed commemoration of terrorists & mass murderers are taking place – dead silence by the Government & nod of approval by the very countries who are still hounding senile men in their 90s accusing them of being former Nazi's and locking them up in prison. There is nothing really to be surprised by these events unfolding but it does make a laughing stock out of their own statements issued on peaceful coexistence, reconciliation & accountability. Such wrong signals are doing nothing to achieve anything but return us to square one following the discovery of arms & ammunition while trial runs with new gangsters roaming the country is now scaring people who fear a return to part two of another 30 years of terror. So in the eyes of this Govt & the West & UN, LTTE terrorists are the heroes while National Army & the innocent unarmed civilians who were killed are the Terrorists.
LTTE are heroes in the eyes of those who are commemorating them & those who are allowing the commemorations. The spineless government is not taking action because it thinks that this is what the West wants! While the West & India are happy because it serves as the perfect background to again divide people further. For the LTTE diaspora funding these stunts it is a perfect way to hide their illegal businesses and fool the world once more.
Take a look at the handiwork of those who are being commemorated and ask yourselves how right is this? When the world will not tolerate Nazi's being commemorated why are they allowing mass murderers LTTE to be mourned? Name any country who has suffered over 300 attacks by LTTE in 3 decades and after militarily defeating LTTE, a state university is mourning the dead terrorists and not the victims? Where in the world would such absurdities happen?
Were there people to count these innocent civilian dead? There are however plenty of people counting LTTE dead and even mourning the mass murderers son – just look at the many babies and children LTTE have killed. Why have there been no tears or posters for them by the big shot diplomatic community and bogus human rights organizations.
All that needs to be said is that if any international entity project themselves as serving the good of the world then they must be fair but they cannot be fair and unbiased when it comes to a terrorist movement. They simply cannot put terrorist deaths on par with innocent unarmed civilian deaths. These terrorists and mass murderers had a choice and they chose to take the gun and kill people. Those who live by the sword, die by the sword.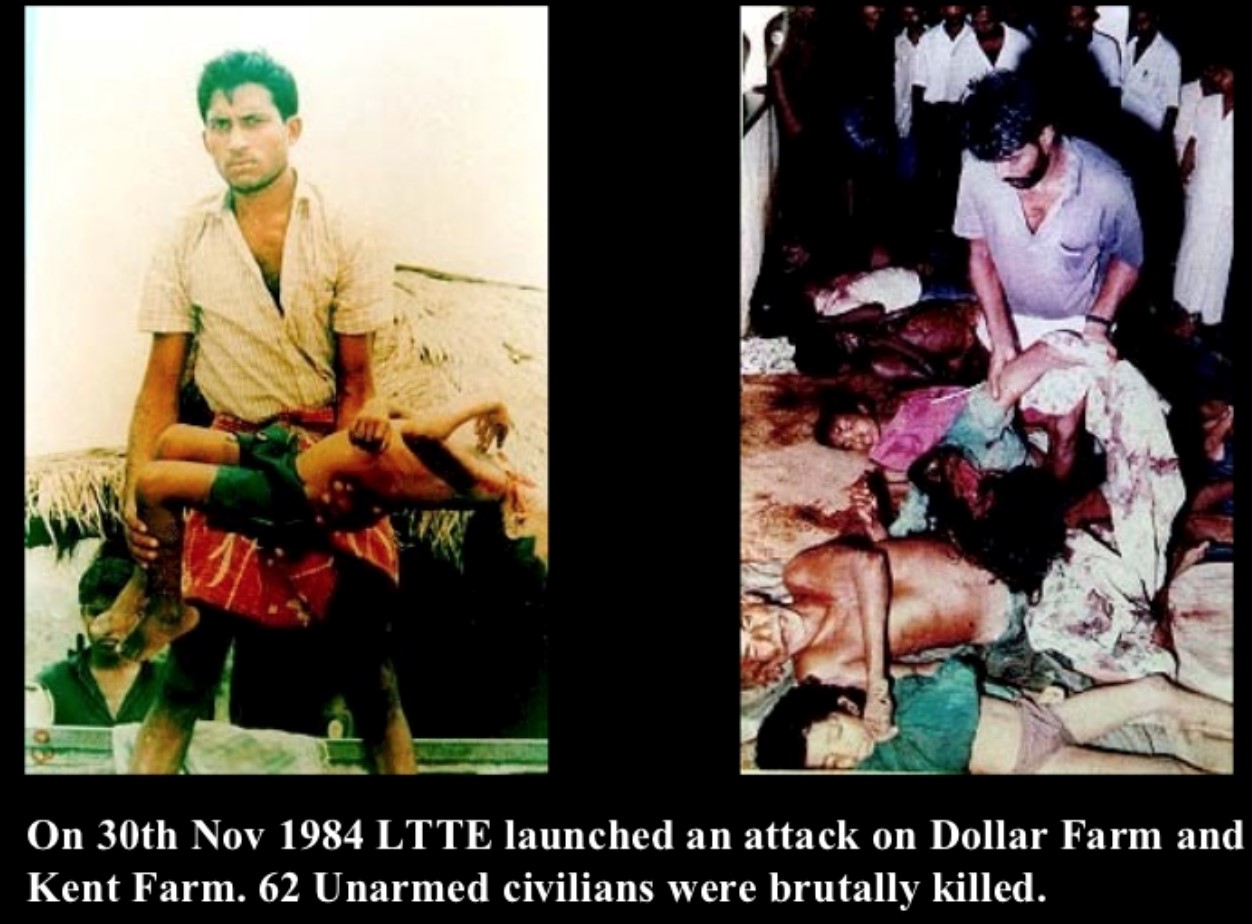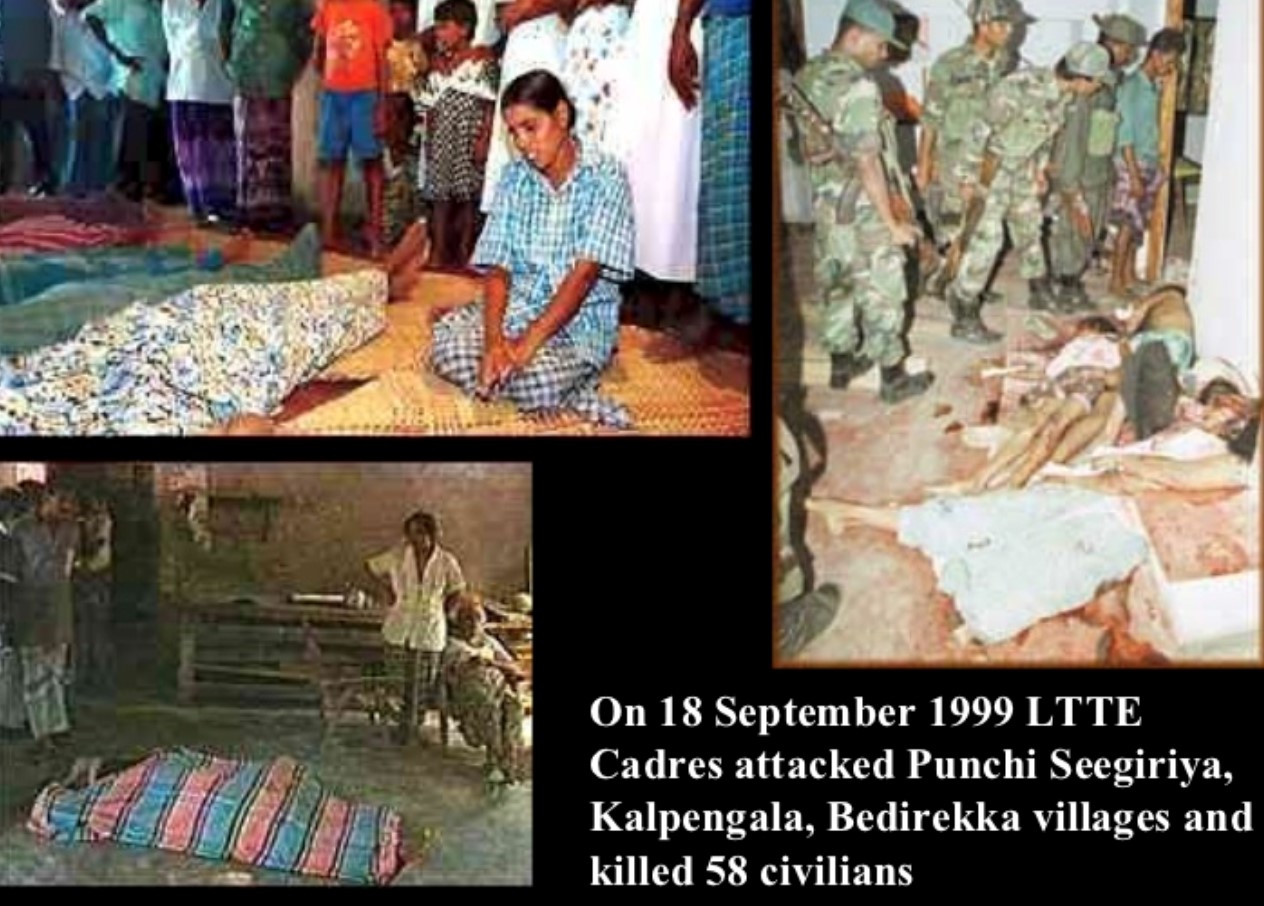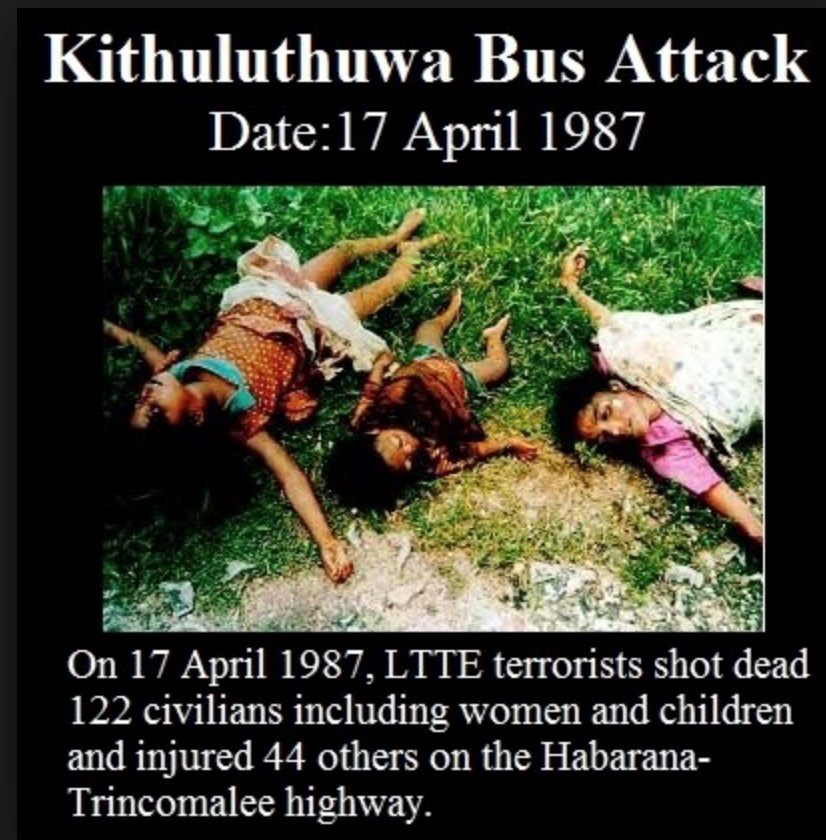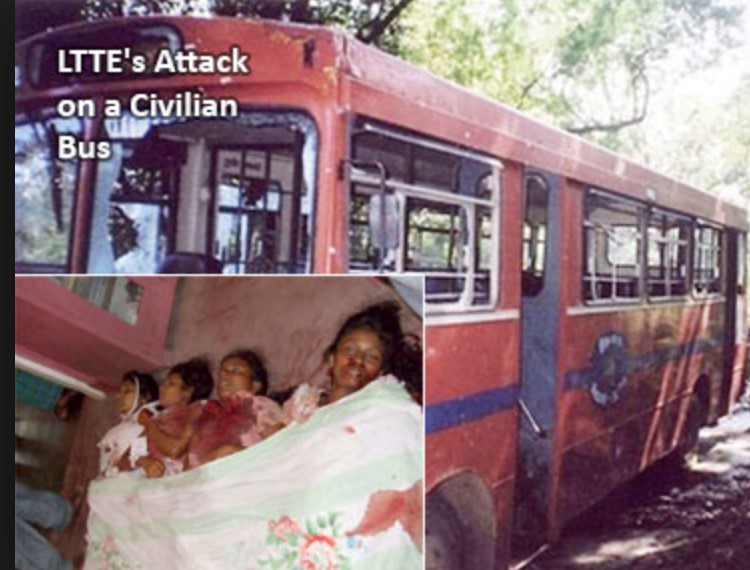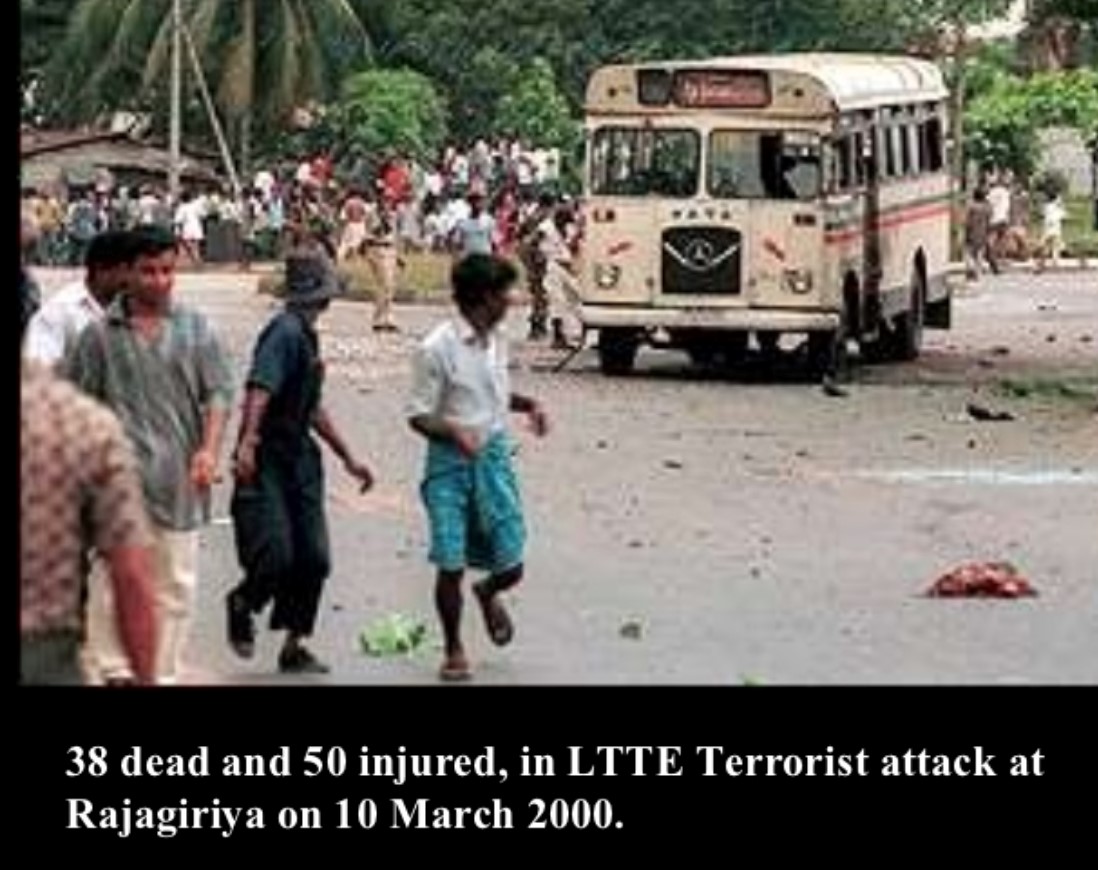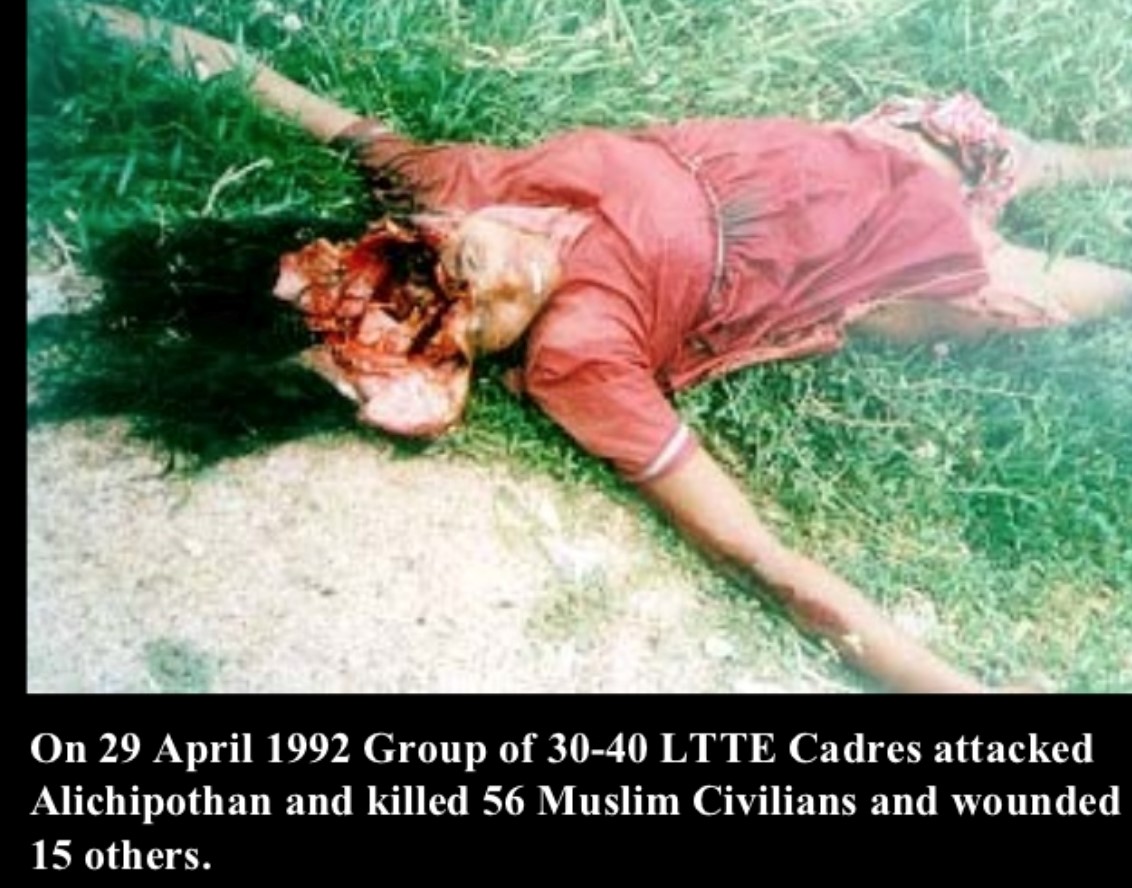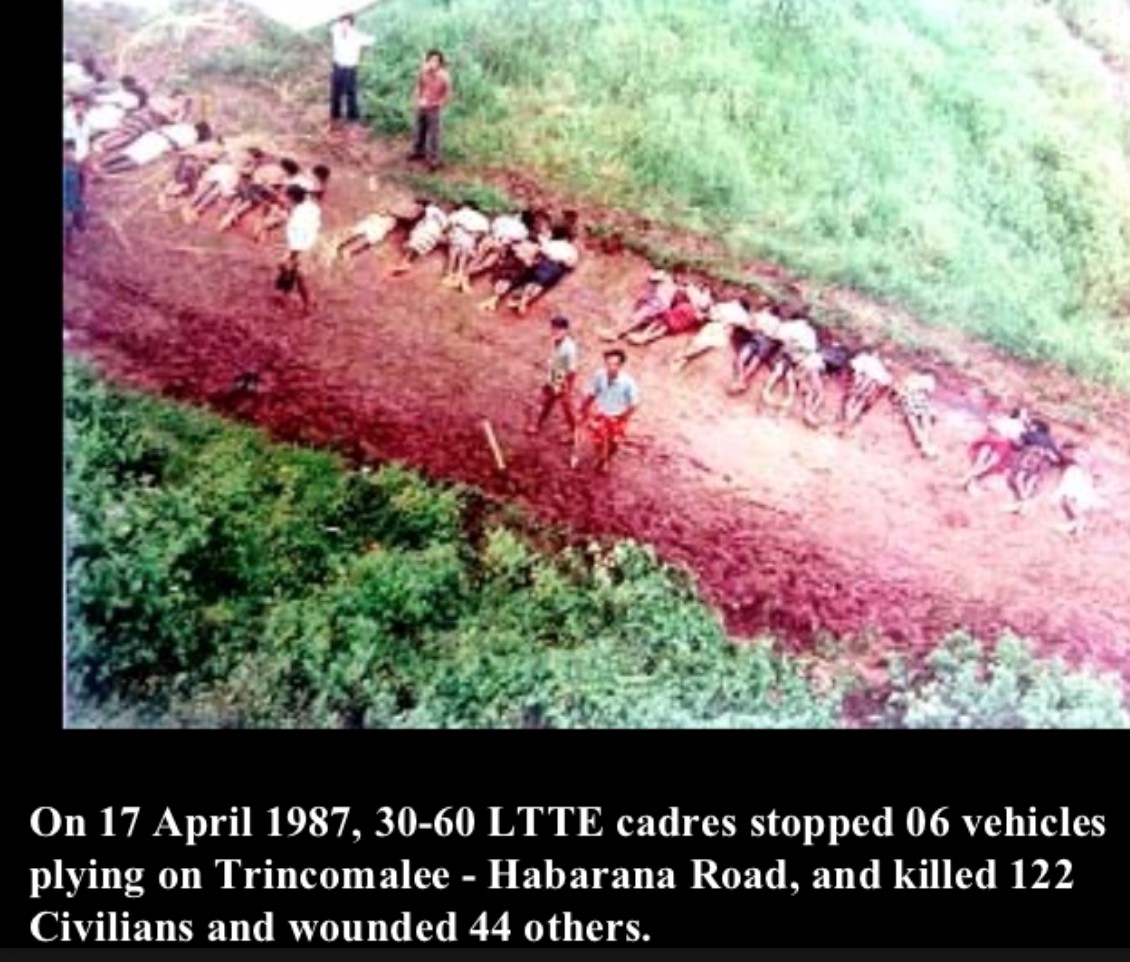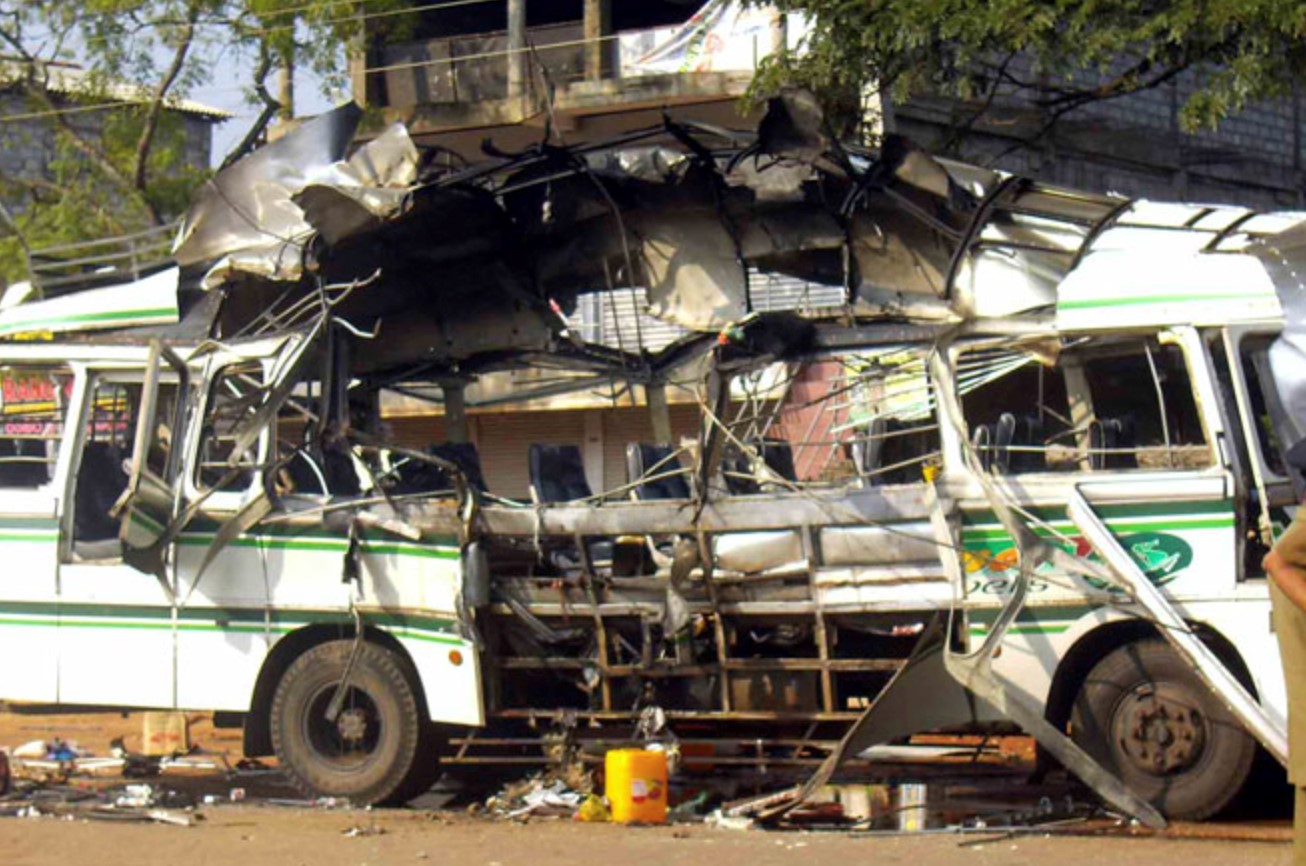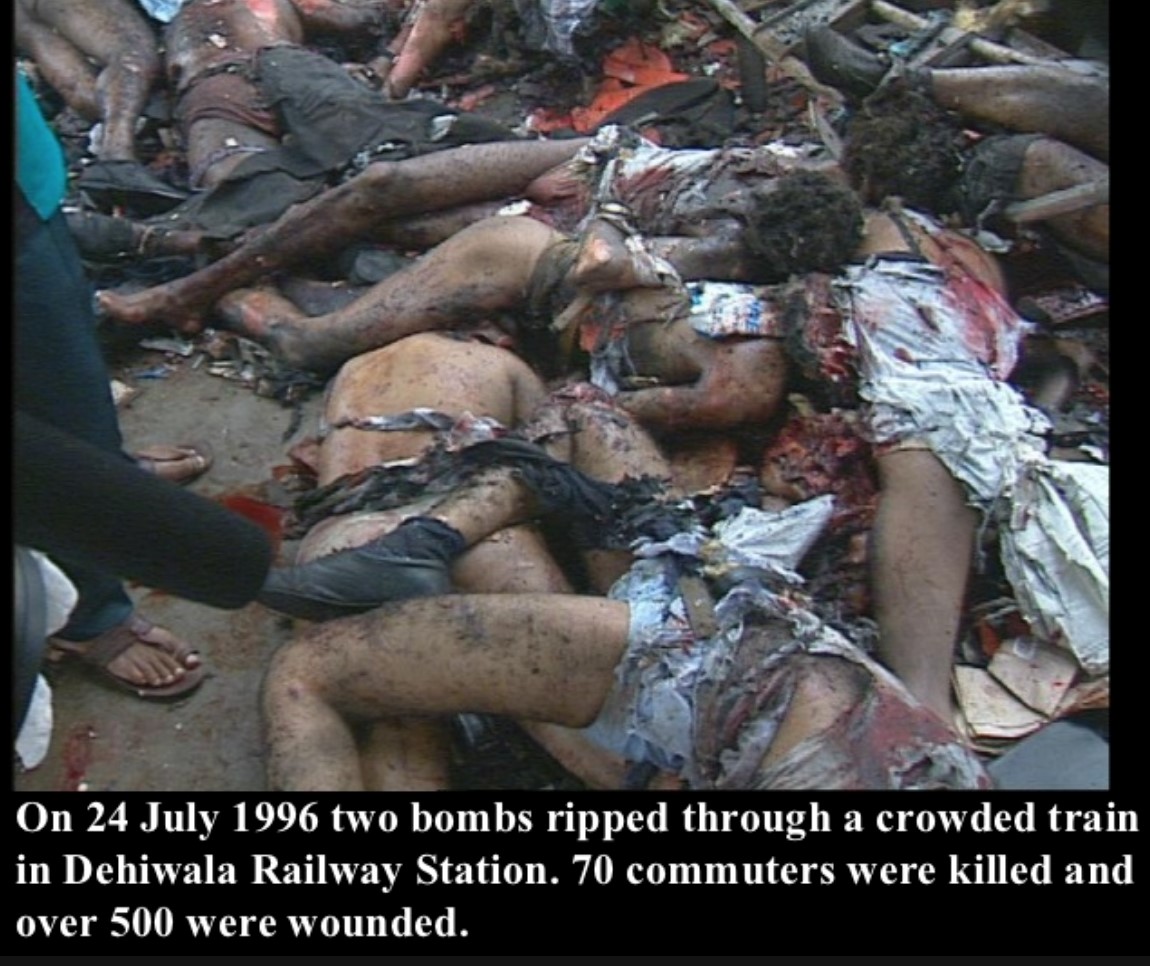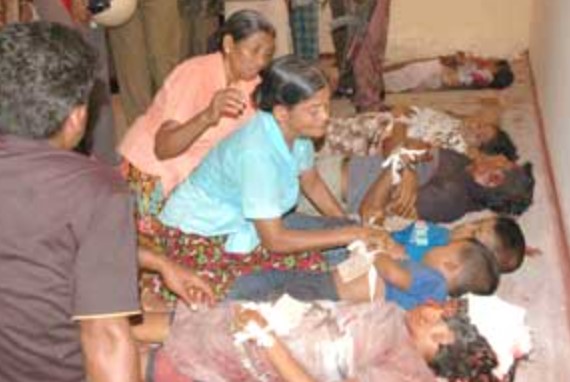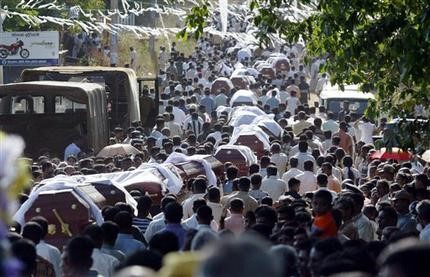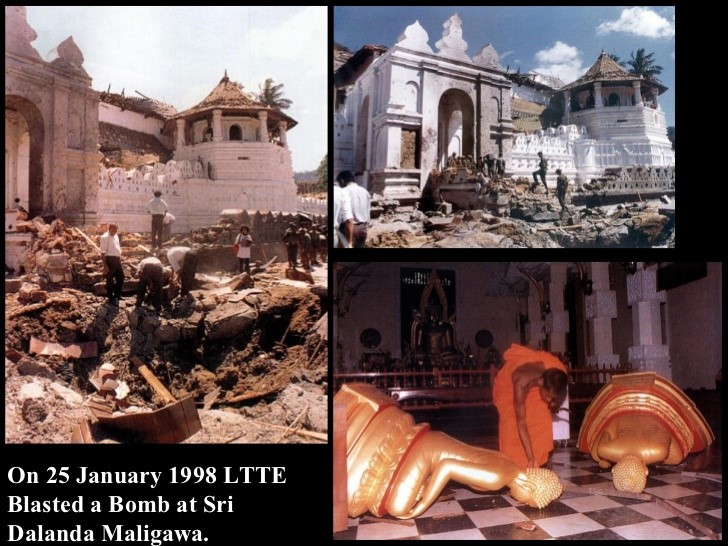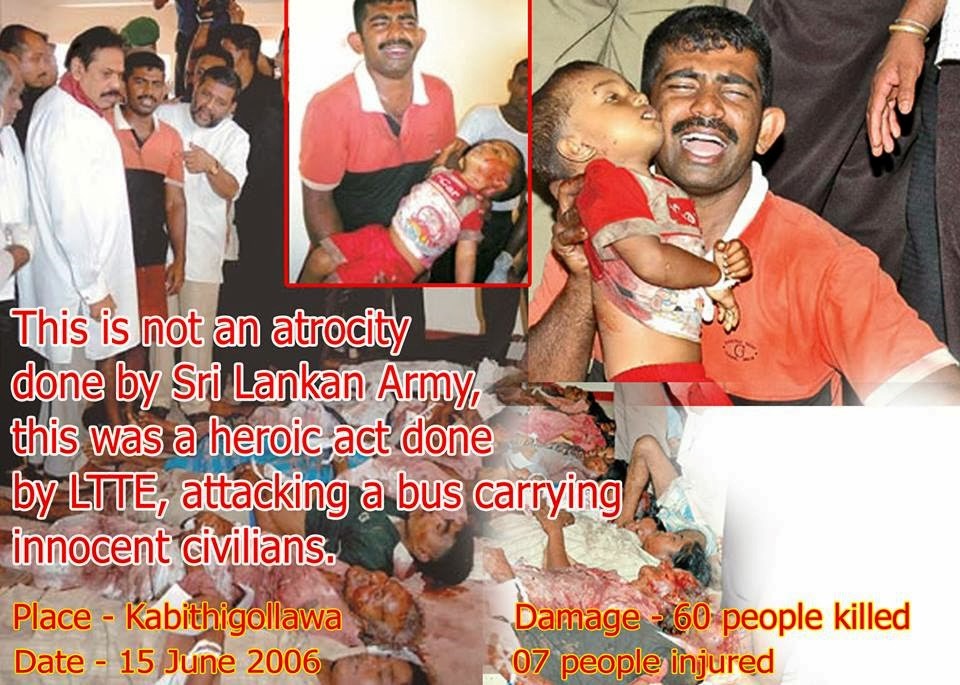 LTTE's 1st victim – a Tamil mayor, Alfred Duraiappah killed in July 1975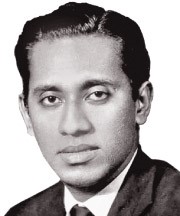 1983 – 13 Sri Lankan soldiers ambushed and killed.
1984 – January Hilton Hotel bombed killing civilians
1984 – November Kent & Dollar Farms 127 Sinhalese villagers killed by LTTE 'heroes'.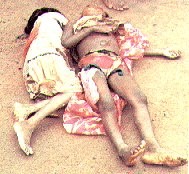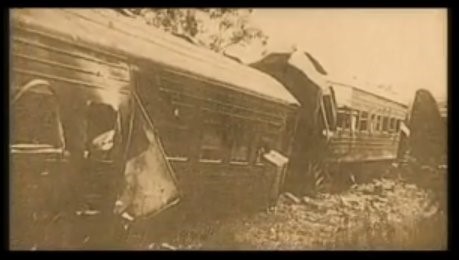 1985 – January bombing Yaal Devi Train
1985 – May, killing of 146 Sinhala Buddhists including Seelawansa Thero worshipping in sacred Anuradhapura city by LTTE 'war heroes' https://www.youtube.com/watch?v=QWNmq_04ZeQ
1986 – May – Air Lanka plane bombed killing 16 people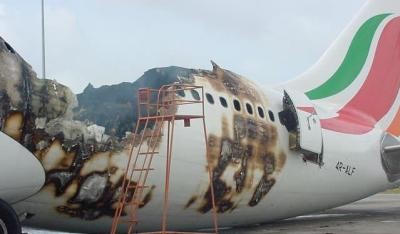 1987 – Central Bus Stand bombed in Colombo by LTTE 'war heroes'.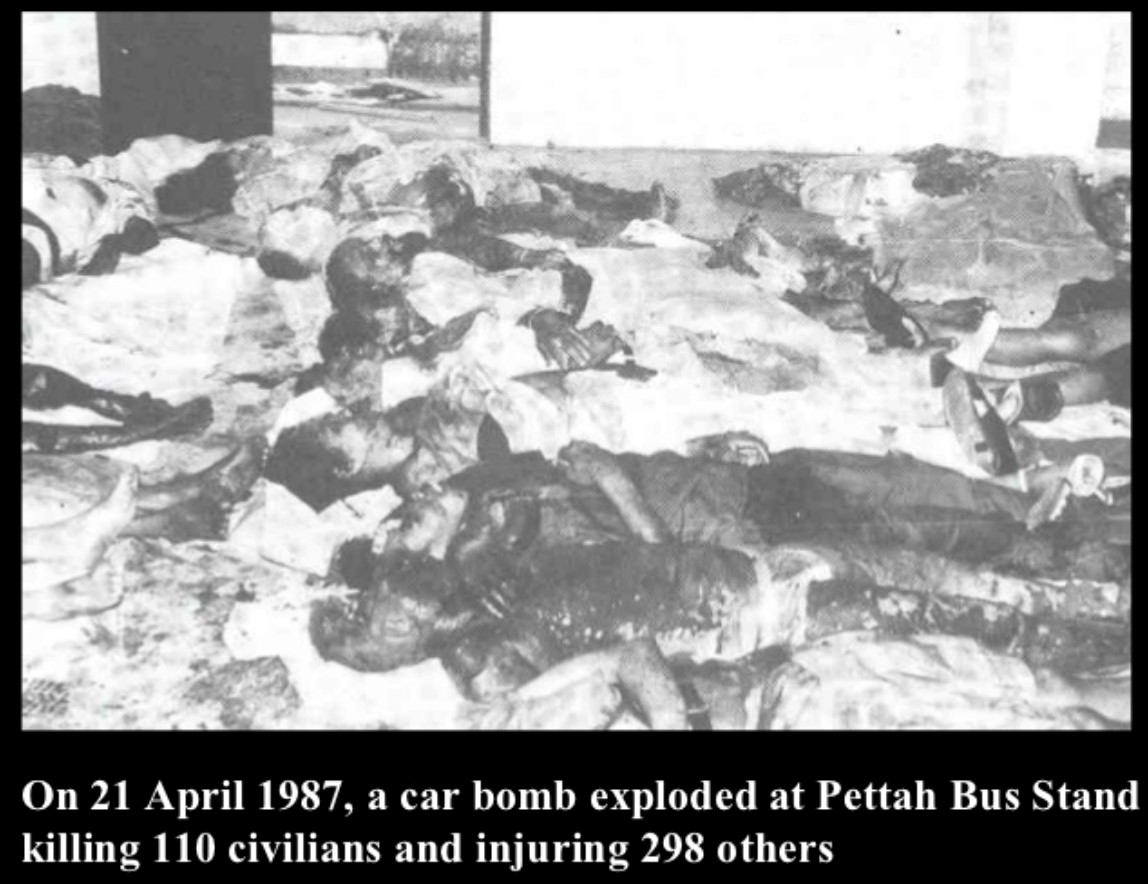 1987 July – LTTE 'war heroes' stop bus carrying student Buddhist monks & murder one after the other, just because these small Buddhist monks needed to be taught a lesson!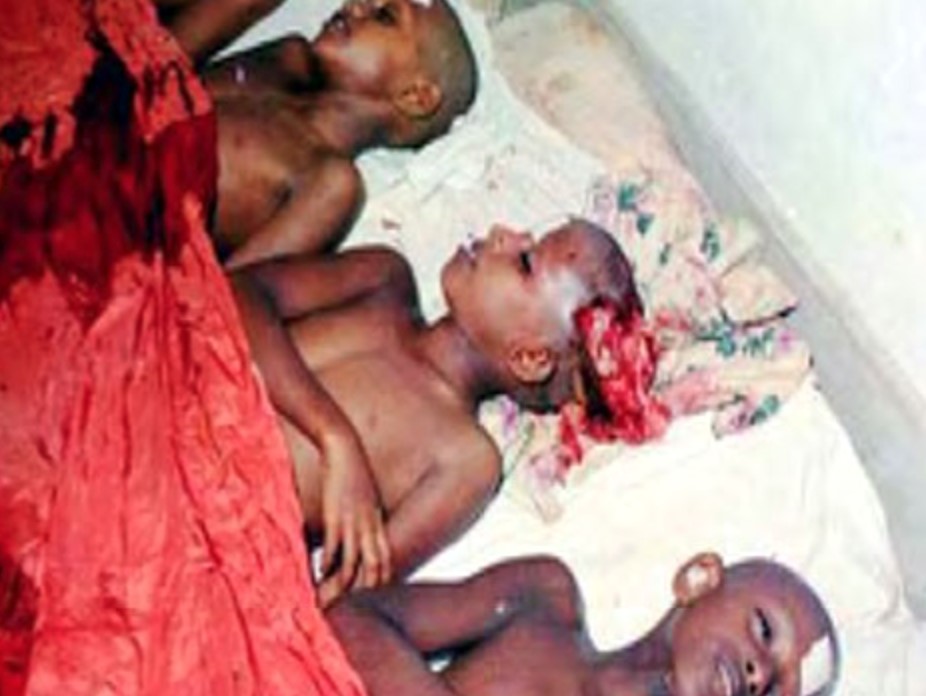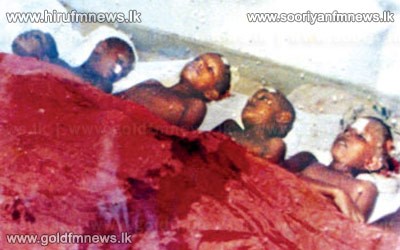 1988 November – LTTE 'war heroes' kill 27 Sinhalese in attack on bus in Trincomalee (Jaffna University must be so proud)1988 May 1 – LTTE 'war heroes' landmine blows up bus, killing 22 passengers in eastern Trincomalee (Jaffna university must have been elated by the news)
1989 February – 34 Sinhalese killed in shootings at Duluwewa in northeast (Jaffna university should next light crackers in celebration for every attack by their LTTE 'war heroes')
1990 – Another 'achievement' by Jaffna University & TNA's 'War Heroes' – over 600 policemen who surrendered killed one after the other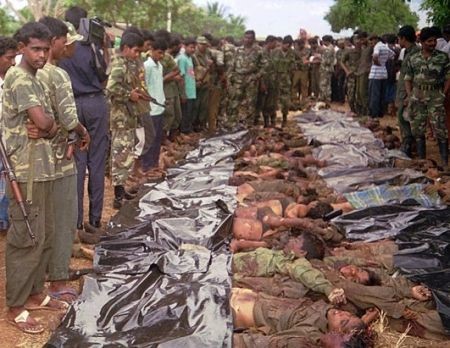 1990 – 140 Muslims praying inside mosque in Kattankudy killed by LTTE 'war heroes' & these 'heroes' go on to kill another 120 Muslims in Eravur, Batticoloa a week later.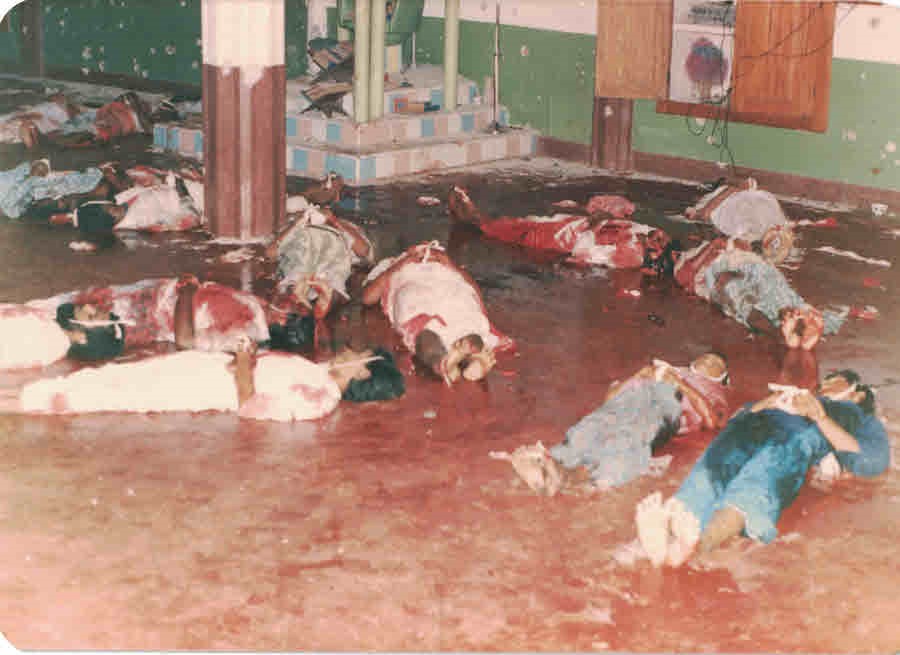 1992 –bicycle bomb in eastern Batticaloa kills 22 Moslems
1992 – October – 166 Muslim men, women and children were brutally hacked to death in their sleep by women and child cadres of the LTTE in northeastern Palliyagodella (How great these LTTE 'war heroes' are killing innocent people)
Jaffna university/TNA/LTTE Diaspora headed by Catholic fathers & their Indian/Western support base must all be delighted by the assassinations of Sri Lanka's political leaders
1991 – March – Gen. Ranjan Wijeratne
1993 – April – Lalith Athulathmudali
1993 – May – President R Premadasa
1994 – Nov – Presidential candidate Gamini Dissanayake
2005 – Aug – Foreign Minister Lakshman Kadiragamar
1995 – August – Suicide bomber explodes bomb hidden in coconut cart in Colombo, killing 24 and wounding 40
1995 – October – LTTE cadres blow up two oil depots in capital Colombo, killing more than 20 security personnel (more handiwork by the LTTE 'war heroes')
1996 – Jan – Tigers ram a truck loaded with explosives into the central Bank building in Colombo, killing 91 people with over 1400 injured https://www.youtube.com/watch?v=Asrtn5xTDdE&t=10s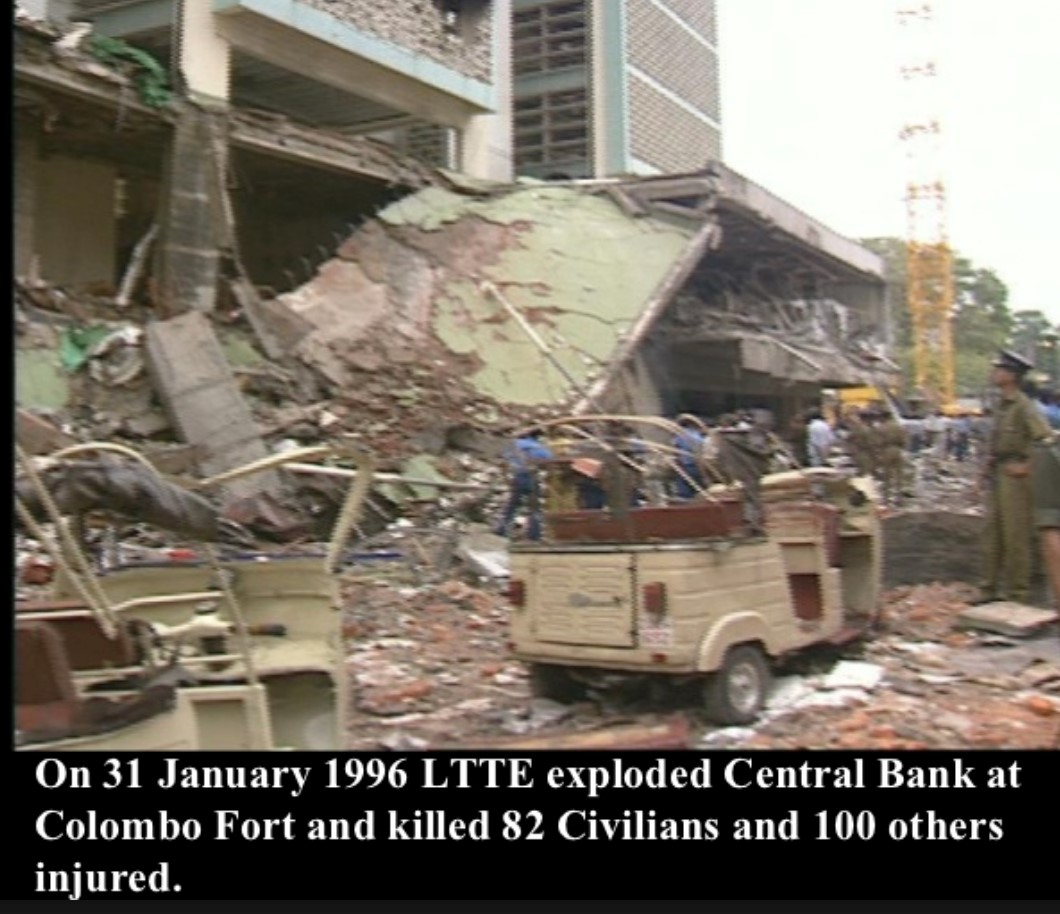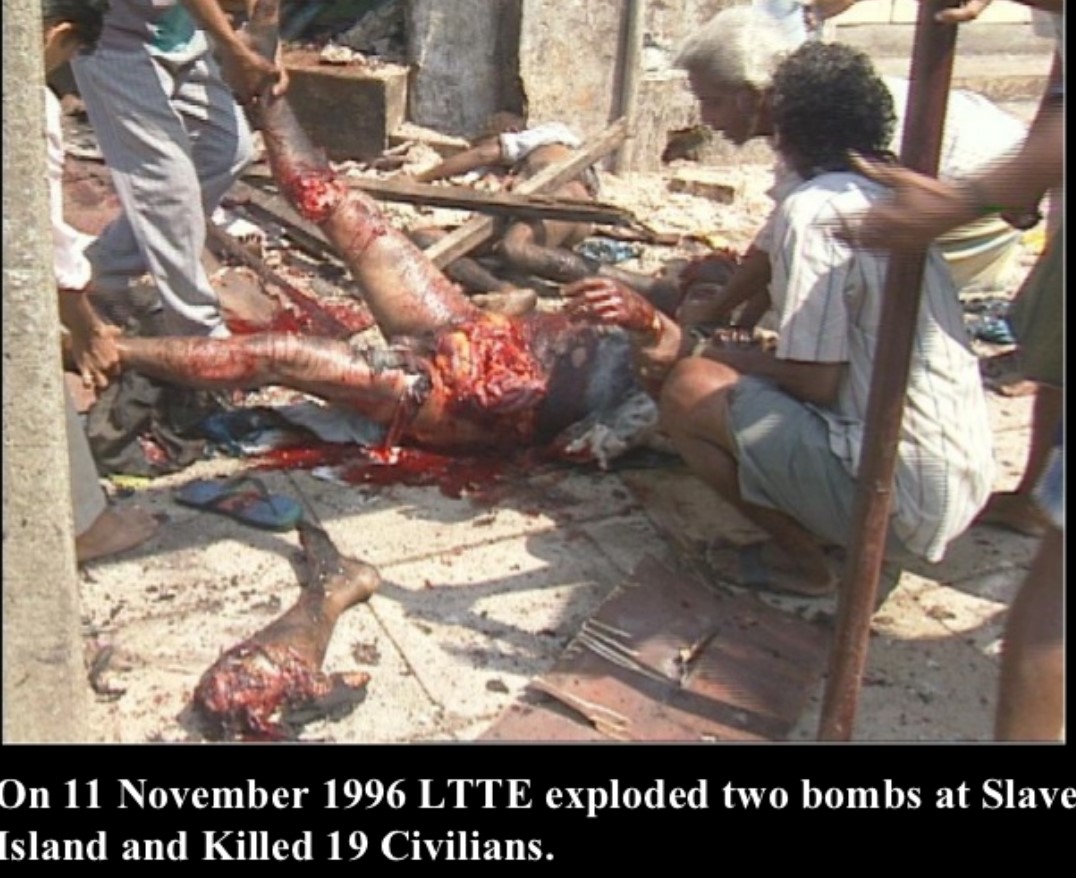 1996 – July – Two bomb blasts on a rush-hour commuter train kill 57 people and injure at least 157.
1997 – October – The LTTE attacks The World Trade Centre in central Colombo killing 18 injuring over 110
1998 – January – The LTTE bombs Sri Lanka's holiest Buddhist shrine, the Temple of the Tooth, in the central town of Kandy, killing 17   (the Jaffna University / TNA & all those holding vigils for LTTE must be delighted at this & Wigneswaran unabashedly visits the Maligawa recently too)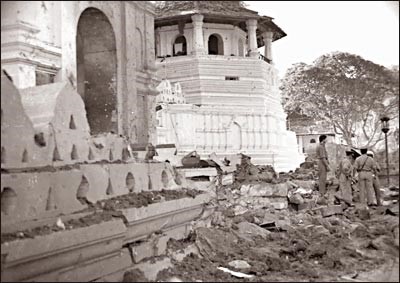 1998 – March Bus bomb explosion in Maradana, Colombo claims over 36 civilians injuring 270 more – (everyone mourning LTTE dead must be mourning the men who did this!)
1999 – LTTE suicide blast kills Tamil MP Neelan Tiruchelvam
(Jaffna University wants to mourn dead LTTE but not a single candle do they want to light for Tamils killed by LTTE)
1999 – LTTE women cadres attack three villages, kills 50 people (these are the people who are being now publicly mourned not the dead victims)
2000 – Jan – A suicide bomber stages attack outside Prime Minister Sirima Bandaranaike's office, killing 13 civilians
2001 – 20 LTTE suicide cadres attack main airbase and the only international airport in Sri Lanka, destroying 13 aircraft and leaving at least 12 people dead.
2005 – August – Foreign Minister Lakshman Kadiragamar (a Tamil) assassinated during the ceasefire. Not a single candle was lit for Mr. Kadirgamar by the Jaffna University but they are ever ready to mourn the murderers.
2006 – June – crowded passenger bus was hit in Kebethigollawa killing 66 civilians.
2006 – LTTE suicide bomber launches an unsuccessful assassination attempt against Defence Secretary Gotabaya Rajapakse
2007 – December – Kebethigollawa – 16 civilians were killed and 25 sustained serious injuries when a bus plying from Anuradhapura to Jankapura was hit by an LTTE claymore mine
2008 – Jan – Suicide bomber on civilian bus in Buttala kills 27 and injures 60 "…LTTE also shoot at civilians
2008 – Feb – Suicide attack at Fort Railway stations kills 12 and injures over 100.
2008 – Apr – 24 killed in bus blast in suburb of Piliyandala
2008 – May – Suicide bomb explosion near Sambuddhaloka temple ; 9 killed, over 95 wounded – Fort
2008 – Jun – 20 killed in bomb attack on bus in suburb of Moratuwa
2009 – Mar – LTTE suicide bomber attacks Milad Festival – Akurassa 10 civilians were killed and at least 35 others , including a government minister
Now that you have had a glimpse of the murders committed by LTTE over the years the below pictures should shock you. This is a state university situated in the Northern Province (Jaffna University) commemorating dead LTTE cadres. They do not want to light a candle for any of the above people killed by LTTE or even Tamils killed by LTTE, these academics and students the supposed literate of society want to only commemorate and mourn the death of LTTE killers. Unbelievable.
Tamilnet's website posting of 23 November 2017 on 'Heroes Remembrance'.
https://www.tamilnet.com/art.html?catid=13&artid=38878
This is what 'Tamilnet' published on its website of 25 Nov 2016
https://www.tamilnet.com/art.html?catid=13&artid=38494
Headlines University of Jaffna commemorates Tamil Eelam Heroes"
the entire University on Friday confluenced at Kailaasapathy Hall commemorating Tamil Eelam Heroes Day"
Photos celebrating the life of LTTE Leader Veluppillai Pirapaharan and posters paying tribute to fallen Tamil Eelam Heroes were put up at several places"
The entire University community in Jaffna wanted to pass a strong message to the world"
The invincible heroes of the independent struggle of Tamil Eelam, were not prepared to surrender the sovereignty of Eezham Tamils and they sacrificed their lives with dignity. None of them militarily surrendered the struggle. The sovereignty and independence of Eezham Tamils are not negotiable and would brook no compromise, as the doyen of Eelam Tamil sovereignty movement proclaimed it 47 years ago in 1969," a student leader of Jaffna University Student Union said."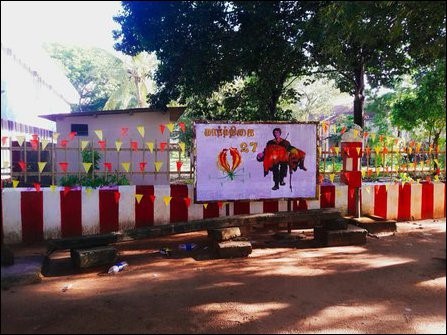 Heroes Day poster at a temple site within the premiss of Jaffna University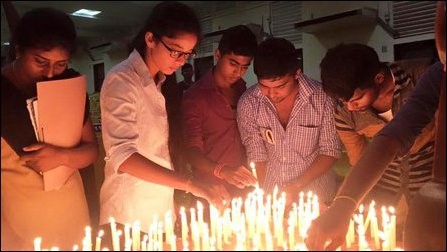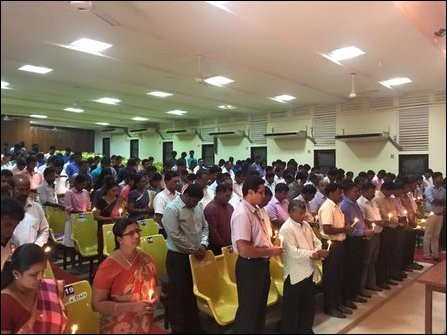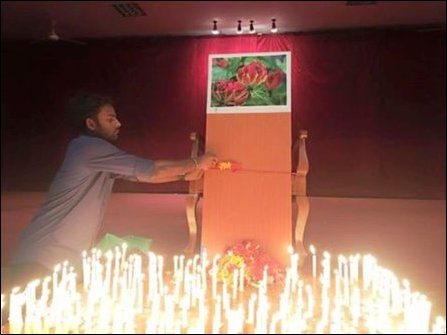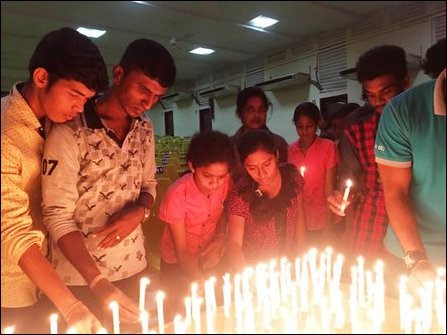 We now understand how the terrorists in our eyes are freedom fighters in others!
While Jaffna University, TNA, Foreign envoys, UN, media, NGOs & their local lackeys along with the government mourn LTTE, we shed a tear for all of the innocent people killed by LTTE since 1980s in villages, while going to work, school and on buses & trains and to the thousands of soldiers who laid down their life in sacrifice to the nation to deliver us peace from the LTTE bombs and suicide missions. Our mourning will not gain public attention by media who only has time and space to mourn terrorists and their fronts but we believe in karma and Newton's law – every action, has an equal and opposite reaction.
Shenali D Waduge
http://www.lankaweb.com/news/items/2013/08/24/sri-lanka-still-trying-to-forget-over-300-attacks-by-ltte-in-30-years/