Maga Neguma welfare society funded Rs.20 mn for Hirunika's political activities: FCID
Posted on October 9th, 2018
Nimanthi Ranasinghe Courtesy The Daily Mirror 
 It was reported before the Colombo Chief Magistrate Ranga Dissanayake today, that a sum amounting to Rs. 20 million had been spent through an account belonging to the Welfare Society of the Maga Neguma Construction Equipment company to fund the political activities of Hirunika Premachandra who is currently a member of Parliament.
The OIC of the FCID unit 07 Chief Police Inspector Anura Premarathne submitted to courts the above facts as per a complaint lodged on 20th March, by the Chief Internal Auditor of the Peliyagoda Maga Neguma Construction Equipment Company Maragala Mudiyanselage Sarath Kumara.
The FCID had reported to courts that the IGP had handed over this matter to the FCID for the conduct of an investigation. It had been further stated that the Welfare Society had been established in 2007.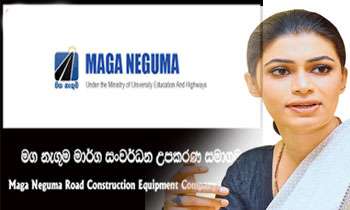 In terms of the institution of this Welfare Society a sum of Rs. 100 had been recovered from its members as membership fees, and from 2017 this membership fee had been increased to Rs. 150, which is been continued at present.
The report states further that the former Chairman of the Maga Neguma Construction Equipment Company Kingsley Ranawake had on 28th December 2012 presented a Board Paper to increase the Non-refundable amount of 0.1% from the value of the contract recovered from the sub contractors and in addition to this 0.1% another 0.2% to be recovered from them.
The FCID in its report further states that he has obtained the board approval for the above increase and additional charges. The report also states that in 2013 a General Meeting of the Maga Neguma institute had been held and an Auditor had been appointed to the Welfare Society. Audits had been conducted for the balance six months of the year 2012 and annual audits for the years 2013 and 2014 conducted.
From these audits, it has transpired that in 2013 Rs 1,217,750.00, and in 2014 a sum of Rs 17,647,179.67 from the funds of the Employees Welfare Society had been obtained in violation of the constitution of the Society, and the amounts paid to Hirunika Premachandra and Lanka Phosphate Company had been supported by bills as reported to courts. In addition to the funds provided as proved by bills, the expenditure of additional amounts are not supported by bills which could be subjected to audit.
Accordingly, the FCID reported that the audit officer had mentioned in his report that the Committee of Patrons, the Chairman and the Treasurer should be held responsible for the welfare activities, and the reports of 2013 and 2014 years clearly indicates that a sum of Rs 18,864,929.67 from the account of the Welfare Society had been used for political and other activities.