Disabled soldiers call off protest
Posted on September 30th, 2019
Courtesy Adaderana
The disabled soldiers, who had been engaged in a protest in front of the Fort Railway Station, have called off their protest a short while ago, stated Ada Derana reporter.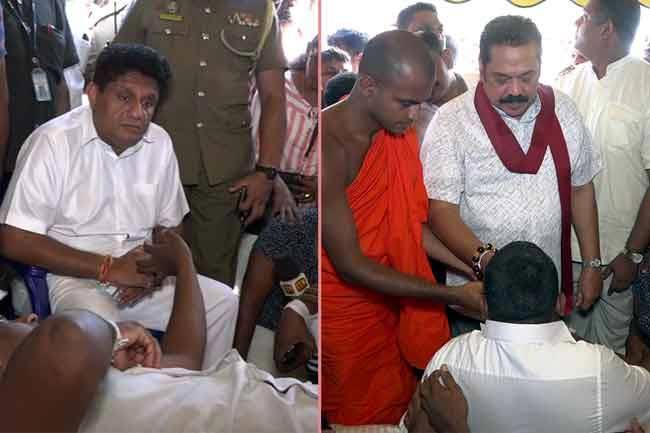 This was based on the promises made to them that their issues will be resolved.
United National Party (UNP) Deputy Leader Minister Sajith Premadasa visiting the protesting soldiers, earlier today (30), stated that he had done a lot for the war heroes of the country and that he had provided housing loans for them as well.
The Minister said that, as a person who would give his fullest support to the war heroes, he would return with a solution to their issues.
Later in the afternoon, Opposition Leader Mahinda Rajapaksa who visited the soldiers stated that all issues of war heroes will be resolved under a government of Gotabaya Rajapaksa.
Therefore, the protesting soldiers should call off their protest placing their confidence on this promise, requested Rajapaksa.
The Opposition Leader proceeded to offer a glass of King Coconut water to a soldier who had been engaged in a fast, marking the end of the protest.
Subsequently, it was observed the temporary deck built by the disabled soldiers in front of the Fort Railway Station being demolished.
Disabled war heroes and the families of the fallen launched the protest on the 11th of September demanding the authorities provide their pension benefits even after they reach 55 years of age.
On September 24th, the Cabinet approval was granted to provide all the members of the Armed Forces, Police and the Special Task Force who have been disabled due to the war, a pension equal to their last salary even after their retirement.
However, the protesting war veterans rejected the Cabinet decision and continued with their protest while four disabled war veterans commenced a fast-unto-death demanding that necessary provisions be made for their wives or a relative of the family to receive the pension even after they pass away.
On 26th September, one of the disabled soldiers who were engaged in the fast was admitted to the hospital and another soldier had replaced him and joined the fast-unto-death.
Today (30) marked the 20th consecutive day of their protest since the commencement on September 11.Disclaimer: All the comments will be moderated by the AD editorial. Abstain from posting comments that are obscene, defamatory or slanderous. Please avoid outside hyperlinks inside the comment and avoid typing all capitalized comments. Help us delete comments that do not follow these guidelines by flagging them(mouse over a comment and click the flag icon on the right side). Do use these forums to voice your opinions and create healthy discourse.