Please give me another chance" – Royal Park murder convict
Posted on November 14th, 2019
FB
Royal Park murder convict Jude Shramantha Jayamaha has appealed for a second chance saying he never intended to harm anyone and that he was ashamed for what has happened. Jayamaha was serving life in prison over the 2005 murder of Swedish national Yvonne Johnson at the Royal Park condominium. President Maithripala Sirisena last week granted a Presidential pardon to the convict, a move which drew outrage among the public, some politicians and others. In an open letter issued today, 34-year-old Jude Shramantha Jayamaha said that nothing can replace Yvonne but he will keep on trying to make amends with her family. The full letter:
An Open Letter to Sri Lanka from Jude Shramantha Jayamaha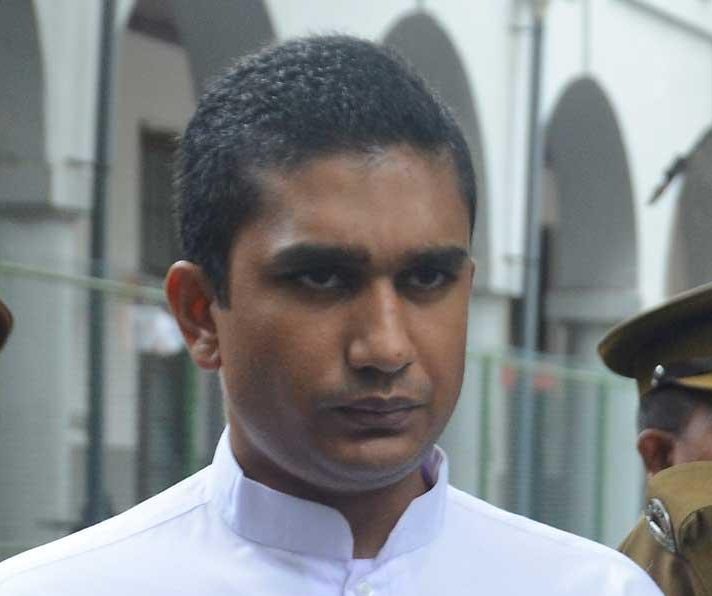 I write this letter to every family and individual who is affected by the recent news of my release from prison and consider it unfair. This is my story. I am the product of a broken home as my parents are divorced. I grew up lonely, hurting, insecure and never understood what it's like to belong to a close knit family. By the time I was 16, I had grown into a disgruntled youth with little control over how I behaved in society.
Today, I stand as a 34 yr old, who has spent the best years of my youth in prison, enclosed in a 6 x 8 ft room with access to only 30 mins of sunlight everyday.
It was the darkest period of my life, locked up for over 12 hours of each day, with a bucket as a latrine, which also served as my chair. I slept on the floor and the pillow I lay my head on was also my desk. If there was a hell on earth; I experienced it in the last 14+ years. I'm out now, but in a world that I hardly know or recognize. And all I see is your anger and hate directed at me – not that I don't deserve it, but please understand that I am not the same 19 year old who was imprisoned

TO THE JOHNSON FAMILY : I don't have adequate words to express my grief towards what has come upon the Johnson family. I want you to know that I never intended to harm anyone. I don't have the words to take away the pain. This is what has played on my mind; every day for the last 14 years. Sadly, I know that nothing I can ever say or do; will make this go away and make things right for you, although I so wish I could. You knew me as a child, I have been in and out of your house and you have always been so gracious and kind to me. I'm so ashamed for what has happened. This has caused immeasurable pain to all of you and everyone in my family. There has only been sadness, loss and grief throughout this 15 years for everyone. I have tried many times to contact you and express my heart; but I was never successful. I can't replace Yvonne, and even if you don't believe me now, I will keep on trying to make amends.
TO SOCIETY : I understand the anger you feel. But please judge me for what I am today and what I am attempting to do with my life. I ask for your forgiveness, as I am a changed man – I have had days and years to do nothing but look at myself and think of everything I could have done different. I met Ven. RathanaThero for the first time, when I was at a particularly low point in my life – around 5 years ago. He was meeting prisoners to give us meditation advice, and in a very long time, someone looked at me with kindness. It was he who gave me the desire to believe in life again and even motivated me to pick up my studies again. I did a distance education BSC Economics degree from the University of London/London School of Economics against innumerable odds. Please understand I had no access to a computer, online research, desk, table, or even a chair or lighting. I sat on my toilet bucket and used my pillow as a desk. Every tutorial or assignment was hand written and posted – I did this to prove to myself and everyone else that I was a changed man. I kept at it and even went on to do a Masters of Business from the Open University; a first for any prisoner in Sri Lanka. I promise you that I did not receive special privileges while doing any of this. But doing it all despite the odds helped me and gave some direction to the mess I had made in my life. For me it was a turning point, and now plan to complete my Phd on Development Economics, so that one day, I can give back by working for the development of my country; that is if I am given the opportunity. As for my release from prison, I must place on record that it was not an arbitrary decision by the President as currently being portrayed. It was a process that began 3 years ago, with continual sequences of reviews and approvals.
Following is a brief outline of the process:
2005 – I entered prison
2013- The Prison Review board comprising of retired judges, police, prison commissioner, phycologist, criminologist, AGs dept and Justice ministry started reviewing all Prisoners on Death Row, myself included!
2016 – After detailed interviews; 250 Prisoners out of 600, were commuted to life imprisonment with reports specifying that we are fit to be reintroduced to society.

2016 onwards – A range of civil society members, Buddhist monks, other religious clergy and professionals started a movement to release young rehabilitated and educated prisoners.
2018 to 2019 – The judges report, Prisons Department report, Attorney General's review report and Justice Ministry recommendation, amongst other documents, citing a fair release for me were reviewed by the Presidents legal review board.
2019 – Based on the recommendations above, constitutional procedures and the opinion of the Legal Review Board – my release was approved. In closing, I would like to say that despite all the procedure, my release on the 9th of November 2019, still came as a surprise to me as it would have been to you all. Yes, I was hopeful but as a prisoner for 14 plus years, I did not know what to expect or imagine what it would be like if the prison gate opened for me. There are some who still think I should be inside prison and I can't change that. But if you don't believe anything else, at least believe that the pardon that was given to me, was not a result of any coercion or influence, but purely through process and as I pointed out earlier. I am one of several hundreds of people who are fortunate enough to be afforded a second chance at life through the merit based pardoning system. I ask for your understanding, because that is the kind of country we live in – where there is hope for even the worst criminal and mercy and forgiveness is a way of life.
Please give me another chance.