THE POHOTTUWA GOVERNMENT OF SRI LANKA Part 2 B1
Posted on October 31st, 2020
KAMALIKA PIERIS
After a long march, a great leap, a cultural revolution and 'Tiananmen Square', China is today emerging as the most powerful country in the world. China is the world's first Communist state with a capitalist economy. China has managed to stay Communist while engaging in free market enterprise. This is considered unique and not to be replicated anywhere else. No other country plans to imitate China.
At the 19th Congress of the Communist Party of China in 2017, the Party declared that its philosophy is based on Marxism-Leninism, Mao Zedong thought, Deng Xiaoping theory and Xi Jinping's Thoughts on Socialism with Chinese Characteristics for a New Era".
China is ruled by one party, Communist Party of China. Analysts observed in 2016 that the ruling Communist Party is very strong and is 'unlikely to fall in the next ten years'. There is a sort of recruitment policy. A person joining the Chinese Communist Party must satisfy many conditions. His background is scrutinized very carefully. He is not allowed to rise in politics very fast. Third rate persons get excluded early on, said analysts.
China's miraculous economic growth, which started around 1980, has enabled China to lift more than 850 million people out of extreme poverty. in 2015 China created 11 million jobs.
China moved rural people into urban settlements without waiting for it to happen as a natural outcome of the development process. This brought rural people out of poverty and allowed them to engage in more productive jobs in the industry and service sectors.
The quality of life improved. There is almost universal literacy today, in China. many attend primary and secondary schools. life expectancy has shot up and infant mortality has plummeted, said TIME in 2009.
But China is not complacent. China has further to go, said the Congress in 2017.China still needs to cater to the peoples 'ever-growing desire for a better life.' There are a lot of poor areas still in China, announced officials. The economic development achieved so far, is inadequate and unequally distributed.
A two stage plan was formulated for the period 2020 to 2050. From 2020-2035 China would build a moderately prosperous society and from 2035 onwards, china would 'fully build' a modern socialist China. The Party will 'develop China into a great modern socialist country that is prosperous, strong, democratic, culturally advanced, harmonious, and beautiful."
China became rich through exports. Export production was initially through FDIs. China's factories were set up by foreign multinational corporations, said analysts. These MNCs had direct access to world markets and they produced goods that would sell.
Production was on a large scale. The industries were supported by vertically integrated state owned enterprises in logistics, energy, roads, shipping and ports. State owned banks financed the infrastructure needed. China also started many Special Economic Zones such as Shenzhen and these were used as a model by other countries, including Sri Lanka.
China now produces everything from stuffed toys to IPads, said analysts in 2015. China is the largest producer of ships, steel, aluminum, furniture, clothing, textiles, cell phones, and computers. China has become the manufacturing powerhouse of the world.
It is also a leader in technology. Alipay, the Alibaba payment system, is more sophisticated than anything in the west. Then there is Huawei whose 5G technology is considered superior and cheaper. The successful 5G provider will also have a head-start into 6G and 7G.
China has also become the world's largest consumer. China imported more oil, consumed more energy, and installed more solar power than any other nation, said analysts. China has the world's largest internet users.
There are new consumer groups who have capacity to spend on sports, entertainment, clothes and shoes. Chinese consumers are now setting the pace for global commerce. For consumer product companies, you can't win the world if you are not winning in China. China encourages domestic consumption and much of the spending is moving back into the country.
China was expected to overtake the United States as the largest fashion market in 2019, according to a report by McKinsey & Company. For example, Italian brand Ermenegildo Zegna now looks to China, instead of the US, as the place for testing new products, before deciding whether to promote them globally. The website said many luxury brands already depend heavily on Chinese customers, who have for some time been the world's biggest buyers of luxury goods.
China has presided over the greatest economic transformation in modern history, said China's admirers. China has vaulted to the top in a single generation. In 1980, China's GDP was less than $300 billion. By 2015, it was $11 trillion, making it the world's second largest economy by market exchange rates. In 1980, China's trade with outside world amounted to less than $40 billion. By 2015, it was $4 trillion. Hong Kong is now only 2.9% of the Chinese economy, TIME observed in 2019.
China is now the world's second largest economy and the world's top trading nation. It has more billionaires than the US and more high speed rail than the rest of the world combined, said TIME in August 2020. China's march towards becoming the world's largest economy is just a matter of time.
China has now overtaken the US to become the world's largest economy according to the IMF's World Economic Output 2020. Using the more reliable and now widely accepted measurement, Purchasing Power Parity (PPP), IMF has determined China's economy at $24.2 trillion compared to America's $20.8 trillion. This is a massive leap from less than USD 200 PPP in 1970. The PPP calculation method enables you to compare how much you can buy for your money in different countries.
By 2017, on most indicators, China had already surpassed the United States. Chinese consumers bought twenty million cars in 2015, three million more than were sold in the US. . TikTok, a leading social media app in the United States, is owned by the $75 billion Chinese tech giant Bytedance.
In 2015, Tsinghua University passed MIT in the US News and World Report rankings to become the number one university in the world for engineering. Among the top ten schools of engineering, China and the US each had four.
There is an increasing emphasis on Buddhism in China today. China is emphasizing Confucian and Buddhist values, said TIME in 2009. Buddhism is encouraged by President Xi in order to fill China's moral vacuum. members of the Chinese elite including Xi Jinping's wife, Peng Liyuan, are interested in Buddhism. growing number of wealthy Chinese, have been drawn in recent years to the mysticism of Tibetan Buddhism, said the media.
There is a chain of Buddhist clubs and Tibetan gurus like Geshe Sonam preach in China. The travel guide DK Eyewitness travel" (Dorling Kindersley 2012) listed around 63 Buddhist monuments and temples for tourists to visit. There is hardly any mention of mosques, churches, Confucian or Taoist temples.
China has land borders with 14 countries and maritime borders with at least nine other countries. Since 1960, it has settled its boundaries with 12 of the 14 countries with which it shares land borders. They are Myanmar, Nepal, North Korea, Pakistan, Mongolia, Afghanistan, Laos, Vietnam, Kazakhstan, Kyrgyzstan, Tajikistan and Russia.
Its land boundaries remain unsettled only with India and Bhutan. The territory in contention with Bhutan is not large but is of strategic significance. once India settles the boundary dispute with China the boundary with Bhutan will automatically be settled.
China has very strong connections with other countries. Of the 53 states in Africa only Lesotho has no connection to China, the other 52 states all have connections with China. China has signed agreement to allow Nepal to use Chinese harbors and roads for supplies. But those ports and roads are far away, observed analyst. China's investments and presence in the Indian Ocean have increased, and no country can match China in that respect today, said analysts .
The countries which have benefited from Chinese assistance in Asia, Africa and Europe have not suffered a breach of their independence and sovereignty or lost any significant extents of resources. China has not dictated to any of these countries on how to run their country, how to change their constitutions, how to look after their security, or preached on democracy, human rights, minority rights and other internal affairs. China has not forced or pressurized any of the recipients of its aid to fall in line and join the B & R I. They have instead requested them to evaluate the pros and cons of the project and join if they agree with its broad principles, said .N.A. de S. Amaratunga.
China does not interfere in the internal affairs of any country agreed analysts. China never considers themselves to be a model. China does not have the evangelistic approach of USA, which says Be like us, said analysts. China strategy for south East Asia is , come grow with me, said Lee Kuan Yew.
China's most recent linkup is with Iran. China and Iran have drafted a Trade and Military Partnership Agreement in 2020 which will vastly expand Chinese presence in Iran. The military agreement proposes deepening military cooperation. It calls for joint military training and exercises, joint research and weapons development and intelligence sharing.
The trade agreement includes inter alia, new ports along the coast of the Sea of Oman, a 5G telecommunications network, Chinese Global Positioning System and cyberspace control by China's Great Firewall. Chinese investments in Iran would total $400 billion over 25 years. In exchange, China would receive a regular, heavily discounted supply of Iranian oil over the next 25 years.
One of the proposed new ports is at Jask, just outside the Strait of Hormuz, the entrance to the Persian Gulf. This will give the Chinese a strategic vantage point on the oil route. The passage is of critical strategic importance to the United States, as well, the US Fifth Fleet is headquartered in Bahrain.
Due to US sanctions, China is the only major player active in Iranian oil. China considers sanctions against Iran as an opportunity to secure huge fields and markets which might have gone to Western companies. Iran needs to increase its oil production to at least 8.5 million barrels a day to remain a player in the energy market, and for that, it needs China.
Beijing allows its companies to do business in Iran. Chinese goods and services have flooded Iran's market. Iranians welcomed this. Apart from Russia other nations were not willing to come in.
China and India are seen as rival for power in South Asia. Comparisons have been made. In 2016 it was said that China's economy was five times that of India. That was not all. Inflation is low in China and high IN India, said analysts. There is political stability in China, political instability in India.
Chinese firms including Tencent, Alibaba, and Xiaomi have poured more than $5 billion into Indian enterprises in 2018, surpassing flows from Japan and the United States. Five of the top 10 mobile apps in India are now Chinese compared with just two out of 10 in 2017. The media warned of a Chinese invasion" of the Indian tech sector. Beijing now has access to Indian social media messaging, health records, user-generated content, and consumer spending and financial information, with New Delhi's tacit consent, said observers.
China faces opposition from its 'enemies'. There have been tensions between the Chinese and the majority Muslim group in China, the Uighur. The Uigher are claiming genocide. They say that China had been introducing Han settlers into the area and giving them privileges such as the lion's share of investments. Uighur rights groups are demanding an independent Xinjiang. Chinese say this is instigated abroad. The headquarters of the World Uighur Congress is in USA and the Uighur leader, Rebiya Kadeer, lives in the US.
Analysts say the agitation regarding the Rohingya in Burma has little to do with religion. The west will not take an interest in the Rohingya of Myanmar unless there is some hidden agenda, they said. China has an oil and gas pipeline there.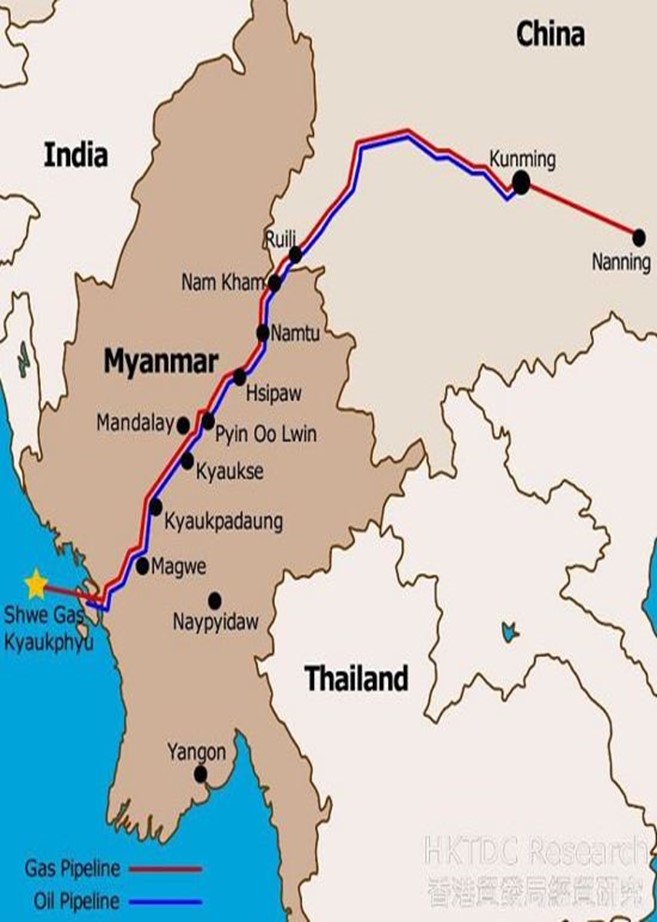 China wants to build a 120-kilometre canal cutting through the isthmus of Kra in Thailand. ( Kra canal). China can then get to the Indian Ocean bypassing the Strait of Malacca. Now other countries such as India, USA and Australia wish to join the project. More than 30 foreign firms have shown an interest in investing, providing financial and technical support . They want to sign a memorandum of understanding with us, said Thailand. Foreign embassies have contacted us to get the latest status on the project .
Lee Kuan Yew told TIME in 2013,  China has transformed from  a poor society to become now the second largest economy in the world on track to become the word largest economy.  They have a culture    4000 years old. And a huge population  pool to draw from. How could they not aspire to be No 1 in Asia
At the 19th CPC Congress in 2017 China pledged to be a major factor in the world. China will be called on to play a stabilizing, responsible role when it comes to questions of trade, security and international order, the Congress said.
As part of this, China is preparing for war. Beijing will not take a single step back in the contested South China Sea, China said. China's navy has become the world largest navy, said Economist in September 2020. China is now working at building a great navy, said Statesman. Navies do far more than fight. They protect trade routes, observed Statesman.
When China becomes the world's largest economy over the next decade the global system will be led by a non-English speaking, non-Western, non-democratic state, observed Australia's Kevin Rudd. ( continued)